Today we're here with someone you might know as The Caveman Doctor, but I'd say he's the man with one of the most epic real doctor names ever, Dr. Colin Champ.
I had the pleasure of meeting Colin at the Ancestral Health Symposium a few weeks back, and after being guests together on the Underground Wellness Show, I knew we'd get along just swimmingly.
Oh, and there's this:
Freaking yes!
Colin and a great dude by the name of Roger Dickerman started a podcast, Relentless Roger and the Caveman Doctor, which has been kicking butt. Check it out and learn some stuff.
Onto The Show
In today's show, Dr. Champ and I cover:
How sweet foods may be more addictive than cocaine
Why bodybuilders know more about nutrition than your doctor
Why you should supplement with sea vegetables and kelp to optimize thyroid function
Why meatheads in the weight room carry less fat than people on the treadmill
How you can reduce your risk of cancer (and avoid manboobs) by sleeping well
Listen by pressing the PLAY BUTTON below on the right.[audio:https://traffic.libsyn.com/fatburningman/34FBMColinChamp.mp3|titles=Dr. Colin Champ the Caveman Doctor](download link)
Subscribe to my PODCAST on iTunes (and please leave a review)!
(Click the "View in iTunes" link and then hit the "Subscribe" button.")
Click "Like" if You Do!
[al2fb_like_button]
Support the Fat-Burning Man Show and Get 2 Free eBooks
For those of you who you probably already know that I'm not a big fan of advertising. I've recently been approached by a ton of advertisers and I've said "no." I would never want advertisers to have any control over my message. This stuff is too important.
I'm not going to hold a cheesy drive or anything, but if you do want to support the show, I've set up donation buttons below.
If you donate even as little as one dollar, I'll send you 2 gifts as a special thanks.
Thank you for your support!
LEARN HOW TO DROP 20 POUNDS IN 40 DAYS WITH REAL FOOD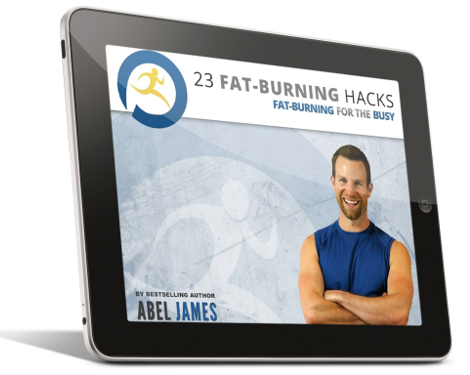 Discover how to drop fat with chocolate, bacon, and cheesecake. Plus: learn the 3 worst foods you should NEVER eat and the 7 best exercises for rapid fat loss. Click below to to claim your FREE gift ($17 value)!
INSTANT ACCESS
Podcast: Play in new window | Download
Subscribe: Apple Podcasts | Google Podcasts | Spotify | Android | Pandora | Stitcher | TuneIn | Deezer