Fat-Burning Mint Chip Ice Cream (Dairy-Free, Paleo & Wild Diet Friendly)
Cool and creamy, with just enough dark chocolate to soothe the savage beast, mint chip ice cream is truly a dessert for all occasions, all ages, and every sweet craving. Garnish with a bit of fresh mint and a dash of cacao powder. Simple perfection.
Ingredients
4 (16-ounce) cans full-fat, unsweetened coconut milk
8 medjool dates, pitted
¼ - ½ teaspoon stevia extract, to taste
2 teaspoons peppermint extract
2 teaspoons vanilla extract
½ teaspoon sea salt
¾ cup dark chocolate chips
¾ cup organic macadamia nuts
Instructions
Add coconut milk, dates, stevia, peppermint, vanilla, and salt to the blender, and blend on high until dates are well incorporated and the mixture is smooth.
Taste mixture, and add a small amount of stevia, monk fruit or coconut sugar, if needed, to reach desired sweetness.
Add half of the chocolate chips and half the macadamia nuts and blend until they're broken into small pieces.
Add the remaining chocolate chips and macadamia nuts and stir.
Transfer mixture to your ice cream maker and churn according to the manufacturer's instructions.
Serve immediately or freeze in an airtight container (after freezing, let sit at room temperature for 10 minutes before enjoying).
Notes
If you want your mint chip ice cream to have a nice green hue, simply throw in a handful of baby spinach leaves and stir in the chocolate chips instead of pulsing them into the mix.
Some things in life just aren't worth giving up.
For me, ice cream is one of those things.
As any aspiring health nut knows, it's the combination of sugar and fat that leads to gaining fat (think donuts, pizza, nachos, and yes… store-bought ice cream).
But there's a loophole, you see. We found a way to make delicious, creamy ice cream that won't torpedo your fat loss results. The trick is to make it yourself using real-food ingredients that are naturally low in sugar.
Don't worry, it's easy. I promise. (Our ice cream recipe was even featured on ABC Television!)
Most commercial ice cream is packed with unhealthy junk like added syrups, emulsifiers, gums, and chemical coloring and flavoring agents. It's a far cry from the sweet cream our great-grandparents once churned by hand.
For example, here are the ingredients for popular Edy's Grand Mint Chip Ice Cream:
Skim milk, cream, sugar, chocolate chips (sugar, coconut oil, cocoa processed with alkali (dutched cocoa), fractionated palm kernel oil, cocoa, soy lecithin, salt, natural flavor), corn syrup, whey, molasses, natural flavor, acacia gum, guar gum, yellow 5, blue 1, carob bean gum, carrageenan, xanthan gum
For starters, there are 5 emulsifiers in this concoction, including:
Acacia gum, guar gum, carob bean gum, carrageenan, xanthan gum: A recent study affirms my "gut instinct"—emulsifiers like these can irritate our guts. Why is this bad? Messing with the gut microbiome may be contributing to the rapid increase of metabolic syndrome and other chronic inflammatory diseases like Crohn's and colitis.
Corn syrup: Unless you see a USDA Organic or Non-GMO verified label, 90+% of corn in the U.S. is GMO and likely to be Bt GM corn.
Soy Lecithin: 93% of soy grown in the U.S. is "Roundup Ready," which means it can withstand being doused in Monsanto's Roundup pesticides and live, while the weeds around it die. So, not only is this substance genetically modified, it's also slathered with toxic chemicals.
Yellow 5 and blue 1: I just can't say enough bad things about artificial colors. But let's start with the fact that Yellow #5 has been solidly linked to hyperactivity, migraines, anxiety, and even cancer and has been banned in some European countries. In fact, only 7 colors are still approved by the FDA (and that's because of Big Food Lobbyists) because former colors like Orange #1 were literally making kids sick. The question lingers—how was that allowed in the first place?
Natural Flavor: The thing about natural flavors is that you have no idea if you're getting secretions from a beaver's anal glands or actual vanilla. A lot of different "natural" chemicals and strange products (like crushed beetle) are hidden behind that label. A little won't kill you, but organic natural flavors are generally safer.
Sugar: Everyone knows that sugar is bad for us—it kicks off craving cycles, spikes insulin, makes you store fat, gives you headaches, bad skin, leads to diabetes… Unless "cane sugar" is specified on the label, you're likely consuming sugar from beets (95% of sugar beets are GMO).
LEARN HOW TO DROP 20 POUNDS IN 40 DAYS WITH REAL FOOD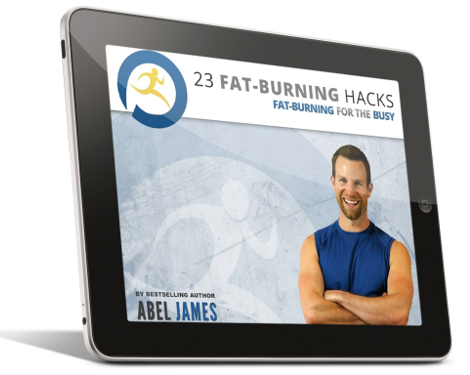 Discover how to drop fat with chocolate, bacon, and cheesecake. Plus: learn the 3 worst foods you should NEVER eat and the 7 best exercises for rapid fat loss. Click below to to claim your FREE gift ($17 value)!
INSTANT ACCESS
How We Eat Ice Cream Without Getting Fat
Can you believe we eat ice cream almost every week?
You're darn tootin'. This low-sugar ice cream is easy to make at home with just a few ingredients ingredients and a trusty ice cream maker.
Cool and creamy, with just enough dark chocolate to soothe the savage beast, mint chip ice cream is truly a dessert for all occasions, all ages, and every sweet craving. Garnish with a bit of fresh mint and a dash of cacao powder. Life is grand, don't you think?
We made up a whole batch for Kurt's family and the crew of ABC's My Diet. Be warned – this ice cream disappears fast! 🙂
If you want more fat-burning, real food recipes like this one, take a look at our Wild30 Fat Loss System!
This is our full fat-loss program with a complete 30 day step-by-step meal plan that includes full color photos and shopping lists to get you started right away.
PLUS as an added bonus, you'll get a Motivation Journal, Quick-Start Guide, Shopping Guide, and the Wild 30-Day Fat-Loss Manual!
Check out The Wild30 Fat Loss System now and get $20 OFF for a limited time!
Did you try this recipe? Let us know how it turned out in the comments below.