Today is my birthday and there is so much to celebrate. Thanks to you, this has bar none been the best year of my life.
After working as a desk-jockey and struggling with my own health for years – putting on fat, looking at my puffy moon-shaped face in the mirror, and living with a broken thyroid – I decided I needed to find a solution.
My doctor's advice, "eat less and exercise more… and take these drugs, too" clearly wasn't working despite starving myself and running 30+ miles a week.
When I stuck my nose in the research and experimented on myself like a lab rat to regain my health, I found that the secret to getting the body of your dreams is actually relatively straightforward, but there's so much misinformation, propaganda, and nonsense out there that it's next to impossible for most people to find the truth.
I started my blog and podcast to help as many people as possible get lean, strong, and healthy by eating delicious food, having fun, and living well.
And in between my last birthday and this one, the podcast hit #1 in health across the world with millions of listens, several of our books have become bestsellers, and with my great friend, George Bryant, our new App hit top 10 in the entire Apple store!
None of this would have been possible without you. Thanks to your support in the past year, this has become my full-time job, and I think it's the best job in the world. It's our goal to change millions of lives, and we're well on our way. THANK YOU!
On that note, Alyson whipped me up a real food Boston Cream Pie (my favorite). Here's the recipe if you'd like to celebrate, too. I just had a slice and it's delish. 🙂
Paleo Boston Cream Pie Recipe
Paleo Boston Cream Pie
Moist cake sweetened with coconut palm sugar overflowing with a creamy center and doused in melted chocolate.
Ingredients
Cream Filling
3 egg yolks
1½ cups canned coconut milk, unsweetened, refrigerated overnight so the cream is on top. Just use the cream for this recipe.
¼ cup honey
1 Tablespoon coconut palm sugar
1 Tablespoon arrowroot flour (this ingredient is optional, but easier to thicken with it)
⅛ teaspoon salt
2 teaspoons vanilla
Cake
1 cup almond flour
¼ cup coconut flour
1 teaspoon baking soda
½ teaspoon baking powder
½ teaspoon salt
½ cup coconut palm sugar
½ cup coconut oil, melted
4 eggs
½ cup unsweetened applesauce
¼ cup canned coconut milk, unsweetened, refrigerated overnight so the cream is on top. Just use the top cream for this recipe.
1 teaspoon vanilla
Chocolate Topping
½ cup dark chocolate chips
3 Tablespoons coconut oil
Instructions
For filling, whisk together egg yolks, coconut milk, honey, coconut palm sugar, arrowroot flour (if using), and salt. Pour into a small saucepan and cook over medium heat stirring constantly until mixture thickens, about 3-4 minutes. Remove from heat and stir in vanilla. Pour into a glass container, cover the top of the mixture with foil (so no skin forms on the top), and refrigerate for at least 2 hours.
Preheat oven to 350F. Grease a 8″ springform cake pan with coconut oil.
In a bowl, whisk together almond flour, coconut flour, baking soda, baking powder, salt, and coconut sugar. Pour in melted coconut oil and mix well. In a food process (or another bowl), mix 4 eggs, applesauce, coconut milk, and vanilla. Gradually pour in dry ingredients, and mix until well incorporated.
Pour cake batter into prepared springform pan, and bake for about 35 minutes, until a toothpick inserted into the center comes out clean. Set cake aside and allow to cool completely.
In a small saucepan, heat chocolate chips and coconut oil over lowest heat stirring constantly, until melted.
When cake is cooled, turn on its side and cut in half (like two halves of a hamburger bun). Use a spatula to spread cream filling on the bottom cake layer and put the second half on top. Spread melted chocolate over the top. Dig in.
Notes
You can also make the cake for this recipe in cupcake pans, and use the cream filling and chocolate to make individual servings.
Enjoy!
LEARN HOW TO DROP 20 POUNDS IN 40 DAYS WITH REAL FOOD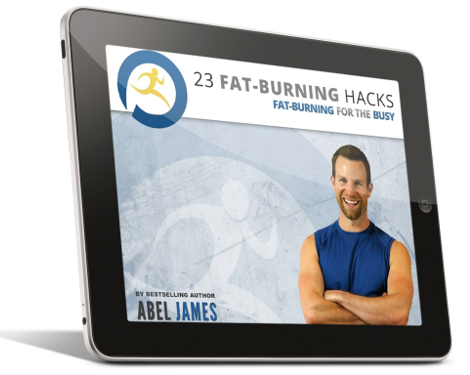 Discover how to drop fat with chocolate, bacon, and cheesecake. Plus: learn the 3 worst foods you should NEVER eat and the 7 best exercises for rapid fat loss. Click below to to claim your FREE gift ($17 value)!
INSTANT ACCESS