I admit it.
I know what I did wrong. Countless meetings, preparing for speaking engagements, writing books, running my coaching community, responding to e-mails, taking care of my dog, and 19,000 other things… I didn't get enough sleep, and I was stressed. I just overdid it.
So, for the first time in 3 years, I got sick.
Even if you eat and exercise perfectly, you're still susceptible to sickness when you're run down.
And I wasn't the only one cuddling a box of Kleenex. This is a monster bug. It also got my buddy George, my right-hand man Chris, most people in Austin, and seemingly my dog.
First it was the headache. This one was so thick you could touch it. Right behind the eyes.
Then the chills and the fever. Nothing quite like waking up in the middle of the the night shivering in a pool of your own sticky sweat.
Then, of course, the stuffy nose that prohibits all air from passing but curiously shoots out comical amounts of mucus, the post-nasal drip, and the coughing-up of oddly-colored goo.
And I have to speak in San Francisco in 2 days? Sweet.
What's the Worst Thing You Can Do When You're Sick?
It's astonishing what we feed ourselves, our family, and our children when we're ill.
When I got the bug, here's what I didn't do. I didn't have Campbell's. Here's a list of ingredients in Campbell's Chicken Noodle Soup:
Chicken stock, enriched egg noodles (wheat flour, egg solids, niacin, ferrous sulfate, thiamine, mononitrate, riboflavin, folic acid), cooked chicken meat, water, contains less than 2% of the following ingredients: salt, chicken fat, cooked mechanically separated chicken, monosodium glutamate, cornstarch, onion powder, modified food starch, yeast extract, spice extract, soy protein isolate, sodium phosphates, beta carotene for color, chicken flavor (contains chicken stock, chicken powder, chicken fat), flavoring, dehydrated garlic.
In 7 seconds of looking at those ingredients, I see 3 different varieties of MSG, at least 3 different kinds of GMO's, soy by-products, gluten, and plenty of non-foods.
So I suppose the thought-process goes like this for Campbell's: "Let's take microwaved industrial chicken, GMO's, gluten, soy, and copious amounts of salt and feed it to sick people. Don't worry, we'll market it so they'll think that it'll actually help them get better!"
Food marketers… You cheeky monkeys.
Sports drinks like Gatorade are another staple of sickness, if the chicken soup weren't enough.
Firstly, chugging pure sugar water isn't good for you. Ever. But especially when you're sick.
But sports drinks like Gatorade also contain bizarre ingredients such as brominated vegetable oil, or BVO. BVO is a chemical used as a flame retardant, but Gatorade uses it as an emulsifier.
According to What is That Ingredient?:
"bromine-containing sedatives resulted in emergency room visits and incorrect diagnoses of psychosis and brain damage due to side effects such as depression, memory loss, hallucinations, violent tendencies, seizures, cerebral atrophy, acute irritability, tremors, ataxia, confusion, loss of peripheral vision, slurred speech, stupor, tendon reflex changes, photophobia due to enlarged pupils, and extensor plantar responses."
Yum!
(Fortunately, in response to an online petition, I understand that PepsiCo may be pulling BVO from its drinks in the future. Great. I'm sure it's replacement emulsifier will be clean as a whistle…)
What to do When You Get Sick
So if you can't have store-bought chicken soup or Gatorade when you're sick, what should you do?
Rest. Your body is telling you it needs some time off. And skip your workout for Pete's sake.
Hydrate with plenty of pure water. Have some coconut water if you like. I don't care. But if you're in the camp of avoiding fake food ingredients, then there's no more important time to eat and drink clean than when you're sick.
Continue to eat real food. As clean as possible. Bone broths are nutrient powerhouses.
Alyson, bless her heart, whipped me up a goat bone soup. It took less than 10 minutes, but it probably halved the duration of my cold. It's not the best tasting soup I've ever had, but it definitely has plenty of bug-fighting goodness and makes you feel like a (slightly hungover) rockstar.
Here's the recipe.
Paleo Bone Soup Recipe for Sick Puppies
Deeply satisfying soup with sweet potatos, onions, carrots, and a mix of herbs.
Ingredients
2 lbs bones (chicken, beef, goat, or other bones from healthy animals)
1.5 lbs sweet potato, cubed
5 carrots, chopped
1 onion, chopped
4 garlic cloves, crushed
1 tablespoon ginger root, chopped
A length of dried seaweed
¼ cup nettles (optional)
1 tablespoon echinacea root, cut (optional)
1 teaspoon salt
5 cups water (or stock)
Instructions
Add all ingredients into your crock pot and cook on low for 4-5 hours. Eat while cuddling under a blanket.
How about you guys? What do you do when you're sick?
LEARN HOW TO DROP 20 POUNDS IN 40 DAYS WITH REAL FOOD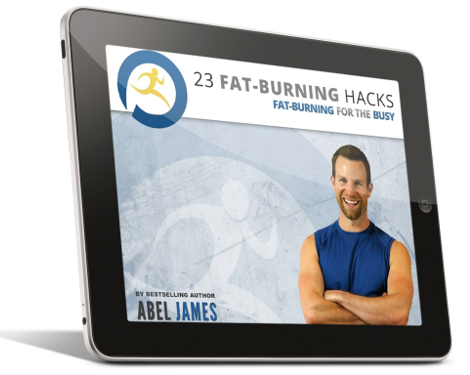 Discover how to drop fat with chocolate, bacon, and cheesecake. Plus: learn the 3 worst foods you should NEVER eat and the 7 best exercises for rapid fat loss. Click below to to claim your FREE gift ($17 value)!
INSTANT ACCESS