In the days before "red" was an ingredient, red velvet cupcakes were actually made with real FOOD that was red – namely, beets.
Hold the phone… you put beets in your cupcakes and muffins?
Yes, yes I do. I put vegetables in my cupcakes, as well as my other paleo desserts. And you should too. It's not even fair how good these freaking cupcakes are.
And never fear – these muffins are paleo/primal, gluten-free and grain-free, as well. Kinda goes with my plan – swap your grains for some fresh veggies (true story – with a little creativity, you can put veggies in anything).
In the case of these cupcakes, the beets make them incredibly moist and give a unique flavor.
They are…"real" tasting. I know that's not terribly clear, but bear with me…
You know how when you bite into a "normal" cupcake it's like getting kicked in the teeth by pure sugar? These aren't like that. Beet cupcakes taste like delicious, delicious FOOD. And they are. Butter. Beets. Chocolate. Ohhh boy…
So give them a shot – you might find that you like veggies after all.

Real Paleo Red Velvet Cupcake Recipe (Paleo Muffins, Gluten-Free, Grain-Free)
Real red velvet cupcakes made with bright red beets, cocoa powder, and whole goat milk.
Ingredients
2 cups beet puree*
1 cup melted butter
3 eggs
¾ cup almond flour
¾ cup coconut flour
1 cup 100% cocoa powder
½ cup whole goat milk
½ cup unsweetened applesauce
1 cup xylitol (for low-glycemic) or natural sweetener (honey, maple syrup, coconut palm sugar, etc.)
2 teaspoons Greek or goat yogurt
2 teaspoons baking powder
1 teaspoon baking soda
½ teaspoon salt
2 oz 100% chocolate bar cut into small pieces
Sprinkles of cacao nibs
Instructions
*To puree the beets, take 2 to 3 unpeeled medium size beets, cut the stems off, wrap in tin foil and bake in the oven at 400 degrees for 1 hour. Let cool. Peel the beets (the skin should slip off pretty easily). Puree in the blender or food processor until smooth like applesauce.
Mix all ingredients. Scoop the batter into paper cups in a cupcake pan. Bake at 350 degrees F for 20 minutes.
Let cool (or not), top with cream cheese, and sprinkle with cacao nibs and cinnamon.
Eat ravenously.
Then write to me and thank me.
LEARN HOW TO DROP 20 POUNDS IN 40 DAYS WITH REAL FOOD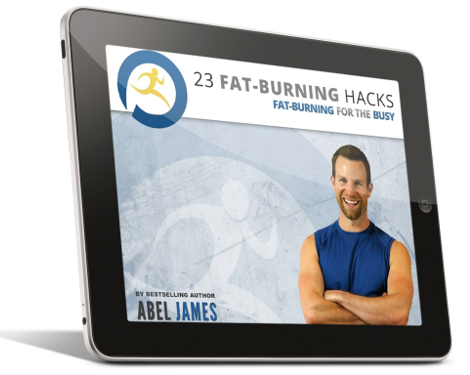 Discover how to drop fat with chocolate, bacon, and cheesecake. Plus: learn the 3 worst foods you should NEVER eat and the 7 best exercises for rapid fat loss. Click below to to claim your FREE gift ($17 value)!
INSTANT ACCESS