It's super easy, versatile, delicious, and a nutritional powerhouse. If you want to burn fat, drink your green smoothie.
The nutritional equivalent of eating a salad and then some, green smoothies are packed with vitamins and minerals, filling fiber, and raw food enzymes to aid digestion. Green smoothies are detoxifying, and best of all, alkalizing, which will encourage your body to burn off fat and restore health.
Store-bought "green smoothies" from the bottle are almost always devoid of fiber and packed with preservatives. Those that you buy from smoothie stores are more often than not well-marketed sugar bonanzas. They're more like Slurpees. They give smoothies a bad name and people the wrong idea…
This is How
NOT

to Make a Green Smoothie

(I actually found this on the web recently):
2 cups of vanilla reduced fat ice cream
1 cup orange juice
2/3 cup spinach
1/4 cup brown sugar
3 tablespoons frozen fat free whipped topping
Brown sugar? Ice cream? Whipped cream?
Are you kidding me? This is calorie-soaked, insulin-spiking, devil's milkshake. And it will make you fat.
That's why it's essential that you make your own green smoothie at home. All you need is a smoothie blender, a drawer in your refrigerator with a few random vegetables, and a few minutes of your time.
So How Do You Make A Green Smoothie?
Simply, you combine the following four categories of ingredients as you see fit:
Green (use one or more): Kale; Spinach; Bok choy; Collard greens; Cabbage greens; Swiss Chard; Beet Greens; Sprouts; Cucumber; Broccoli; Celery; Avocado
Liquid (use one): Water; Tea, Almond Milk, Coconut Milk, Coconut Water, etc. Also add ice if you like your smoothie chilled.
Fruits/veggies (use one or more): Strawberries; Blueberries; Bananas; Apples; Cherries; Coconut; Carrots; Beets (top & root); Lemon & Ginger root; Pumpkin; Tomatoes
Add-Ins: Protein Powder (with no added sugar); Flaxmeal (for Omega-3's); Cinnamon (regulates blood sugar); natural sweetener (stevia, xylitol)
It's not a science. Green smoothies are stupefyingly simple to make and difficult to mess up. This makes them an ideal man food.
The protein powder is great for this kind of shake because it acts as a thickener. Here's a pro tip: smoothies with thickness or some kind of "chew factor", have been scientifically proven to increase how full you feel. More fullness = fewer calories = more fat-burning.
If you want to make a green smoothie but you are skeptical, here is a beginner-friendly version: take kale, banana, mango, water, and ice, combine them, and boom. Yes, it's weird and green, but don't be afraid – it's also delicious.
At first, it struck me as strange that I would be slurping down a lumpy, green, gelatinous sludge in the morning. But once it hits the lips, you'll be a convert. After a few weeks, I outright craved green smoothies in the morning. Now my days don't feel complete until I have one of these in my belly.
Give it a shot. Green smoothies rock.
LEARN HOW TO DROP 20 POUNDS IN 40 DAYS WITH REAL FOOD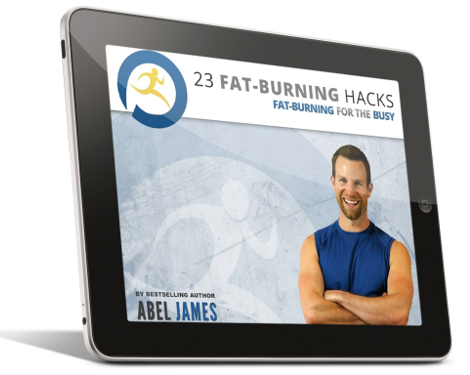 Discover how to drop fat with chocolate, bacon, and cheesecake. Plus: learn the 3 worst foods you should NEVER eat and the 7 best exercises for rapid fat loss. Click below to to claim your FREE gift ($17 value)! INSTANT ACCESS