Weight loss reality shows, like The Biggest Loser, have forever been the bane of my existence.
But then ABC asked me to be on one. And I said "yes."
It's been a weird ride.
The show is hosted by Shaun T of Insanity and shows real people from Atlanta putting diets – like vegan vs. paleo – into action in real life. In an interesting twist, the experts on the show (like me), can get eliminated.
Will you be stunned by how much fat you can burn with real food?
Will Abel debut on network TV dressed in a full-body bacon costume?
Will The Wild Diet dominate by taking a huge lead right out of the gate?
Could I be completely eliminated from the competition for being a buffoon?
There's only one way to find out.
Tune in tonight (Thursday, January 7th) at 9pm Eastern / 8pm Central for the premiere of My Diet Is Better Than Yours on ABC.
In the meantime, watch below to see my ugly mug on People and Entertainment Tonight…
And get an Exclusive Sneak Peek of The Wild Diet on People.com.
Abel James Explains The Wild Diet on People
What Is The Wild Diet?
The Wild Diet focuses on whole foods: healthy fat-burning fats; organic vegetables; pasture-raised meats, poultry, and wild-caught fish; pasture-raised eggs and grass-fed dairy.
What Is The Wild Diet In 30-Seconds or Less…
In "My Diet Is Better Than Yours" star experts and trainers coach overweight Americans on how to lose weight on their unique diet and fitness plans.
"My Diet is Better Than Yours" features celebrity trainers, including Abel James New York Times bestselling author of The Wild Diet and creator of the award-winning Fat-Burning Man show.
Dawn Jackson Blatner author of The Flexitarian Diet is featuring "The Superfood Swap Diet" (check out Abel's interview with Dawn here).
Carolyn Barnes is creator of the "cLEAN momma" plan, as well as a speaker, author, and workplace wellness coach and is also joining the expert coaches on ABC TV.
Jovanka Ciares is a speaker, integrative herbalist, nutrition educator, author of 3 books, and is bringing the "Wellness Smackdown" to My Diet Is Better Than Yours.
Jay Cardiello featuring the "No Diet Plan" is a coach to professional athletes in the NFL and MLB… and he's also trained A-List celebs including Jennifer Lopez, Ryan Seacrest and 50 Cent. (watch Jay Cardiello on the Fat-Burning Man show)
Unlike NBC's The Biggest Loser, contestants on ABC's My Diet is Better Than Yours will be following their expert's unique diets from their home.
Watch this segment from Entertainment Tonight…
There's no "weight loss camp" – it's just real people working their day jobs, living with their families, and doing the best they can to lose weight.
Kurt Morgan will be following The Wild Diet with Abel James as his expert and coach.
"I picked Abel James' Wild Diet because it's simple, fresh ingredients with a bit of fun," says 46-year old Kurt Morgan who gained more than 100 pounds, topping out at 375 pounds after a head-on collision in 2006.
"I couldn't move, and I just didn't care what I ate. Then I got a staph infection and almost died," he says in People Magazine.
"Unlike other diet shows, this is real life," says Shaun T, creator of the home fitness sensation Insanity and host of the show. "They're going to work, they're coming home and they have to make their own food."
To measure each contestant's weight loss and fitness progress, contestants will be evaluated in challenges created by celebrity trainer Anna Kaiser (whose clients include Kelly Ripa, Shakira, and Sarah Jessica Parker).
Another concept of "My Diet is Better Than Yours" that makes it unique is that contestants may eliminate their trainers if they don't feel like the plan is working for them.
Here's what Shaun T thinks about The Wild Diet…
Here's a look at Kurt and Abel in People Magazine…
Want to learn more about the show and get the latest updates? Enter your email below!
LEARN HOW TO DROP 20 POUNDS IN 40 DAYS WITH REAL FOOD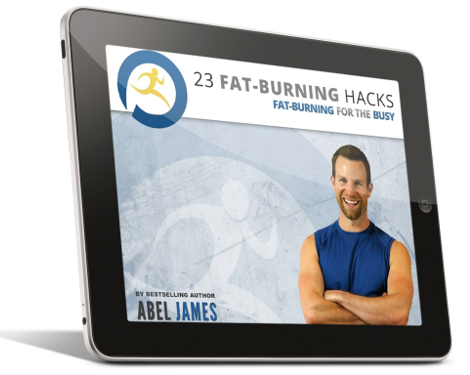 Discover how to drop fat with chocolate, bacon, and cheesecake. Plus: learn the 3 worst foods you should NEVER eat and the 7 best exercises for rapid fat loss. Click below to to claim your FREE gift ($17 value)!
INSTANT ACCESS
How To Get Started On The Wild Diet Today…
If you're ready to start burning fat right now eating delicious real food, get my Wild30 Fat-Loss System right now for an $20 discount!
You'll get all the tools you need to take your health into your own hands, including: A Wild Diet 30-Day Fat-Loss Manual, Quick-Start Guide, Shopping Guide, Motivation journal, and our just-released 30-Day meal plan!
NO MORE boring meals and calorie-counting wheels. No more embarrassing weigh-ins or killer treadmill workouts.
Just delicious food and simple home-exercise that will have you shedding fat in no time.
Click here to start shedding fat now with the Wild Diet 30-Day Fat Loss System!
Comment below with the one thing you think will definitely happen on the show.