Podcast: Play in new window | Download
Subscribe: Apple Podcasts | Google Podcasts | Spotify | Android | Pandora | Stitcher | TuneIn | Deezer
Tim Ferriss, the bestselling author of The 4-Hour Workweek, The 4-Hour Body, and The 4-Hour Chef returns to Fat-Burning Man this week (click here to listen to his first appearance on FBM where we talk about eating crickets and more).
The New York Times calls him "A cross between Jack Welch and a Buddhist monk," and Wired Magazine says he's "The Superman of Silicon Valley." Not too shabby, Tim.
Tim's got a new show in the works, including the launch of a new TV series that's a sort of combination of Jackass, Mythbusters, and A Beautiful Mind.
Before we get to the show, here's the review of the week for my new book, The Wild Diet.
---
5 STARS— More than recipes…By Michael Wesselson April 13, 2015
I bought this book after listening to Abel's "Fat-Burning Man" podcast for months. Abel takes a practical and positive approach to eating well and exercise. I have lost 3 inches in my waist from following his simple plan for 3 months. I look better and feel fantastic. I decided to buy "The Wild Diet" book so I could explore new and different recipes and still stay true to my new way of eating. There is a lot more than recipes in this book and I enjoyed having extra information on why this diet works and why traditional American eating and dieting does not. It is especially useful to have this resource because so many friends and family want to know what I have done to lose weight and look so good. Thank you Abel!
---
Thanks, Michael! Get your friends to try the new cheesecake recipe – there's no turning back…
If you haven't picked up a copy of The Wild Diet, please check it out on Amazon, Barnes and Noble, Apple iBooks, or anywhere books are sold. And don't forget to leave a review – I read every one!
Click here to see where you can grab your copy of The Wild Diet
On this show with Tim, we talk about:
How to get started with Ketosis (and witness first-hand what it does to Tim's brain)
The daily habits and hacks that could make you 10 times more effective
Why Tim isn't doing intense, cross-fit type exercise right now
How to heal from Lyme disease
This is my first podcast off the grid, running on solar and cellular up in the mountains by Santa Fe. So, the audio is a little bit scratchy, but it's a dang good start.
Tim Ferriss' Ketosis Experiment
To kickstart his ketosis experiment, Tim ingested the following:
2 – 3 tablespoons Caprylic acid

This is essentially MCT oil that converts well to ketones.

A spoonful of KetoSports KetoCaNa

This product contains the ketone Beta-Hydroxybutyrate (BHB), and jacks up the ketones like a cup of coffee would.

Morning brew of tea with ginger, turmeric, and a dash of green tea which supplies a steady stream of energy without the crash.

According to Tim, the degree to which you crash after drinking coffee depends on the roast.
Why is Tim Experimenting with Ketosis?
The short answer is, curiosity!
Tim has done a ketogenic fast before, but now he has better tools available to him. For example, before he didn't have a Precision Exra Glucometer from Abbot that also tests ketones. He just used keto sticks, which (in his words) is like trying to hit a target from 50 yards away holding the gun in the wrong hand with a blindfold on.
But one of the deeper reasons is that Tim was really incapacitated after contracting Lyme disease, and he wanted to see if keto could correct some of his biomarkers. Apparently his lipids were way out of whack.
NOTE: I talk about it in the upcoming episode with Dave Asprey in much more detail, but suffice it to say that some people have a really hard time sleeping when on a strict ketotic diet. It solves itself when you do a carb refeed, but it just seems that some people tolerate ketosis better than others.
Tim's Take on Lyme
Lyme is somewhat of a controversial topic, but it nearly destroyed Tim for six months. He had swollen knees and he couldn't even remember simple names or numbers. He had no typical bullseye rash, but that's not uncommon—only 20% of people with Lyme are asymptomatic and most cases are misdiagnosed. A lot of the symptoms of Lyme are similar to chronic depression or chronic fatigue.
Tim advocates a conventional approach, destroying the Lyme bacteria with antibiotics.
Furthermore, after seeing a lot of very good doctors, he's come to the conclusion that there can't be chronic Lyme. Instead, he says those chronic symptoms are the result of a depleting gut microbiome resulting from the devastation caused by the antibiotics.
To repopulate his gut bacteria, Tim takes probiotics, including kombucha. But he also includes prebiotics, like inulin and insoluble fiber. The jury is still out on this, because he's still having trouble getting his bacteria population back up. But he's hopeful that a ketogenic diet could help with this.
Tim is hopeful, but he says the tests used for detecting Lyme are very primitive, yielding a lot of fast negative and positives. He cautions you to be careful when choosing a lab or doctor for this testing, generally avoiding the ones that specialize in Lyme testing because they make their money off of further testing. He says that's like asking a barber if you need a haircut.
Prophylactic Antibiotics
Tim recommends the use of prophylactic antibiotics if you live in a high density tic area. This would be something like a one-dose prescription for use if you find and remove a tic from your skin, rather than waiting until the onset of symptoms and then going on weeks or months of antibiotics. (He says it's like the morning after pill for Lyme.)
Tim's Habits for Highly Effective Living
First off, Tim admits that he's a night owl. Like many writers, he gets his best work done between bed time and 5am… which means that he would then sleep all day. However, when he's not burning the midnight oil writing a book, he has a few things he does every day to keep his life on track.
Give yourself time to wake up.
If you have to jump out of bed and dig right into emails and work, you're going to feel overwhelmed. Instead, wake up with an hour or an hour and a half to get yourself together before starting your day. Generally, Tim wakes around 7:00 or 7:30 am, giving him a couple hours before "work time."
Meditate in the morning. Just 20 minutes of a silent meditation BEFORE checking your devices or calendars helps clear your head for the day. Tim uses transcendental meditation, and recommends taking a class to train yourself in your chosen technique. He says that meditation is like a warm bath for your brain.
He recommends the following books and apps to help with and understand meditation:
Wherever You Go, There You Are by Jon Kabat-Zinn
Peace is Every Step by Thich Nat Hanh
Headspace meditation app
Calm app
He also recommends the books and products on Sam Harris' web site.
Practice daily movement, ideally outdoors. This doesn't have to be a workout. You don't have to be banging around kettle balls. For Tim, this usually takes the form of a 2 – 3 hour walk outside… which can actually work to deepen ketosis. You can listen to music or podcasts while you walk, or just be silent.
The Tim Ferriss Experiment
So, there are a ton of different ways to experience Tim Ferriss—including his ridiculously popular podcast, The Tim Ferris Show and his insane new TV show… The Tim Ferris Experiment.
How does he juggle it all?
Tim views LIFE as a series of experiments. He makes his life work by taking new projects and mitigating the fear associated with them.
For example, a lot of people try doing podcasts, but they have no exit strategy. When Tim started his podcast, he committed to doing six episodes. Then, if he didn't like it, he was done. But he ended up loving it and continuing on. Doing it like this gives you a clear goal, and a way out.
Tim approaches everything this way, in a series of 2 – 4 week experiments. In fact, he has some friends that renew their wedding vows annually and even knows a highly successful businessman whose wife evaluates him quarterly—with great success!
Tim makes a point to hang around highly successful, happy 60 to 70 year old men who have really good relationships as a sort of way to study their habits. Good relationships are not common… because relationships are challenging. Really good, smart, benevolent people are getting divorced left and right.
What about Tim's friend who is formally "evaluated" by his wife? Well, it works! He's graded every three months on a ten point scale in four categories: Husband, father, provider, and lover. He has a total that he has to hit, so that if he's away for two months on business trips, closing deals and making money, he gets a high score as a provider but perhaps has a lower score for father and lover.
This process illustrates how and where you allocate your resources and prevents problems from festering. How would that kind of rating system go over in your relationship? How about in your business relationships?
How Does Tim Ferriss Manage Everything?
He doesn't. Tim says that the problem with the digital age is that we are drowning in a lot of kind-of cool stuff. Here's an analogy:
Imagine you have mason jar, and you fill it half way with sand. Then you throw in some small rocks. When you try to put in a few large rocks, they don't fit. Those large rocks are the most important things in your life… so, if you fill your jar with the "sand" (all the kind of cool small things) you won't have space for the important stuff.
Here's a good litmus test—if you say, "That sounds cool, I'll have to think about it," then it's a no. But if it's a, "Hell, yes!" then do it! So, if it's not a HELL YES, then it's a NO. If you like that philosophy, check out this book by Derek Sivers!
You have to put first things first.
"There is no one path to success, but the sure path to failure is trying to please everyone."
This type of life management has to be sophisticated and stoic. If someone has no empathy for you and your situation, then maybe that's not a relationship you want to invest in.
Where Can You Find Tim Ferriss?
You can find all of Tim's projects– including the TV show, the blog, the books, and the podcast—at fourhourworkweek.com.
Get all 13 episodes of The Tim Ferriss Experiment on iTunes. Watch him try to become an expert poker player in three days, learn Jiu Jitsu and spar with pros, become a speed shooter, a drummer, and more. Check it out here.
LEARN HOW TO DROP 20 POUNDS IN 40 DAYS WITH REAL FOOD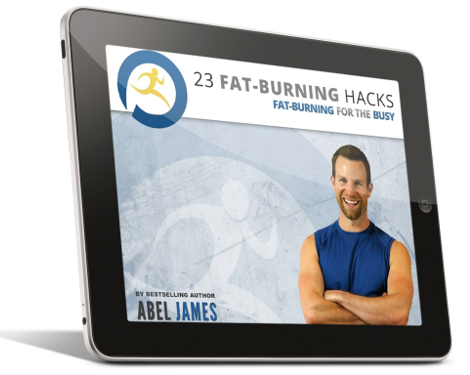 Discover how to drop fat with chocolate, bacon, and cheesecake. Plus: learn the 3 worst foods you should NEVER eat and the 7 best exercises for rapid fat loss. Click below to to claim your FREE gift ($17 value)!
INSTANT ACCESS