Here's the show with Vinnie Tortorich
Podcast: Play in new window | Download
Subscribe: Apple Podcasts | Google Podcasts | Spotify | Android | Pandora | Stitcher | TuneIn | Deezer
Vinnie Tortorich is a piece of work. Always a lively and interesting conversation, this time we're catching up about the world of health podcasting, new books, hiking 14 hours on bacon and eggs, and athletes who accomplish great feats while in ketosis.
Vinnie Tortorich has been a personal trainer for three decades, working with everyone from at-home moms to Hollywood celebrities, and he is angry that your good intentions have been stolen.
Vinnie is currently working on a sequel to his first hit book, Fitness Confidential, but we're not talking much about its content in this podcast—we're talking more about the task of publishing a book and why the memoir style is better than the prescriptive junk that's hard to read and rarely keeps your attention or helps in any real way.
Now, the health and wellness pioneers have to be in the business of infotainment—people are listening to podcasts in higher numbers than mainstream radio shows, and if you're not entertained, you're going to turn it off. So, Vinnie got into the podcast business to make sure he had a customer base for his first book—and it worked.
Fitness Confidential sold over 100,000 copies on Amazon… and still going strong. Vinnie records four podcasts a week: Two fifteen-minute straight-shooters, one interview with a health luminary, and one of his classic shows that mixes up comedy and info for your entertainment and your betterment.
Plus, he plays interesting games with health words.
But it's not ALL fun and games. When we start talking ketosis, Vinnie knows his business. He says that most people are scared of ketosis because they just don't understand it—and if they're in the medical field, they may get dietary ketosis confused with ketoacidosis. Diabetic ketoacidosis is a dangerous condition that occurs when the body doesn't have the insulin it needs to retrieve glucose for energy, then it starts breaking down muscle and fat.
Dietary ketosis, on the other hand, occurs when you limit your carb intake and total calories for a couple of days so that your body dips into its alternate energy source for fuel. That alternate energy source is your fat stores.
Why would you limit your carbs? Why would you cut out grains and sugar? Here's why:
80% of Vinnie's bone marrow was comprised of leukemia cells. He had cancer—no, he was dying of cancer. But he had the opportunity to consult with the BEST hematologist in L.A., who told him that cancer eats sugar to grow. She told him that sugar was the number one issue, and to get rid of it.
But it dawned on Vinnie that grains are metabolized in the liver the exact same way as sugar—so he adopted (and trademarked) a NSNGTM diet. That's "no sugar no grains." He was told that his cancer was in the type of remission that left 2 – 3% of cancer cells behind, but he could keep it from becoming a 5-alarm by continuing chemo.
Instead, Vinnie has been cancer-free since 2008 partly because he starved out the cancer by not giving it anything to "eat."
PLUS, dietary ketosis effectively helps you burn fat.
Now, Vinnie is not just cancer-free, he is rocking life. In fact, he climbed Mount Whitney in 14 hours on a 2am breakfast of bacon and eggs—carrying nothing but a bottle of Yukon, of which he drank only half. And Vinnie isn't the only athlete benefitting from a ketogenic lifestyle.
In June 2014, couple Sami Inkinen and Meredith Loring rowed 2,400 miles from San Francisco to Hawaii strictly on fats. One packed primarily dehydrated meats and the other (a high fat vegan) coconut oil and nuts. They carried their 1,000,000,000 calories worth of fats onto the boat with them and a desalinator for water… and not only did they finish, they set a record and beat many 4-man teams… and they were out dancing the very next night.
Unlike some other rowers who have accomplished this feat, these two stepped onto shore looking like they had just stepped off a plane. You can find out more about their fight to raise sugar awareness at their Fat Chance Row website.
Looking for a little practical advice, I asked Vinnie what he'd pack if he was going out on a long excursion. He said:
Coconut oil or MCT oil
Dehydrated meat (NOT jerky—more like pemmican)
Cruciferous veggies like Brussels sprouts, broccoli, kale, cauliflower (pureed if necessary)
Vinnie (and I) advocate eating a ton of veggies—like, an overwhelming amount of vegetables. Then add in your protein and fat of choice—which, for Vinnie, is fat from grass-fed meats and fish. He takes fish oil twice a day.
We leave you with this piece of advice from The Angriest Trainer:
If you do anything, drop the sugar, grain and artificial sweeteners. Those artificial sweeteners will kill you faster than cigarettes.
You can find Vinnie at vinnietortorich.com, his supplement company purevitaminclub.com, and on his fantastically entertaining and informative Angriest Trainer podcast.
LEARN HOW TO DROP 20 POUNDS IN 40 DAYS WITH REAL FOOD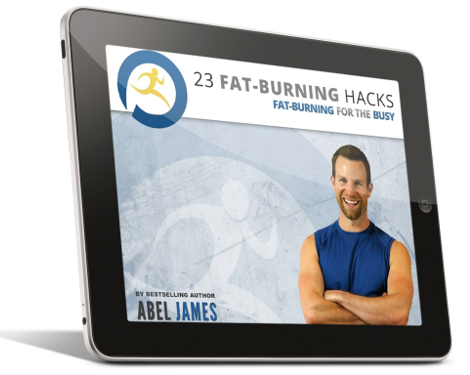 Discover how to drop fat with chocolate, bacon, and cheesecake. Plus: learn the 3 worst foods you should NEVER eat and the 7 best exercises for rapid fat loss. Click below to to claim your FREE gift ($17 value)!
INSTANT ACCESS