To celebrate the release of the brand new Wellness Mama App that we created with the wonderful Katie from Wellnessmama.com, I wanted to share two of my favorite recipes from the App. These are both delicious, and so easy that I even whipped up the Bacon Egg Muffins for breakfast with Alyson's parents in Phoenix after a 14 hour drive, and boy they loved it!
On to the recipes. The first is a light, but filling Curried Shrimp Stir-Fry dinner that is bursting with flavor. Then we cook up some Bacon Egg Muffins that will quickly transform your boring breakfast into a tasty, and protein packed morning treat.
Breakfast Egg Muffins
Easy breakfast muffins baked in bacon cups for a protein packed and delicious meal anytime.
Ingredients
12 pieces of nitrate free bacon
½ medium onion, finely chopped
½ bell pepper, finely chopped
10 eggs, beaten (with 2 TBSP milk or cream, optional)
¼ cup cheese (optional)
Instructions
Preheat oven to 375.
Line each cup of the muffin tin with a piece of bacon.
Put chopped onion and pepper in the bottom of the muffin cups.
Pour egg mixture into the cups.
Bake about 30 minutes (ovens vary) until eggs are set. Top with cheese (optional).
Can be wrapped in foil and easily reheated on-the-go.
Curried Shrimp Stir-Fry
Curried shrimp and vegetables is an easy recipe with a complex curry taste. It is super fast to make and only has six ingredients, so it can be made on the go.
Ingredients
1 lb shrimp (frozen or fresh, tails removed)
1 onion
3 T butter or coconut oil
1-3 tsp of curry powder (if you don't like this, just sauté the shrimp in butter and add spices you do like)
1 cup coconut milk (can or carton)
1 bag frozen cauliflower or veggies of choice/li>
Instructions
Melt butter or oil in skillet and add sliced onion.
Cook until slightly soft and add coconut milk, curry seasoning and other spices if desired.
Cook a couple minutes to incorporate flavors.
Add shrimp (thaw if frozen) and cook approximately 5 minutes until shrimp are cooked.
Serve with steamed veggies of choice topped with butter and salad with homemade dressing.
LEARN HOW TO DROP 20 POUNDS IN 40 DAYS WITH REAL FOOD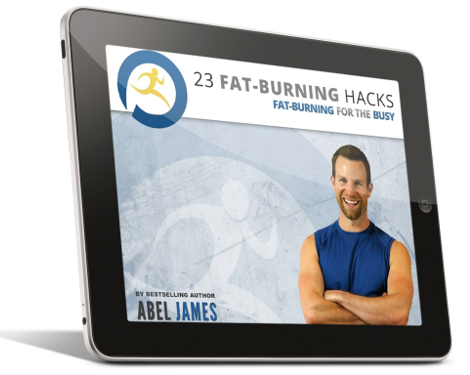 Discover how to drop fat with chocolate, bacon, and cheesecake. Plus: learn the 3 worst foods you should NEVER eat and the 7 best exercises for rapid fat loss. Click below to to claim your FREE gift ($17 value)!
INSTANT ACCESS