A few summers ago, Alyson and I did something nuts.
We suddenly sold our house, cars, and all of our belongings to travel the world.
We climbed ancient ruins in the mountains of Peru, dodged 7-foot rattlesnakes in Bryce Canyon, and visited a forest literally ruled by monkeys in Bali (scroll to the bottom for a fun monkey video).
Sometimes we unplugged from technology for weeks at a time.
Frankly, I'm surprised we survived.
And after 2 years of constant adventure, there's the strange sensation that we've racked up 10 years of life-experience. As The Urban Monk might say, it's like time travel.
Optimal health is much more than diet. Yes indeed – The Wild Diet is a lifestyle.
7 Steps To Rewild Your Habits
I shared 7 critical lessons I learned living off-the-grid in my keynote talk, "How to Rewild Your Habits" at Paleo f(x).
Click below to watch my talk…
So here they are – 7 steps to rewild your habits and take control of your life.
Step 1 – Dump Your Stuff: If you haven't used something in the past 12 months, unload it. Sell it. Donate it.
You'll be surprised by how good it feels to downsize. When you declutter your physical space, you declutter your mental space, as well. Everything you need to be happy fits in your backpack.
Step 2 – Live Below Your Means: The money struggle is real. I spent most of my life with less than $100 in my bank account. After abandoning the rat race, we were happy to downsize from a house (with a mortgage) to a 380 square foot RV and travel.
Oddly enough, our traveling lifestyle cost significantly less than we expected. We saved thousands of dollars every month. No more car payments, maintenance, HOA, anything. Our "rent" was whatever it cost to park the RV (often nothing). Pretty rad.
Don't dedicate your life to a job you hate just to keep up with the Joneses. Downsize, rent out your house, share a car, dump your stuff, and you might suddenly find that you've got a few extra bucks for your next adventure.
Step 3 – Make Yourself Uncomfortable: If you want to learn, grow, and achieve, you need to step outside your comfort zone.
Comfort and complacency are the enemies of success, and our society encourages mindless consumption and apathy. Take risks, make mistakes, and keep evolving.
When you make your own challenges, you won't have to settle for the ones the world gives you.
Successful people take big risks.
Click To Tweet
Step 4 – Practice Delayed Gratification:  We live in a culture of instant gratification. Hungry? Grab a Snickers. Need money? Hit up a Pawn Shop.
Want abs and muscles? Take this miracle potion! Ick. Avoid mindless consumption and lemming-like behavior.
When in doubt, act in the best interest of your future self (not your present self).
When your present self wants a Snickers, check in with your future self.
Eating a salad makes a lot more sense when you consider how you'll feel 2-3 hours later.
Step 5 – Be a Rebel: It's easy to color within the lines. But life begins when you stop caring what other people think.
You might be attacked, ostracized, or ridiculed for being different. That's good. As Mark Twain mused, "Whenever you find yourself on the side of the majority, it is time to pause and reflect."
Step 6 – Make a Bucket List and Cross It Off: What do you want to do before you croak? Don't underestimate the power of the bucket list, dear reader.
It sounds morbid, but writing down the things you want to do before you die is actually great fun.
Think big. Be crazy. Don't be shy. Now, take a good look at your list and put one or two of those adventures in your calendar.
Start now – the world is waiting!
Step 7 – Be a Creator, Not a Consumer: We're trained by society to be mindless consumers of brainless content of all kinds.
Don't let the Kardashians waste your time anymore.
Spend time each day creating something.
Think of home as a place of production, not consumption.
I do my best to write at least 15 minutes a day. Whenever I'm bummed out, jamming on guitar always makes it right.
Maybe you garden, paint, or dance. Cooking totally counts, too.
LEARN HOW TO DROP 20 POUNDS IN 40 DAYS WITH REAL FOOD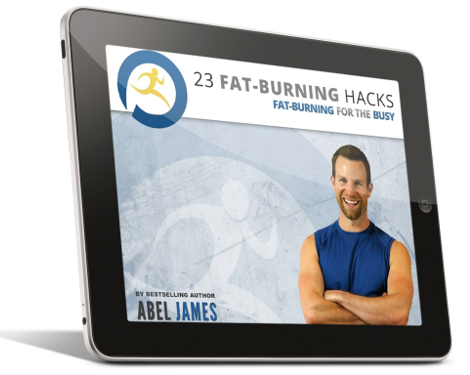 Discover how to drop fat with chocolate, bacon, and cheesecake. Plus: learn the 3 worst foods you should NEVER eat and the 7 best exercises for rapid fat loss. Click below to to claim your FREE gift ($17 value)!
INSTANT ACCESS
And that'll do it… Thanks to Paleo f(x) and those who came to the keynote – epic times.
I'll leave you with a video that proves I'm the king of the monkeys…
So, what's your next adventure? What's on your bucket list? Leave a comment and let us know!