I had the pleasure of interviewing Mira and Jayson Calton, authors of the national best-seller, Naked Calories. Mira was kind enough to send a copy of her book and I ate it right up.
Something is clearly behind the alarming increase in obesity and rapid degradation of our health. Fingers are pointed in seemingly every direction – fat, carbs, fast food, potatoes, Republicans, etc. – but what if all of these maladies aren't due to one thing in particular? What if has to do with umpteen-billion little things that are poorly understood yet absolutely essential to life?
You know, I think the Caltons are onto something. After traveling for 6 years to over 100 countries, they confirmed that micronutrient sufficiency is absolutely essential to achieving health, maximizing weight loss, and preventing disease.
Here is a taste of what we chatted about:
Why eating a wide diversity of foods is absolutely essential to health
How an inorganic apple is fundamentally different than an organic apple and light-years away from the apple that our grandparents ate just a few decades ago
Why Abel is shy of the optimal micronutrient health zone (hint: because he's a coffee fiend, loves scotch, smokes cigars, fasts, and exercises)
What YOU can do to become micronutrient sufficient
And why you should consider eating eyeballs from time to time.
Enjoy!
Listen to the full interview by pressing the PLAY BUTTON below on the right.[audio:https://traffic.libsyn.com/fatburningman/1FBMPodcastCaltons.mp3|titles=Abel Interviews Mira and Jayson Calton of Naked Calories!|artists=Abel James, FatBurningMan.com]You can also DOWNLOAD the full interview. (right click and select "Save As…")
Take a stroll over to the Caltons' website, CaltonNutrition.com and see if you can beat my score in the micronutrient quiz. In order to drum up some excitement, when you order their book you're eligible for a sweepstakes where you could win a $20,000 cruise. Not too shabby.
I also highly recommend their book, Naked Calories, which not only takes you along on their wild 6-year, 100-country journey across the world, but also has incredibly useful information on how you can improve your weight, health, and life by becoming "micronutrient sufficient." Go pick yourself up a copy.
Thanks again, Mira and Jayson!
For those short on time, here is an abridged version of the interview with a video slideshow.
LEARN HOW TO DROP 20 POUNDS IN 40 DAYS WITH REAL FOOD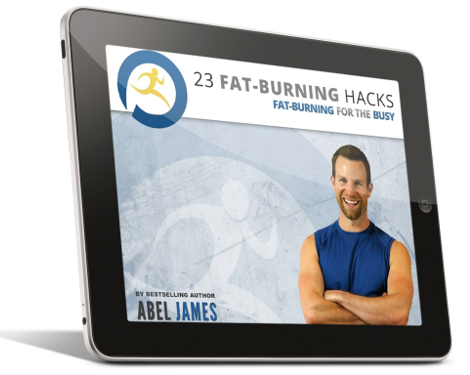 Discover how to drop fat with chocolate, bacon, and cheesecake. Plus: learn the 3 worst foods you should NEVER eat and the 7 best exercises for rapid fat loss. Click below to to claim your FREE gift ($17 value)!
INSTANT ACCESS
[al2fb_like_button]
Podcast: Play in new window | Download
Subscribe: Apple Podcasts | Google Podcasts | Spotify | Android | Pandora | Stitcher | TuneIn | Deezer