This original live-looped song, "I don't need no breakfast bay beh" was written, performed and filmed live in one take in 360° video with spatial audio by Abel James. Thanks for listening.
Look around the video by either pressing the arrows in the navigation circle in the top-left corner of the video, or simply click and drag with your mouse. If you have a VR Headset, move your head around to hear the 360 degree spatial audio.
Check out these articles and interviews for more information on the health benefits of intermittent fasting:
Like this song? Click the tweet below to share with your friends…
Need a giggle? Abel's sings 'I don't need no breakfast, baby.'
Click To Tweet
Song Lyrics for "I don't need no breakfast bay beh"
I don't need no breakfast, baby.
I don't need no breakfast, baby.
I don't need no breakfast, baby.
I don't need no breakfast, bay beh.
I don't need no breakfast, baby.
I don't need no breakfast, baby.
I don't need no breakfast, bay beh.
I don't need no no.
I don't need no breakfast, baby.
I don't need no breakfast now.
I don't need no breakfast.
I don't need no breakfast now.
I don't need no breakfast now.
I don't need no breakfast now.
I don't need no breakfast now.
I don't need no breakfast.
LEARN HOW TO DROP 20 POUNDS IN 40 DAYS WITH REAL FOOD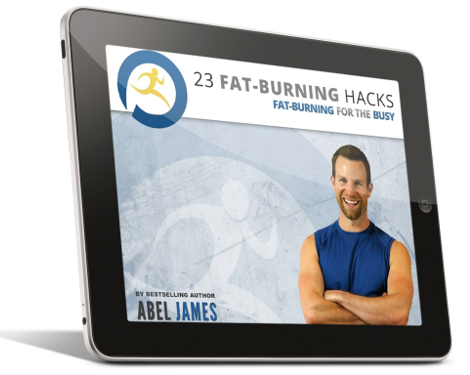 Discover how to drop fat with chocolate, bacon, and cheesecake. Plus: learn the 3 worst foods you should NEVER eat and the 7 best exercises for rapid fat loss. Click below to to claim your FREE gift ($17 value)!
INSTANT ACCESS
Music/Audio Gear:
Sennheiser e935
Boss RC-505
Teenage Engineering OP-1
Zoom ARQ
Boss GT-1
Boss Katana Artist
Traveler Guitar EG-1 Custom
Travelcaster
Talyor 814CE
Roland Juno-DS
Logic Pro Mellotron triggered by MIDI
360 Video:
Ricoh Theta V
Before You Go…
Hey there, thanks for listening!
We are proud to bring you these videos each week 100% free and without commercials, sponsors, or the influence of any corporation or organization that would have the potential to cloud our message of no-nonsense health and happiness.
The show is 100% free and without any commercial interruption or influence, and I intend to keep it that way.
Truth be told, I've turned down more than a million bucks from companies that wanted to do everything from buy the show and my websites for their own marketing purposes to advertising deals for ridiculous fat-burning miracle weight loss potions, sicky-sweet protein bars, and absurdly expensive supplements.
But I say no because I don't do this for the money and those products won't help you.
I do this show because I want to do my part to improve the world of health and music, and I believe we can.
Since I started the Fat-Burning Man Show seven years go, we've broadcasted over 200 hours of content out into the world, hitting #1 in Health in more than a half a dozen countries with more than 25 million listens. Pretty cool, but I think we can agree that there's a lot more work to be done.
We've made a dent, but we're just getting started and need your help to reach even more people.
Why is it important that we reach more people with the show? Take a peek at some of the reviews and you'll get a decent idea of why you should check out the Fat-Burning Man Show.
So, if you love this show, if you support the way we approach doing it, if you think we could make it better, if you believe in the no-nonsense nature of our message and want to see it continue, please consider checking out our products.
Not only do your purchases support my music and the Fat-Burning Man Show directly, they also provide access to the commercial-free podcast for other listeners who otherwise could not hear the program.
Thank you for taking the time to listen. And thank you for being a part of our Tribe. We sincerely appreciate your support.
Future Greens: It's Like Vegetables From The Future
You may know that I'm not a big fan of most supplements. It's hard to know if you're getting what you paid for, and even worse, many supplements, juices, powders, and greens we've tried taste terrible.
For example, have you ever noticed that most powdered vegetable mixes taste like fish tank? Don't even mention fish oil supplements. Once you've had fish burps, it's hard to trust that brand again.
So, that's why Alyson and I have spent the last 3+ years creating Wild Superfoods, and it's our goal to give you the very best nutrition the world has to offer.
Now you can get the concentrated nutrition of 15 organic fruits and vegetables plus six other superfoods in one extremely convenient ready-to-go package.
We call it Future Greens, and if you're looking to improve your health, performance, and well-being by doubling your intake of fruits and veggies without the sugar and carbs, you're going to love it.
Future Greens: Making Fruits and Veggies Delicious Since 2018
With Future Greens, you can whip up your daily green drink in less than 30 seconds, no matter where you are. No messy blender to clean up, and no need to spend $7 bucks at the juice bar for a boost of real food nutrition.
The certified organic stevia gives it a subtle sweetness, and it tastes great in water or juice, and we think it even makes our green smoothies taste a whole lot better.
It's made with certified organic, non-GMO fruits and vegetables to aid in detoxification, balance your body's pH, and give you a boost of clean energy without sugar, caffeine, or the dreaded crash.
No junk or artificial sweeteners, and just 1 gram of sugar per serving (from real fruits and veggies).
With a tasty wild berry flavor, you and your kids won't even realize you're eating broccoli and 20 plus powerhouse fruits, veggies, and adaptogens.
So if you want to try our brand new creation from Wild Superfoods called Future Greens, we have even better news for you.
As a thanks for being our reader and listener, you can get a 20% discount to try Future Greens yourself. Just head over to wildsuperfoods.com to get the scoop on Future Greens and you can save 20% when you select Subscribe and Save.
What did you think of this song? Send me a note on Facebook, YouTube, Twitter, or Instagram.