Are you ready for the best Paleo crock pot recipe you've ever tasted? Brace yourself… You're about to experience the fruit of Sam's slow-cooking kitchen mastery: beef burgundy with sweet potatoes.
As a man with a short attention span and a penchant for improvisation, I tend to put up quick recipes that are best-suited for small crowds and accelerated appetites. But not Sam. Her beef burgundy is a slow-cooking show-stopper capable of making entire auditoriums salivate. And prepare to enjoy your kitchen time. If you're anything like Sam, you'll be singing at the top of your lungs, brandishing fresh herbs, and breaking out that special bottle of Chilean cab sauv.
And without further adieu, I'll turn it over to Sam.
"Since even people who aren't on any kind of diet can savor these intense flavors, beef burgundy is a true crowd-pleaser.
Cook it in large quantities to feed the entire family or to wow guests; it's especially good for piquing the interest of those that are on the fence about this whole new lifestyle you're rolling with.
It also makes outstanding leftovers (I never get around to re-heating them, it smells so good cold I just yummy on down…)."
Shopping and Preparation Tip:
Grab your ingredients the day before, since you're soaking all the lovely beef and veggies overnight in wine and burgundy. That's right – now you can drink your wine and eat it, too!
Oh, and if you don't have a slow-cooker, you can put the whole dish in an oven-safe, large pot with a tight-fitting lid and cook on low heat. It cooks on the stove top as well, but that means at least 3 hours in front of the stove. Nah, that's cool. I'd rather not.
Here's the Beef:
2 to 3 lbs shoulder or roast beef (more beef is always better, and the tougher the cut of meat the better it holds up in the cooking)
1 Medium sweet onion, chopped
1 cup sliced carrots
1 cup sliced celery
4 cloves of garlic, chopped or minced
1 sprig or 1 tbsp fresh rosemary (some prefer sage, I go either way)
1 sprig or 1 tbsp fresh thyme
1 tps crushed black pepper
½ cup peeled shallots (optional)
1 tsp cloves (optional)
1 bottle of dry to medium red wine (I tend to go for less pricey bottles when I'm cooking with them. But then, I also tend to pour myself a half a glass to keep the cooking process robust!)
1 cup of burgundy wine (I sometimes use grappa when I've got it on hand)
The Toppings
1 cup sliced mushrooms
½ cup chopped bacon
1 cup pearl onions (white or red, both are tasty!)
The Unconventional Roux
4 tbsp butter
4 tbsp tapioca flour (this gluten-free flour doesn't affect the flavor of the dish)
The Sweet Potatoes
3 to 4 sweet potatoes
4+ tbsp real butter or ghee
Thyme and pepper (optional)
½ cup cream
So here's the flow for this dish: get your ingredients the day before. Chop and prep the first set of meat and vegetables, then soak overnight. In the morning, you'll be browning the meat and tossing everything into a slow cooker. It takes several hours on low heat to make all that meat melt in the mouth. That night, with a few more minutes of prep, you'll have a completed meal.
This is a show-off meal, and although the total time to make it is a bit much, that time is disbursed into three little pockets of time spread out over a day and a half.
The Night Before
Cube the beef, about 1 ½ inches on each side. This makes them more manageable while cooking, and they'll cook down to closer-to-bite-sized. Then they'll just fall apart from being tender anyway.
Toss the cubed beef into a large bowl. Add the onion, carrots, celery, garlic, rosemary or sage, thyme and black pepper (also add the optional cloves and shallots if you've got 'em). Pour the wine and the burgundy over it, stir, and cover (I love wine, I love wine, winey-wine-wine, here it goes down, down into the crock pot!). Put the whole shebang in the fridge overnight to soak.
The Morning of the Feast
In the morning, marvel at the amazing smell, and let the anticipation build. Here's the secret to the intense savory flavor: you're going to fish out the cubes of beef and brown them in a skillet with a drizzle of olive oil. Brown each side (this is where the larger chunks come in handy) to lock in those meaty juices, then toss into the crock pot. At this point, go ahead and turn the crock pot on.
Here's another spot you can choose to go all out or save yourself some time. You can fish out the veggies and brown them, too, or you can just take the entire bowl of wine and veggies and pour it into the skillet (or another pot while you're browning that meat) and get it nice and hot. Once the veggies and wine sauce are hot, pour into the crock pot and cover. Let it hang out there until you're ready to start making dinner that night.
Yes, it's going to make the entire house smell amazing all day long.
Showtime
About a half hour before you intend to serve dinner, cook the bacon to a nice crisp. Toss it into the slow cooker. Then brown the mushrooms and pearl onions in the bacon fat. Toss them into the crock pot as well and cover it up.
Make a tapioca roux by heating the butter, then adding the tapioca flour. Cook until lightly brown, then add to the slow cooker and stir everything well.
Now for the sweet potatoes. I often cheat and make these ahead of time, then re-heat them in the oven (or, yes, even the microwave). You can either boil the cubes until tender, then add the butter and spices when you mash them. Or, if you're itching to really impress, roast the cubes in the oven with butter and spices at 350 degrees for about 20 minutes. Mash the potatoes up well and whip with the cream. Add more butter to desired taste and consistency.
Dollop the creamed sweet potatoes onto each plate and use a spoon to press down the centers to make a little bowl. Ladle an overflowing heap of the beef burgundy into your sweet potato bowl. When those assembled at the table start ooh-ing and ahh-ing, feel free to jibe a bit ("Mmmm. This looks good. I mean, really good. Hey, everyone! Come and see how good this looks!").
Then sit and sip with the rest of the bottle of burgundy, enjoying the way the beef falls apart in the mouth and the sauce melts you to your toes. You are now a royal cook, rocking food that helps you burn fat, build muscle, and become the envy of every kitchen.
Time Savers
If you don't think you'll have time for chopping the veggies, grabbing some pre-chopped veggies from the co-op or grocery store will save a bit of time.
If you suddenly don't have time in the morning, you can omit browning the meat. Warning: this is really going to cut down on flavor and meat consistency, so only do this in dire circumstances.
Cook the sweet potatoes in the microwave. Not nearly as sexy as roasting or even boiling, but it'll get the job done. Use a fork to punch several holes all over them (if they aren't already diced), rub them with the butter and put them in an open plastic storage bag. It might take 10 to 15 minutes in the microwave to cook them whole, about 5 to 10 minutes to cook the cubes. All this depends on microwave strength, so keep an eye on them. (Note, we don't like using microwaves, so avoid this if you can.)
Carb Savers
If you've decided you need to keep the carbs super low, you can eat this as an intense stew. Omit the roux and the sweet potato part of the recipe altogether and add hot water to thin the beef concoction. Omit the carrots as well. You can sub in other vegetables (celery root and spaghetti squash will give it a more intense consistency) or just up the amounts of the other veggies already in the recipe to make up for the loss.
Pairings
Did I mention the wine? Ah, yes. I did. But it bears repeating. I tend towards Cabernet with beef, but if you've already opened the bottle of Burgundy…
Anything else? Not really, though a side salad of baby spinach with olive oil, salt and pepper, grape tomatoes and feta cheese can be whipped up quick while you wait for the dish to come together. Also adds a nice bit of color to the plate.
You won't have room for desert at the end, but if by some strange twist of fate you do, some camembert or brie cheese pressed with sliced almonds tastes lovely with the wine.
Stay classy, folks.
LEARN HOW TO DROP 20 POUNDS IN 40 DAYS WITH REAL FOOD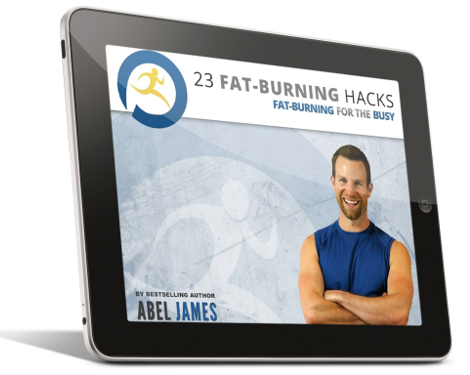 Discover how to drop fat with chocolate, bacon, and cheesecake. Plus: learn the 3 worst foods you should NEVER eat and the 7 best exercises for rapid fat loss. Click below to to claim your FREE gift ($17 value)!
INSTANT ACCESS