Ultimate Hangover Cure: The Spicy Detox Smoothie
Ready to swap out that bottom-shelf bloody mary for a virgin cocktail packed with nutrients to help you detox?
Ingredients
1 bunch watercress (or other greens)
1 cucumber
big handful cilantro
1 tablespoon gluten-free worcestershire sauce
1 teaspoon Tabasco (or other hot sauce)
2 tomatoes
juice of 1 lemon
1 teaspoon turmeric
1 garlic clove
2 tablespoons olive oil (or avocado oil)
salt and pepper to taste
water and ice
For Serving: Green onion, celery, and sliced lime
Instructions
Add all ingredients into the blender with enough water to facilitate blending.
Blend until smooth.
Taste and add more salt and pepper to reach desired taste.
Pour into serving glasses, and garnish with green onion, celery, and a slice of lime.
Notes
For people with nightshade sensitivity, substitute hot sauce and tomatoes with raw garlic and carrots.
Let's face it – "hair of the dog" is never a good idea.
Take it from a former frat boy: any attempt to drink a hangover away backfires big time.
So how about you swap that bottom-shelf bloody mary for a virgin cocktail packed with nutrients to help you detox instead?
And don't be tempted by a greasy egg muffin with fruit juice to ease your pain… People who start their day with carb-y, high-glycemic foods like cereal, muffins, bagels, and fruit juice ignite a vicious cycle of hunger and snacking.
The flood of insulin in the hours following an ill-advised breakfast leads to low energy, brain fog, hunger, and nagging cravings throughout the day.
But when you make your first meal a veggie-packed smoothie (without booze), you'll be front-loading your nutrition, cutting cravings, and burning fat instead of prolonging your hangover.
Ready for the detox? Here we go…
Share It With Your Friends
LEARN HOW TO DROP 20 POUNDS IN 40 DAYS WITH REAL FOOD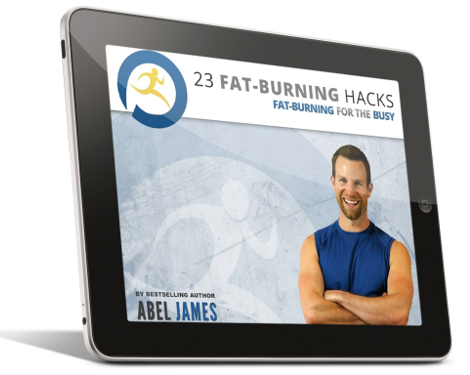 Discover how to drop fat with chocolate, bacon, and cheesecake. Plus: learn the 3 worst foods you should NEVER eat and the 7 best exercises for rapid fat loss. Click below to to claim your FREE gift ($17 value)!
INSTANT ACCESS
How To Get Your Daily Greens
Want an easy way to get more daily nutrients?
Future Greens is a concentrated superfood powder made of 15 certified organic fruits & vegetables, plus 6 additional superfoods, and digestive enzymes. It mixes with water to instantly create a tasty superfood drink, any time of the day.
Add it to your smoothie or drink straight with water to get a hearty dose of veggies with only 1 gram of sugar per serving.
The fiber in the kale, spinach, and other greens will help you beat cravings. You won't even realize you're eating broccoli.
Whether as a morning drink, a pre-meal drink, or just a snack, you'll feel satisfied and energized and less likely to eat junk. With a concentrated, broad-spectrum infusion of fruits, veggies, and other superfoods, Future Greens gives you a massive boost of your daily micronutrients—including vitamins, antioxidants, and minerals.
Try Future Greens for yourself and Save an Extra 15% off with code WILD15
What's your favorite hangover cure? Comment below to let us know.