To kick off 2012, I am hosting an interview series that features incredible people and their inspired stories.
I am honored to begin with David Garcia, a fellow blogger who has been featured on Richard Simmons' Website, the Ellen show, and The Doctors, who lost an incredible 167 pounds and has been able to keep it off with remarkable patience, grace, and perseverance.
He chronicles his weight loss and transformative journey at KeepItUpDavid.com, a blog I visit often and thoroughly enjoy. Do yourself a favor and check it out if you haven't already.
In this interview, David tells his story of losing an astonishing 167 pounds – transforming his body and his life forever.    Not only is his story exceptional, on top of it all, David is also a great guy.
In the full 35+ minute interview with David and Abel, you'll get the "skinny" on everything from the real Richard Simmons behind the song and dance to the relative benefits (and perilous dangers) of rutabagas and Jerusalem artichokes… David also offers useful tips and advice about the the joys of vegetable-shopping, climbing virtual towers, keeping apartment-sized progress charts, and how to banish self-doubt, prevent yo-yo-ing, and dodge that pesky bowl of M&M's.
Listen to the full interview by pressing the PLAY BUTTON below.
[audio:https://traffic.libsyn.com/fatburningman/2FBMPodcastDavidGarcia.mp3|titles=How David Lost 167 Pounds… And Kept it Off!|artists=Abel James, FatBurningMan.com]You can also
DOWNLOAD
the full interview. (right click and select "Save As…")
If you're short on time, here is the abridged interview with a video slideshow.
Truly awesome stuff – thanks again, David! Please click like and share with your friends – David's story is incredibly inspiring!
Keep it up, David!
[al2fb_like_button]
LEARN HOW TO DROP 20 POUNDS IN 40 DAYS WITH REAL FOOD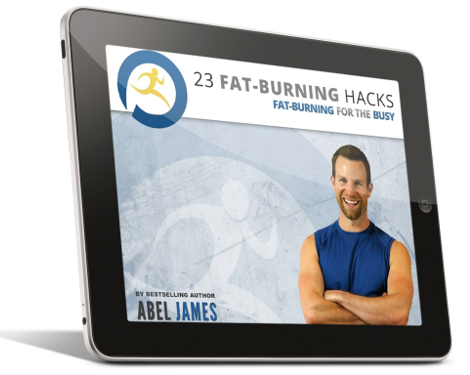 Discover how to drop fat with chocolate, bacon, and cheesecake. Plus: learn the 3 worst foods you should NEVER eat and the 7 best exercises for rapid fat loss. Click below to to claim your FREE gift ($17 value)!
INSTANT ACCESS
Podcast: Play in new window | Download
Subscribe: Apple Podcasts | Google Podcasts | Spotify | Android | Pandora | Stitcher | TuneIn | Deezer