David Gottfried is considered the father of the green movement, having founded the Green Building Council in 1993 which then expanded to over 100 countries with the Global Green Building Council.  You may have seen the "LEED" plaque on the side of a building?  That's the green rating system that David helped develop.
David is also married to an incredible leader in the wellness field, my friend and author of "The Hormone Cure," Dr. Sara Gottfried.  While his wife looks inward toward healing the body, David has spent his amazing life looking outward– trying to heal the planet.
In this show, David and I get a chance to talk about his new book, "Explosion Green."  It's really a twenty-year memoir about a character… who happens to be David… on his quest to green the planet.  We also touch on a topic that sounds like science fiction, but is truly an essential component of healing ourselves and the planet:  Rewiring the brain for survival in the 22nd century.
Here are a few highlights of the show:
How healing your body leads to healing the planet.
What drives even the greenest environmentalist to want a bigger house and a faster car?
Why our survival instincts are killing us.
Simple ways we can start living intentionally.
The "triple bottom line" of being green.
Here's the show.
Podcast: Play in new window | Download
Subscribe: Apple Podcasts | Google Podcasts | Spotify | Android | Pandora | Stitcher | TuneIn | Deezer
SHOW NOTES:
David Gottfried is the father of the green movement, having founded both the U.S. and Global Green building Councils.  This GBC movement has reduced global warming and our eco-footprint more than any other organization in the world.
David has a different perspective on the way the world works.  The pendulum is swinging in both the health and the sustainability movements.  According to David, the direction of the health movement is essential to what he refers to as the ecological triple bottom line:  planet, economy, and society.
His relationship with Sara helped him realize that the third leg of the stool was somewhat absent in his approach.  To understand the societal component, he had to focus on how the people inside the green buildings were living.  "If you are toxic, what good is a LEED Platinum, net-zero home?"
Sara got David looking at food, stress, anger, meditation and neuroscience to manage his own health.  But it's all interrelated:  David feels that what the green movement can bring to the individual is hope.
David believes that he is here as a change agent, that he was tagged for a higher purpose.  There's a saying in Judaism:  Tikkun Olam, to heal the world.  It's our purpose to put the divine light back into the leaky vessel.
How can focusing on our own health change the world?  Health and wellness isn't necessarily about getting ripped abs, although it can start there.  Once you approach health from a place of divine intent (you find your "why"), you start to believe in real food, in permaculture and local food.  You eat grazed meat and organic produce.  You become empowered by your natural intelligence.  That intent followed by those practices obviously have an impact on the environment.
Where are we going in terms of the brain and the environment?  Back in the 1950's, Buckminster Fuller declared that technology had arrived, and that the have-nots could finally have.  So, why don't we all have?  It has to do with the wiring of our brains.
"We are still harming nature, other species and each other.  We've got to wake up."  But perhaps we can't do that without updating our brain's operating system.
David started wondering why he still jumped for his bat when he heard noises in his house at night, or why he got road rage when another driver cut him off in traffic.  Well, it has to do with the prefrontal cortex—the part of the brain that says, "I'm a hunter.  I have to provide for my family and protect them."  You can't come home after a hunt without food.
As a result of this thought process, David came out with the E Revolution.  It's about taking the term human (to err is to be human) and adding an e:  humane.  
He started wondering if eco-greens could work with health experts to look at rewiring our brains.  Can we change the wiring of our survival instincts that were necessary hundreds of thousands of years ago, but are actually killing us now?  What does that new operating system look like and how can we install it?
How can we stack the deck when it comes to sustainability?
The first step is to check your ego at the door.  We have to switch to a humane operating system which means being human to your own body and being humane to other people.
Live with intentionality.  We all do things like buy homes, redecorate, paint, renovate, consumer energy, produce waste, use water, and use transportation.  There are small things to do that move toward positive change, such as:
Buy paint without VOC's.
Don't buy cheap furniture that smells like chemicals for months.
Use carpeting that doesn't require toxic glues.
Keep in mind, if something smells, it's probably bad for you.
Take your shoes off at the front door.  Why? So you don't track in all of the environmental toxins.
Tighten up your home's insulation:  Blow insulation in to attics, crawl spaces, and walls.
Install good quality windows.
Buy Energy Star appliances.
Install low-flow faucets, shower heads, and toilets.
Collect water in rain barrels for landscaping.
Drive less and buy fuel efficient cars.
Buy quality products.
Obviously, true change requires a monumental shift in our behavior.  Is that shift a slow burn or one big push?  You can actually map the shift.  Paul Hawken wrote a book called "Blessed Unrest" that mapped the world's eco grass-roots initiatives.  He stopped counting when he reached one million.  But it's going to take a combination of things from ordinances for green building, to tax policy, to support for organic and local farmers.
We have to shift into thinking, "If it's not green, it's not valuable."  We need to change the mindset of the public into thinking that if something is unhealthy, it shouldn't make money.  If it depletes the soil, if it causes birth defects, if it sucks up our rapidly disappearing aquifers, if it makes us sick… it shouldn't be purchased.
"Cheap" can be the most expensive thing you ever do.  One small example is in the cords I buy for my guitars and amps.  You can buy them for a couple of bucks on the internet.  But here's what happens:  They buzz and blow up in the middle of a show.  Then I have to replace them.  Then I get stressed out and ticked off, and I have to go and replace the cords.  After a few cycles of this, I could have just bought a $30 good quality cord to begin with.  Now I buy quality because it saves me money in the long run, it saves the stress, and it saves the environment because those many cheap cords aren't hitting the landfill.  The same goes for appliances, electronics, clothing, and the list goes on.
Look at what you do with the dollars you're spending.  What is the eco-footprint of the things you're doing?  Plant seeds that will grow good in the world.  Learn lessons from your mistakes, because lessons are the juice of life.
Check out David's new book, "Explosion Green!"  It will teach you an incredible amount about being green through story, and a healthy dose of self-deprecation.
You can check out more on the Green Building Council at usgbc.org and worldgbc.org.
LEARN HOW TO DROP 20 POUNDS IN 40 DAYS WITH REAL FOOD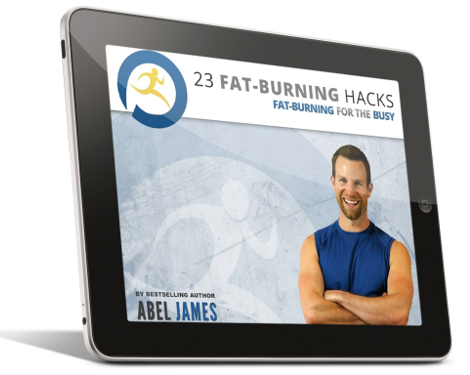 Discover how to drop fat with chocolate, bacon, and cheesecake. Plus: learn the 3 worst foods you should NEVER eat and the 7 best exercises for rapid fat loss. Click below to to claim your FREE gift ($17 value)!
INSTANT ACCESS
×
Read Next:
George is the man behind the Civilized Cavemen Cooking blog, and has just released a brand new cookbook called Paleo Kitchen. In this week's show George takes us behind the scenes and find out what it really takes to create a world-class cookbook…
Reader Interactions