Special episode for you this week, folks. This is a selection adapted from first draft of my new book, The Wild Diet about 10 Hours on Tour with Tim McGraw & the Fittest Band in Country as they came through Austin. Comment below and let me know what you think. 
Scroll down to the end and you can even hear me sing! 🙂 – Abel
First, the show!
As Alyson and I stepped aboard Tim McGraw's tour bus idling outside a Quality Inn in Austin, Texas, I realized that The Wild Diet is catching on.
Instead of passed out groupies, illicit drugs, and broken furniture, the spotless bus had a zen-like calm about it as the smell of strong coffee wafted through the cabin. The bus was brimming with fresh produce, raw nut butters, seaweed, protein bars made of grass-fed lamb, and an imposing 5 pound sack of Brazil nuts.
Fresh off filming the Today Show in New York City (see video below), the band seems bright-eyed and bushy-tailed. Denny, enjoying an unprecedented 20-year-stint as bandleader and guitarist for the country superstar, is 57 and looks half his age. Denny's rippling biceps and sturdy frame remind you that he's not to be trifled with, despite his gentle and pleasant demeanor.
Denny, a past guest of the Fat-Burning Man Show, has been following The Wild Diet for just over year (see below for before and afters). On a hearty diet that includes plenty of butter, bacon, and eggs, he's dropped 46 pounds (from 240 to 194) and gained a fair amount of muscle by hacking with fasting and feasting. Impressed by Denny's transformation, several bandmates joined the journey to better health and vitality.
"Our keyboard player only decided to try your diet because he's allowed to eat coffee cake," Denny grinned.
"My kids love eating this way" Dean-O the fiddle player adds. "They can do whatever they want when they're away from the house, but they know what's bad for them and usually don't eat pizza and junk carbs. They don't have a problem eating veggies. And they're totally into organ meats… head cheese is their favorite. Their friends think that eating brains is cool."
Eating brains is cool.
Despite a demanding tour schedule that often includes multiple shows in one day, the Tim McGraw Band eats well. Recent feasts while on tour with Faith Hill include: grass-fed bacon burger (bunless, of course), snapper with poblano sauce, grilled chicken and asparagus, roast beef with vegetables, shellfish platter with oysters, crab, lobster, shrimp and ahi poke along with a beet and endive salad. When he's not fasting, Denny's favorite breakfast is steak and eggs.
"It's really not that complicated once you get the hang of it – you just listen to your body and eat when you're hungry. I love it. I'm full of energy and feel 15 years younger. Eating better even makes me want to drink less."
And that's good, because this band doesn't drink before the show. They swing sledgehammers and throw gigantic tires around in the parking lot.
Band Gone Wild: Tim McGraw's Prison Yard Workout

Featured this month's cover of Men's Health after his own 40 pound weight loss, 47-year-old Tim McGraw is a specimen. He credits his rocking biceps and six-pack abs to his band's intense outdoor workouts that focuses on core training, strength and balanced movements to build up the muscles between the ribs and connective tissues. The Tim McGraw Band even tourswith a separate trailer dedicated to workout gear, lugging heavy chains, sledgehammers, and sandbags across the country.
"Tim is a beast, man, he keeps me on my toes," says Denny.
The band's recent workout included weighted pullups, push-ups, dips, and man-maker lunges followed-up with sprints in the parking lot. When they can find a gym, workouts focus on heavy, functional movements like deadlifts, barbell rows, and overhead presses. Band members unwind with mobility exercises, meditation, long walks, and "earthing" with bare feet on whatever grass they can find.
"It keeps us off the bus and it keeps us out in the fresh air instead of staying in a cave all day long," McGraw said on The Today Show.
And from watching the band play up-close from backstage, I can tell you that the Tim McGraw band puts on a dynamic show. And it's in large part their physicality that makes the band incredibly fun to watch.
The Tim McGraw band is doing just about everything right. This band doesn't work out and eat real food to "look better naked." They swing sledgehammers in the parking lot because they know that it makes them better at their job. Being in shape with wild workouts gives them the stamina and energy to give their fans a world-class show.
Other performers, athletes, and movie stars are catching on. Others to "come out" as Paleo / Wild / Ancestral include: Uma Thurman, Jake Gyllenhal, Matthew McConaughey, Jessica Biel, Miley Cyrus (for better or worse), Joe Rogan, Adrian Rodgers, Tucker Max, Dwayne (the Rock) Johnson, Grant Hill, and Hugh Jackman to name a few.
And oddly, these worlds are colliding. The day before the Tim McGraw band went on The Today Show, I was in New York with my friends J.J. Virgin and Dr. Sara Gottfried right after they stopped by The Today Show, as well. Healthy is getting hip.
It doesn't matter if you're Paleo, Low-Carb, Raw Vegan, Fruitarian, or anything else – real food works for everyone, and the word is starting to spread. If Denny beat the odds to lose 46 pounds on the road playing stadiums around the world, imagine what you can do. Just by embracing real food and enjoying a good sweat from time to time. Come join us.
One quick ask: if there's someone you can think of who needs to hear this message, please share this post with them using the share buttons on the side of this blog post or whatever way you can.
Watch Tim McGraw Work Out on The Today Show (filmed the day before):
Bonus: Watch Abel and Denny Jam on Guitar!
In between filming "The Today Show" and headlining at Circuit of Americas, Denny came by the house and we drank tea, feasted homemade muffins and quiche, and sat down in front of the podcast mic and just jammed, man. This is what happened.
Steamroller Blues (Abel Sings!)
Fatty Coffee Express
Voodoo Queen
The (New) Fat-Burning Man Theme
Old Love (it's a heartbreaker – audio only)
If you'd like to hear more of my music, subscribe to my YouTube channel.
Always love to hear from you. Let me know what you think in the comments.
LEARN HOW TO DROP 20 POUNDS IN 40 DAYS WITH REAL FOOD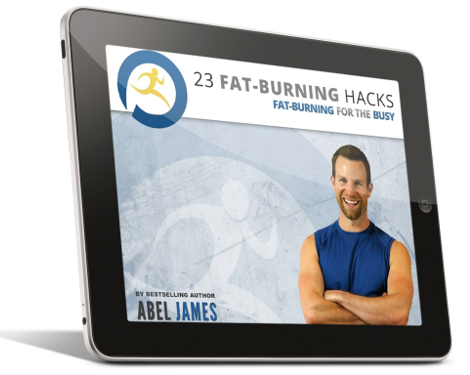 Discover how to drop fat with chocolate, bacon, and cheesecake. Plus: learn the 3 worst foods you should NEVER eat and the 7 best exercises for rapid fat loss. Click below to to claim your FREE gift ($17 value)!
INSTANT ACCESS