This week's guest on The Fat-Burning Man Show is probably well known to most of you.  He is an old personal friend of the mine and a leading chef and author in the Paleo movement.
George Bryant is the co-author of the wildly popular Caveman Feast eBook with myself, and together we also created the #1 Food App Caveman Feast.  Which is available for both iOS and Android right now, so check it out if you haven't already.
Plus, George is the man behind the Civilized Cavemen Cooking blog, and has just released a brand new cookbook called Paleo Kitchen with PaleoOMG's Juli Bauer. I tried the Creamy Seafood Risotto recipe last night and it was out of this world.
In this week's show George takes us behind the scenes and find out what it really takes to create a world-class cookbook…
Why real food, and good health are still the best way to connect with your friends and family.
The dirty work that goes into creating a best-selling cookbook… Over 14,000 photos, and thousands of hours in the kitchen.
The one simple trick that will let you master any recipe you cook, and make sure it's the tastiest version possible.
George shares his biggest piece of advice that let him reshape his relationship with food into a health sustaining, and a deeply fulfilling career.
Why the real food movement is so much bigger than just recipes and ingredients, it's about creating a sustainable lifestyle and living a better life.
George explains that love, passion and trust are the most important ingredients in any kitchen and recipe.
George has teamed up with Juli Bauer from PaleOMG to create an amazing collection of over 100 brand new recipes consisting of appetizers, entrées, side dishes, and decadent desserts that are sure to reinvigorate your caveman taste buds.
Click here to learn more about Paleo Kitchen
As someone who is lucky enough to know George personally and eat his food often, I can tell you that these recipes are the absolute best in the world of Paleo.
If you have grown tired of the same old, boring gluten-free recipes, just give the recipes in Paleo Kitchen a try and primal eating will never taste the same again!
Enjoy the show!
Remember, sharing is caring, so let your loved ones know about the Fat-Burning Man show and don't be shy with those tweets and Facebook share's.  I really could not do this without you guys, your support is the lifeblood of the show and I need your help to spread the message so click those share buttons.
Recommended Resources
LEARN HOW TO DROP 20 POUNDS IN 40 DAYS WITH REAL FOOD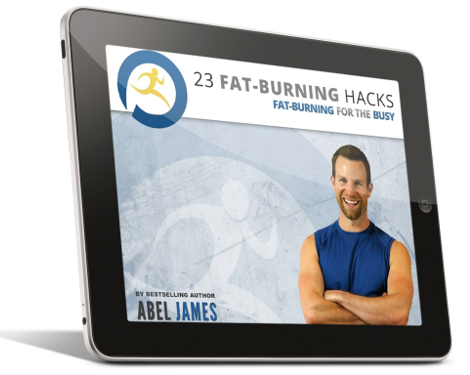 Discover how to drop fat with chocolate, bacon, and cheesecake. Plus: learn the 3 worst foods you should NEVER eat and the 7 best exercises for rapid fat loss. Click below to to claim your FREE gift ($17 value)!
INSTANT ACCESS