Are you tired of the same old dinner every single night? Then you're ready to shake up your taste buds with a delicious fat-burning feast from the Wild Kitchen! ​
We are excited to announce the release of the ​Wild Kitchen App for iPhone and iPad!
Download now on iTunes
This easy-to-use app includes a full section of original fatty coffee recipes that promise to take your morning buzz to a whole new level. PLUS, delicious gluten free desserts and snacks you won't find anywhere else and one-of-a-kind smoothie recipes that will have you craving your veggies!
The app also features multi-serving recipe options, so you can make any recipe in just the right size; a favorites list that stores your personal best-of-the-best; AND an awesome shopping list that quickly organizes all the ingredients you need to create the perfect feast before you head to the market.
Wild Kitchen makes it easy to be the kind of culinary artist your friends envy and your mother loves… Oh, yeah, and it makes getting healthy and lean a snap!
Here's a succulent sneak-peak of just a few of the recipes in the app…
Chicken & Pork
Spicy Chicken Thigh Stir-Fry and Cauliflower Fried Rice
Pulled Pork Sliders
Curried Chicken and Onions with Butter-Fried Parsnips
Beef
Chipotle Steak and Veggie Fajitas with Fresh Guacamole
Sundried Tomato Meatballs with Zucchini Noodles
Tamari and Ginger Lamp Chops with Roasted Vegetables
Fatty Coffee
The Sultry Pig
Joyful Almond Mocha
The Triple Threat
Desserts
Peanut Butter Chocolate "Cheesecake" with Hazelnut Crust
Apple Cider Donuts
Gooey Fudge-Butter Bars
Green Smoothies
Peaches n' Cream Green Smoothie
Spiced Blueberry Green Smoothie
Strawberry "Milkshake" Green Smoothie
Fish & Seafood
Swordfish with Spicy Peach Salsa
Baked Salmon with Tomato Pesto and Roasted Artichokes
Macadamia Crusted Cod with Tender Greens
Mainly Veggies
Thai Carrot Curry Soup with Zucchini Chips
Sweets & Beets Hash n' Eggs
Cashew Cream Alfredo with Veggie Noodles
For just the next few days we will be selling the app for just $1.99!
Download now on iTunes
LEARN HOW TO DROP 20 POUNDS IN 40 DAYS WITH REAL FOOD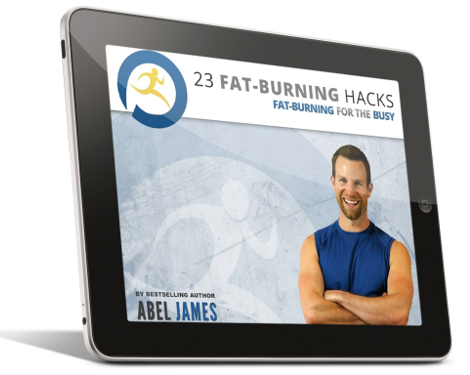 Discover how to drop fat with chocolate, bacon, and cheesecake. Plus: learn the 3 worst foods you should NEVER eat and the 7 best exercises for rapid fat loss. Click below to to claim your FREE gift ($17 value)!
INSTANT ACCESS