Hi folks,
I have incredible news. For the second time this year, your support has made me a #1 Best-Selling Author on Amazon!
"Intro to Paleo" has been #1 in Weight Loss, Weight Maintenance, and Nutrition for several days now, rubbing shoulders with The 17-Day Diet, Skinny Bitch, Wheat Belly, and nutrition and fitness behemoths like Bob Harper, Tim Ferriss, Joel Furhman, Robb Wolf, Mark Sisson, Scott Jurek, Isabel De Los Rios, and Pierre Dukan.
Holy smokes…
This is crazy.
You may or may not know that my blog, my books, my podcast is all totally self-published. No advertising, no corporate PR, no marketers in the background.
Competing with the diet and fitness industry is NOT easy, but it's incredible that we live in an age where this is possible. I couldn't do any of this without you. So thanks so much for your support.
On top of that, your feedback has been totally killer. Here are a few of my favorite Amazon reviews:
And a warm, hearty congratulations to Andy Fisher from across the pond who wrote a killer review and won a copy of the LeanBody Academy, my video training course!
I first came across Abel James' work when I stumbled across his excellent 'Fat Burning Man' podcast back in March. At that time I was a hefty 96kg at 5'8″ – a knee surgery, job promotion, new baby and a lack of self discipline had stamped its mark on my waistline and I was scrambling about for a way out of middle aged mediocrity! Abel's on point message, jazz fluid style and approachable take on the paleo diet was the lifeline I was looking for and I grabbed on with both hands.

Now, three months on I have dropped down to 86kg and the weight is still falling away and yet I've never eaten so well! The exercise protocols Abel outlines have allowed me to rehabilitate my knee and build enough lean mass that I can now jig my healthy 5 month old (who is already stretching the toes of 6-9 month sleep suits!) for hours on end without needing medical relief and, perhaps most important of all, I feel like I am back in control of my journey.

Abel's primer on the paleo approach is detailed enough to offer an insight into the robust science and common sense that underpins the lifestyle approach, while remaining this side of the nerdian line which is only crossed by nutritionists or those of us who have since been bitten by the bug and want to take a deeper look at the lost art of staying healthy. There is a reason that Abel has enjoyed a meteoric rise and is now being recognised as a significant voice in the international health and fitness movement – the man walks his talk, talks sense and has a sense of humor to boot! What's not to like?

My recommendation, for what it's worth, is to read this introduction and then pawn whatever it takes to invest in the rest of Abel's portfolio of educational products – don't worry, the family jewels will be safe because he seems to be one of those guys for whom getting the message out to as many people as possible is more important than personal financial independence! Just look at the man – the 'Ready, Willing and Abel TV Show' is surely just a savvy producer away but until then, read, digest, ingest and test the approach for yourself – I suspect you'll be delighted by the results!

– Andy Fisher, UK
You rock, Andy, and congrats!
You can check out my book below in case you missed it. Enjoy!
Press Release
AUSTIN, TX – Self-published health crusader Abel James topped the charts after being available on Amazon for just 24 hours.
"Abel James' Intro to the Paleo Diet is a perfect starting point to learn the basics of a diet that can change your life and your health. He isn't selling you the next magic pill or snake oil," says J. Savage. "He is providing you the introduction into a lifestyle that has a large community of like minded persons who have experienced and documented great changes to their health and well being. If you are looking to lose weight, you will. Weight loss is a side effect of Paleo. It is a reaction of your body's new found health."
"Holy smokes," says Abel, "I'm humbled. My books and podcasts are all totally self-published. No advertising, no corporate PR, no marketers in the background. Competing with the diet and fitness industry is NOT easy, but it's incredible that we live in an age where this is possible. I couldn't do any of this without my listeners and fans."
"I owe a great deal of my audience and listenership to the folks who opened the field and created this massive evolutionary biology / ancestral health movement," added Abel. "People like Loren Cordain, Art DeVany, Mark Sisson, Robb Wolf, and many others have raised awareness to the point that we now have a legitimate community online and beyond. It's truly an exciting time and I'm stoked that people are listening."
Abel wrote Intro to the Paleo Diet after starting the wildly popular health podcast The Fat-Burning Man Show earlier this year. Within a month of launching the show, it was ranked #2 on iTunes in the U.S. and U.K., and top 10 in most English-speaking countries.
"I'm just a man with a mic who is passionate about helping as many people as I can," says Abel.
Abel has conducted research studies, presentations, and speaking engagements in North America, Europe, South America, Africa and Asia for Fortune 500 companies, Ivy League Institutions, and the Federal Government. Also a professional musician and singer-songwriter, Abel James has toured North America and Europe as the bandleader of several award-winning groups including the Dartmouth Aires who recently were awarded Silver on NBC's The Sing-Off.
Abel recently published The Musical Brain which explores evolutionary biology and how musical training and experience affects the brain and reached #1 best-seller status on Amazon in "Creativity and Genius."
LEARN HOW TO DROP 20 POUNDS IN 40 DAYS WITH REAL FOOD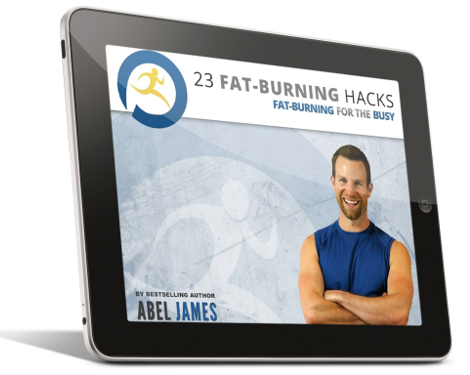 Discover how to drop fat with chocolate, bacon, and cheesecake. Plus: learn the 3 worst foods you should NEVER eat and the 7 best exercises for rapid fat loss. Click below to to claim your FREE gift ($17 value)!
INSTANT ACCESS