Jon Benson is the creator and co-author of Fit Over 40 (the #2 best-selling fitness e-book in the world and co-written with Tom Venuto, no less).
Jon is an internationally recognized transformation lifecoach, specializing in mental strategies for the excellence lifestyle, fat-burning nutrition and superior physical fitness. His coaching program TTP-90 has acheived critical acclaim in publications such as Shawn Phillips' Real Solutions, Dr. Richard Winett's Master Trainer and in Olympian Kevin Saunders' A Nation At War. Jon's online writing also won the 2005 award for Best Health and Fitness Blog from Forbes Magazine.
Jon is also a bit of a renaissance man; in addition to being an expert in nutrition and fitness, he is an accomplished musician, scuba diver, marketer, and speaker.  I actually met Jon through music, not nutrition, while playing a show in downtown Austin a while back. As a rocking bass player himself (who once opened up for David Bowie), we had a fun little chat about life, nutrition, marketing, and music.
But Jon isn't just an accomplished guy, he also has a truly inspiring story to share.
Of all the folks I've interviewed for my transformation series, Jon's change is perhaps the most stunning.
In his mid-30's, Jon's doctor told him that he probably wouldn't make it to 40.
With a bodyweight of over 260,  blood pressure of 200/100, a glut of hormonal problems, and a massive 48 inch waist, Jon wasn't just morbidly obese, he was a walking stroke.
Then, just before he hit 40, he transformed his body to a ripped 186 pounds 6.5% bodyfat!
Inspiring stuff.
Do yourself a favor and visit Jon's website and take a gander at his work. He manages to incorporate his sharp wit, personality, and humor into his writing – something very rare, especially in nutrition and fitness.
You can check out "Fit over 40" and "7 Minute Muscle" below or hop on over to JonBensonFitness.com to hear more from Jon.
Cool, onto the show.
Jon and I chat about:
How Jon went from having a 48 inch waist to landing on the cover of bodybuilding magazines
How to beat Tim Ferris' muscle building protocol by 3 hours and 53 minutes
What it was like to eat like a caveman before the "Paleo Diet" (in the 90's, dude!)
The relative value of genetics vs. training
Why eating Twinkies for breakfast is a bad idea
And what it's like to live down the street from Mark Sisson
Here we go.
Podcast: Play in new window | Download
Subscribe: Apple Podcasts | Google Podcasts | Spotify | Android | Pandora | Stitcher | TuneIn | Deezer
[audio:https://traffic.libsyn.com/fatburningman/21FBMJonBenson.mp3|titles=Interview with Jon Benson, Author of "Fit Over 40"]
LEARN HOW TO DROP 20 POUNDS IN 40 DAYS WITH REAL FOOD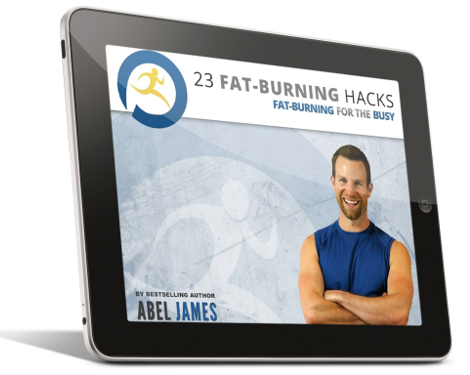 Discover how to drop fat with chocolate, bacon, and cheesecake. Plus: learn the 3 worst foods you should NEVER eat and the 7 best exercises for rapid fat loss. Click below to to claim your FREE gift ($17 value)!
INSTANT ACCESS