Bone Broth
Homemade bone broth is one of the most powerful superfoods on the planet. Whip up this recipe for a broth to help heal your gut, reverse aging, and cure the common cold.
Ingredients
Grass-fed beef bones, chicken carcass or any mixture of bones from wild or pasture-raised, healthy animals
Purified water
1 tablespoon vinegar (apple cider or white)
Instructions
Place bones into a large crockpot. You only need a few bones to make broth, but the more you can fit in the crockpot the better.
Fill with filtered water to cover all the bones completely (it's okay if there are a few bones poking out of the water a little).
Add a splash (about 1 tablespoon) of vinegar.
Set your crockpot on low, and cook for at least 6 hours, preferably longer. Poultry bones can go as long as 24 hours, and beef bones can simmer for up to 48 hours.
When the crockpot is cool enough to handle, pour the broth through a sieve into a storage container or use tongs to pick the bones out.
Season with salt and pepper to taste. Use within 5 - 7 days or freeze for later.
Notes
After cooling in the refrigerator, you may get a thick layer of fat on top of your broth. See below for uses for this fat.
There's a South American Proverb that says, "
A good broth can raise the dead
."
But what is it about "soup" that makes it good for us when we're sick?
Homemade bone broth is one of the most powerful superfoods on the planet.
It's made by simmering the bones of a (preferably pasture-raised) animal for 10 – 24 hours in a slow-cooker, or 24 – 48 hours for beef bones.
This low, slow cooking draws out the collagen, marrow, and other healing elements from the bones, including amino acids, minerals, glycine, and gelatin—which helps heal the gut and reduce inflammation.
My wife and I pretty much always have a batch of bone broth simmering on the counter. I'll drink a cup of it in the late morning with a bit of sea salt, or we'll use it to make soups and stews.
Broth can be a powerful weight-management tool, it keeps your joints lubricated, provides your bones with necessary nutrients, and makes your skin soft and elastic.
Broths are rich in nutrients that are difficult to source elsewhere—incredibly high in vital minerals like calcium, phosphorous, magnesium, and potassium.
You can use the bones (and legs from poultry, which are rich in restorative collagen) from pastured chicken, grass-fed cattle, fish, crustaceans, or anything else that was Recently Alive and Well (R.A.W.). Leftovers work well, too—take the picked-over carcass of a roasted fowl or the leftover bones from a roast or seafood meal. If you're in a hurry, you can even throw in a whole fish.
Turns out, grandma's chicken soup is even healthier than we thought.
Click To Tweet
Not only are bone broths packed with nutrition, they're an excellent way to save money on your grocery bill because you're skipping prepared soups and broth. Plus, you're doing your part to use the whole animal and reduce waste.
Unlike real bone broth, processed soup from a can like Campbell's or Hormel is packed with sodium, preservatives, corn starch, wheat, artificial flavors, MSG, sugar, and none of the things that make real homemade soup nourishing.
Traditionally, chicken broth is made from slowly simmering a whole chicken for hours along with vegetables and seasonings. Finally, the bones are removed, the chicken stripped off, and chopped vegetables are added.
This is the only prescription I take when I get a cold.
Click To Tweet
Alyson, bless her heart, always whips me up bone broth soup when I'm under the weather. It takes less than 10 minutes to prepare, but it can cut the duration of your cold in half. It has plenty of bug-fighting goodness that will fix you right up in no time.
How to stop a cold in its tracks: Sleep, water, and bone broth.
Click To Tweet
Where To Find Grass-Fed Bones
LocalHarvest.org is a free online resource for finding farms, farmers markets, CSAs and more near you. Just type your zip code into the field at the top of the page, and do a search to see what's close by.
If you can't find grass-fed, pasture-raised bones at your local farm or farmer's market, here are a few of our favorite places to order them online:
Bone Marrow

If you're using marrow bones in your broth, here's a little tip for getting to eat the marrow, too…
Make sure any marrow bones are turned sideways in the crockpot and are near the top so they're easy to find. You don't want the marrow to fall out into the broth when you pick them out.
Allow the bone broth to cook like normal (per the recipe above), but check on the bones in about 4-5 hours. Use tongs to pull the marrow bones out of the water, salt, and eat the marrow straight from the bone. The longer you wait to check on them, the more likely the marrow may have melted away–but, we've been able to get the marrow after about 8 hours in the crockpot.
Return the bones to the crockpot to continue cooking to make broth.
Alternatively, you can make Roasted Bone Marrow (page 278 of The Wild Diet), and then use the leftover bones in your bone broth.
Bone Broth Butter
After cooling your bone broth in the refrigerator overnight, you'll usually get a thick layer of fat on top. If you're using healthy bones from wild or pasture-raised animals, this fat is pure gold.
Scoop it into a separate storage container and store it in the refrigerator. Use it for stir-frying veggies, caramelizing onions, cooking eggs, or pan-frying burgers.
Bone Broth Soup
A few hours before serving, add your bone broth back into the crockpot along with a bunch of chopped veggies and spices.
Try adding 1 bunch chopped kale, 1 chopped onion, 4 minced garlic cloves, 3 chopped carrots, 3 chopped celery sticks, 1 cubed sweet potato, along with salt, pepper, onion powder, and a dash of cayenne. Chopped bacon can be a tasty add-in, and kelp is great for adding more nutrients.
Simmer on low until veggies have softened, about 3 hours.
Serve warm.
NOTE: If you can't find grass-fed/pasture-raised bones from your local farmer, you can order them online from Slanker or US Wellness Meats.
LEARN HOW TO DROP 20 POUNDS IN 40 DAYS WITH REAL FOOD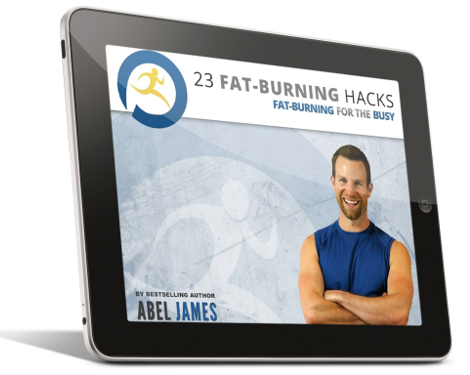 Discover how to drop fat with chocolate, bacon, and cheesecake. Plus: learn the 3 worst foods you should NEVER eat and the 7 best exercises for rapid fat loss. Click below to to claim your FREE gift ($17 value)!
INSTANT ACCESS
Share With Your Friends
How To Get Done-For-You Bone Broth
Don't have time to make bone broth at home? We like to keep backup broth in the cupboard just in case.
Kettle & Fire Bone Broth is made from 100% grass-fed, organically raised cattle and organic vegetables and spices… and it tastes great right out of the box.
Click here to try Kettle & Fire Bone Broth
How To Get Started with The Wild Diet
If you want more tips along with fat-burning recipes, and a plan to guide you to a healthier lifestyle, check out our new and improved Wild30 Fat Loss System!
This is our full fat-loss program with a complete 30 day step-by-step meal plan that includes full color photos and shopping lists to make everything really easy for you.
You get simple healthy, whole food recipes for breakfast, lunch, dinner, and dessert all broken down day-by-day to take any confusion out of the equation. PLUS as an added bonus, you'll get a Motivation Journal, Quick-Start Guide, Shopping Guide, and my 30-Day Fat-Loss Manual!
FOR A LIMITED TIME: Get The Wild30 Fat Loss System for $20 OFF!
Did you notice a difference in the way you felt after drinking Bone Broth for a while? Comment below to share your experience making and drinking homemade Bone Broth.