Wild Pumpkin Bread (Wild Diet Approved)
This pumpkin bread has all the wonderful earthy cinnamon-spice flavors of fall, with just enough sweetness to make you feel like you're indulging in dessert.
Ingredients
¼ cup coconut oil, melted, plus more for the pan
1 ½ cups almond flour
¼ cup coconut flour
¼ cup flaxseed meal
½ teaspoon sea salt
1 teaspoon baking soda
2 tablespoons ground cinnamon
2 teaspoons ground nutmeg
½ teaspoon ground cloves
½ teaspoon ground ginger
¾ teaspoon pure stevia extract, or to taste
1 cup organic pumpkin puree
1 teaspoon pure vanilla extract
4 Medjool dates, pitted
6 large eggs
1 teaspoon freshly squeezed lemon juice
Toppings
2 tablespoons salted butter, plus more for serving
1 tablespoon coconut palm sugar
1 teaspoon ground cinnamon
Instructions
Preheat the oven to 350°F. Grease a loaf pan with coconut oil.
In a large bowl, whisk together the almond flour, coconut flour, flaxseed meal, salt, baking soda, cinnamon, nutmeg, cloves, ginger, and stevia. Set aside.
In a blender, combine the pumpkin puree, vanilla, dates, 3 of the eggs, the melted coconut oil, and the lemon juice. Blend until the dates are broken up and well incorporated.
Add the remaining 3 eggs and blend until smooth.
Add the pumpkin mixture to the flour mixture and stir until well combined.
Pour the batter into the prepared loaf pan and bake until a toothpick inserted into the center comes out clean, 35 - 45 minutes.
Toppings
While the pumpkin bread is in the oven, melt the butter in a small saucepan over low heat. Stir in the coconut palm sugar and cinnamon. Spoon the mixture over the pumpkin bread during the last 15 minutes in the oven.
Slice and serve with salted grass-fed butter.
There's nothing like the savory aroma of pumpkin spice wafting out of the oven.
That hint of cinnamon and nutmeg makes you feel nice and cozy, doesn't it?
But do you know what doesn't feel so good?
You after you get bloated from the nasty ingredients in most prepackaged pumpkin breads, muffins, and mixes. The pre-made baked goods this time of year can sabotage your progress. So how can you get your pumpkin fix on a Paleo or Wild Diet?
Go ahead and type "pumpkin bread" into Google. I'll wait… Betty Crocker's recipe came up on the first page of results, didn't it?
All I can say is DO NOT CLICK. Here's why:
Betty Crocker is the invention of a marketing team, a fictitious character designed to draw women to convenience foods. Her marketing image may be wholesome, but her processed mixes sure aren't.
For nearly a century, Betty has promoted General Mills' processed sugary grain-based products with catchy slogans like "grand time savers" to appeal to busy moms. But don't let her fool you—Big Food is making tons of money by pushing cheap processed ingredients at high markups.
Bottom line is, Betty doesn't care about your health. #BettyCrocker
Click To Tweet
Let's take a look at Betty Crocker's "Skinny Pumpkin Bread" to see how wholesome it actually is:
White and wheat flour are inflammatory and work to increase belly fat.
Processed white sugar is an insulin-spiker that helps your body convert energy to fat.
Pureed pumpkin and spices are healthy, provided you're using organic pumpkin and fresh spices.
Canola oil is primarily made from refining GMO (90% of U.S. Crops) rapeseeds using petroleum-derived hexane. It's then bleached and degummed at high temperatures and then deodorized. In addition to being unhealthy, it's just gross.
Fat-free skim milk is the bluish chalky liquid leftover after the cream is skimmed off the top. Because the color and texture are not that palatable, often powdered milk solids are added—these milk solids contain toxic nitrates from oxidized cholesterol, which contributes to clogged arteries. But guess what? The FDA does not require milk solids to be listed on the label.
Fat-free egg product.
Betty Crocker's #PumpkinSpice Bread uses fat-free egg product. But what exactly is that?
Click To Tweet
I can tell you that Betty Crocker's Bread is definitely not doing your health any favors.
What about Betty Crocker's Spice Cake? Let's take a look at the ingredients.
Enriched flour bleached (wheat flour, niacin, iron, thiamin mononitrate, riboflavin, folic acid), Sugar, Corn Syrup, Leavening (baking soda, sodium aluminum phosphate, monocalcium phosphate). Contains 2% or less of: Modified Corn Starch, Corn Starch, Cinnamon, Partially Hydrogenated Soybean Oil and/or Cottonseed Oil, Spices, Propylene Glycol Mono and Diesters of Fatty Acids, Salt, Distilled Monoglycerides, Dicalcium Phosphate, Sodium Stearoyl Lactylate, Xanthan Gum, Cellulose Gum, and Color Added.
Ok, that's an epic fail again, Betty.
But don't let the unsavory ingredients in Big Food's bread deter you from having some fun this weekend. Alyson and I whipped up this low-carb, Paleo-friendly, Wild Pumpkin bread to satisfy your cravings.
LEARN HOW TO DROP 20 POUNDS IN 40 DAYS WITH REAL FOOD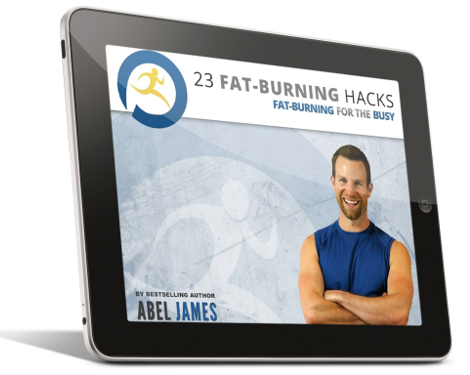 Discover how to drop fat with chocolate, bacon, and cheesecake. Plus: learn the 3 worst foods you should NEVER eat and the 7 best exercises for rapid fat loss. Click below to to claim your FREE gift ($17 value)!
INSTANT ACCESS
Instead of using ultra-process flours and high-glycemic sugars, on The Wild Diet we flavor our foods with fresh ingredients, blended up fruit for sweetness, and focus on real spices to make comfort food as healthy as possible.
And this Wild Pumpkin Bread is dang good. Let us know how you like it.
Share with Your Friends
If you want to learn how to cook for optimal health, come check out our Wild Diet Cooking Class—a series of videos where Alyson and I show you how we cook some of the most delicious fat-burning, nutrient-dense meals you've ever had.
Did you make this Paleo Pumpkin Bread? How'd it come out? Leave a comment below and let us know. 🙂