I had the pleasure of interviewing one of my favorite foul-mouthed bloggers (and now author), Mr. Richard Nikoley of Free the Animal. Richard is a leading voice in the paleo community and an inspiring figure to boot.
A few years back, Richard tipped the scale at 240 pounds and at over 33% body fat with skyrocketing blood pressure. But then he decided to do something about it. Eschewing the standard American diet and committing to a lifting routine, Richard lost 60 pounds and gained significant strength and muscle mass, completely transforming his body.
In the meantime, he got caught up in the wacky world of paleo, started a (now wildly-popular) blog, and quickly emerged as one of the leaders of the paleo movement.
In our interview, we cover a diversity of topics including:
How food manufactures and major institutions use secret handshakes to sell people absolute crap
Why organ meats kick the tar out of fortified grains
How you can get 50% of the benefit of both of our books without ever reading a word
The relative benefits of "eating like a caveman"
Why you're not a slothful sinner if you're overweight eating the standard American diet
How to completely obliterate a 1-hour workout with a slice of pizza and a beer
Why protein rocks and goo packs suck
How intermittent fasting can not only retain but actually increase your lean muscle mass
Why authors and bloggers like Richard and I desperately need our readers to keep us on track (a big wet, sloppy thanks to you all!)
Enjoy!
Podcast: Play in new window | Download
Subscribe: Apple Podcasts | Google Podcasts | Spotify | Android | Pandora | Stitcher | TuneIn | Deezer | RSS
[audio:https://traffic.libsyn.com/fatburningman/4FBMPodcastRichardNikoley.mp3|titles=Abel Interviews Richard of Free the Animal!|artists=Abel James, FatBurningMan.com]
You can also DOWNLOAD the full interview. (right click and select "Save As…")
Do yourself a favor and visit Richard's website, freetheanimal.com, and pick up a copy of his new book. It's a great read and an excellent primer on paleo nutrition and fitness.
Thanks again, Richard. Let's do it again soon!
For those short on time, here is an abridged version of the interview with a video slideshow.
LEARN HOW TO DROP 20 POUNDS IN 40 DAYS WITH REAL FOOD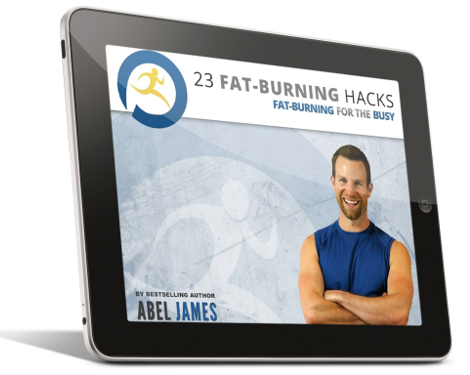 Discover how to drop fat with chocolate, bacon, and cheesecake. Plus: learn the 3 worst foods you should NEVER eat and the 7 best exercises for rapid fat loss. Click below to to claim your FREE gift ($17 value)!
INSTANT ACCESS