Hi there!
There is some darned exciting stuff brewing over here.
Firstly, this endeavor is no longer a one-man-show…not only do we now have a queen of the kitchen and a cute puppy, but I've also officially hired a much-needed typo-hunter, writer, and wordsmith named Sam. Come meet the newest members of the team here.
Also, I'll be co-presenting with several best-selling authors and leaders in the paleo community including Mark Sisson, founder of MarksDailyApple.com and author of The Primal Blueprint, and Robb Wolf, author of The Paleo Solution at South by Southwest in March.
I'm beyond stoked, and if you're in the neighborhood please come up and say hello. Check out my PaleoFX speaker page HERE.
Here's a bit of information about the PaleoFX Conference:
The PaleoFX Ancestral Momentum – Theory to Practice Symposium fosters collaboration among fitness professionals, healthcare professionals, nutritionists, research scientists and laypersons who approach their respective practices from an evolutionary perspective in order to successfully address modern health challenges through the application of ancestral based theory in practice.

The PaleoFX12 Symposium will include industry leaders and speakers who have taken the theory of ancestral health and applied it in modern day practice.  Presentations covering wide-ranging fields from fitness to nutrition to medicine and healthcare will be covered in this multi-day hands-on symposium in Austin TX.
Right on!
Also, I just posted an interview with the infamous Richard Nikoley of FreeTheAnimal.com. He's an entertaining fellow and gives great advice about eating like a caveman, fasting, and building muscle. Enjoy!
Finally, I have some awesome Podcast interviews in the works with some pretty serious leaders in the field including Robb Wolf, Jon Benson, Sean Croxton, and Frank Sabia, Jr. Stay tuned!
Whew. That's all for now. As always, give me a shout!
Cheers,
Abel
LEARN HOW TO DROP 20 POUNDS IN 40 DAYS WITH REAL FOOD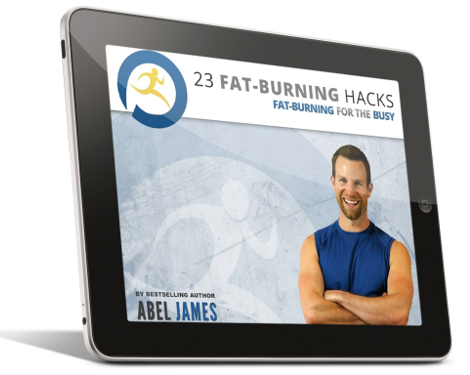 Discover how to drop fat with chocolate, bacon, and cheesecake. Plus: learn the 3 worst foods you should NEVER eat and the 7 best exercises for rapid fat loss. Click below to to claim your FREE gift ($17 value)!
INSTANT ACCESS