Magazines, newspapers, and the media love to smear organic food as "overpriced and unnecessary."
But does organic food actually contain more nutrition than conventionally grown monocrops?
Recent science shows that organic food may be worth the splurge.
But first, here's a bit of perspective. Before the industrial revolution, cities, and agriculture, everything was wild, native, and organic… by default.
An apple was an apple. All food was organic (because we hadn't invented toxic pesticides and chemical fertilizers yet).
Today, "conventional" means something completely different.
In an attempt to pinch pennies on our grocery budget, often we ask the wrong question: "Why are organic foods so expensive?"

What we really should be asking is: "Why are conventional foods so cheap?"
My brother, Mark, is an organic farmer in upstate New York. During harvest, when you see them work 14 hours a day for weeks on end, it's quite clear that organic farmers aren't doing it for the money. In fact, most organic farms barely break even, which shows that the prices for local and organic foods are actually quite fair.
Most "cheap" conventional food, though, comes with potential liabilities.
Nowadays, with non-browning apples on the shelf, insect-killing GMOs in your corn, and jumbo salmon grown in labs, all food is not created equal—even when you're comparing apples to apples.
Do you pay extra for the organic fruit and veggies? What about the more expensive grass-fed steak? Are the organic grass-fed dairy products worth paying a few bucks more?
When grocery budgets are tight, it's tempting to save by going conventional—but new studies show that organic foods are better for your long-term health.
MEAT AND DAIRY: IS ORGANIC WORTH IT?
If you care about the quality of fats in your diet, yes.
The British Journal of Nutrition just published a meta-analysis comparing data from over 170 studies showing that dairy and meat from organically raised bovine is 50% higher in Omega-3 fatty acids and has a better balance of Omega-3 to Omega-6 than its conventional counterparts.
Another 2013 peer-reviewed study indicates that organic milk is up to 62% higher in Omega-3's.
The shift in fatty acid balance happens because the organic, pasture-raised animals are allowed to graze and forage on grasses and roots, consuming vital nutrients that are then absorbed into their milk and meat.
Why are Omega-3's so important?
Omega-3's are essential fatty acids necessary for good health and crucial to maintaining brain function. The anti-inflammatory effects of increasing your omega-3's may help lower your risk for heart disease, cancer, and arthritis. But the benefits reach much further, including prevention of:
Depression
Dry skin
Mood swings
Circulatory problems
Alzheimer's and dementia
Poor memory
Diabetes
Chronic fatigue
Weight gain
Headaches
and more…
If you're following the Standard American Diet, you're probably getting far too many Omega-6 fatty acids (primarily from industrial oils like soy, corn, and other "vegetable" oils) and not enough Omega-3's. This imbalance can increase risk for inflammatory diseases, including everything from diabetes and heart disease to ADhD, migraines, and obesity.
You can upgrade up your Omega-3 intake by eating more wild caught fish, such as salmon or halibut, or by taking fish oil supplements. Or, if you don't necessarily want to change your menu, you can bump up your omega-3's simply by switching to organic grass-fed beef and dairy.
Is organic worth the higher price tag? Science says yes. @fatburnman
Click To Tweet
FRUITS AND VEGGIES: CONVENTIONAL OR ORGANIC?
When it comes to produce, studies are stacked against conventional again, but for a different reason: Polyphenols.
Polyphenols are produced when a plant needs to defend itself against an intruder, such as an insect, a weed, or a fungus. When plants are coated in pesticides, antifungals, and herbicides, they don't have a chance to build up their own defenses.
It's kind of like saying, "If you don't use it, you lose it."
For you, higher levels of polyphenols in your fruits and veggies translate to improvements in your long-term health and longevity.
Epidemiological studies show that a diet high in plant polyphenols helps protect you against cancer, heart disease, osteoporosis, and neurodegenerative diseases.
Of course, the more "Wild" the fruit or veggie is, the higher in polyphenols (generally speaking). The berries you forage out in the woods or the lumpy apple you pick from an old backyard tree are highest in polyphenols because they've really had to build up their defenses.
Did those wild blueberries you picked out in the woods taste a little bitter? You're tasting the polyphenols, and they're good for you!
Your next best choice is organic.
Another recent meta-analysis of over 300 studies showed that organic produce, ranging from apples and berries to broccoli and carrots, contains about 50% more of certain flavonoids than conventional produce.
50% more!
Flavonoids are phytochemical compounds that can help reduce your risk for: cancer, heart disease, asthma, and diabetes.
The increase in polyphenols and flavonoids make nutrient-dense organic produce a better value for your dollar than fruits and vegetables grown in factory farms that use chemical pesticides…
Not to mention the detrimental health effects of eating the chemical residue from conventionally grown plants, which we'll save for another conversation. (But they include ADhD, memory loss, skin issues, depression and even cancer.)
IN CONCLUSION: GO ORGANIC FOR CLEANER, MORE NUTRIENT-DENSE FOOD
While it's difficult for some scientists to come to a consensus on the organic vs. conventional debate, there's enough evidence for me to choose organic as much as possible.
Eat the best quality food you can find and afford. #TheWildDiet
Click To Tweet
Go organic when you can—remember, all food was once organic.
Today, certified organic crops have a higher standard of quality and are required to be grown in safe soil, have no modifications, and must remain separate from conventional products. Organic farmers are not allowed to use synthetic pesticides, bioengineered genes (GMOs), petroleum-based fertilizers, or sewage sludge–based fertilizers.
Organic foods also have fewer pesticides, synthetic fertilizers, growth hormones, and antibiotics, and contain higher levels of nutrients than conventional foods.
Conventional growers make no such promises.
As such, it is important to go for fresh, organic plants and animals when you can.
Honor the natural cycles of the seasons and save a few bucks by purchasing foods that are local and fresh, like cucumbers in the summer, apples in September, and cranberries in the fall.
Always eat the best quality food you can find and afford. At the top are wild plants and animals.
But unless you're hunting and gathering or growing food in your backyard garden, organically grown produce and pasture-raised meat and dairy is your best bet… these give you the highest health value for your dollar.
LEARN HOW TO DROP 20 POUNDS IN 40 DAYS WITH REAL FOOD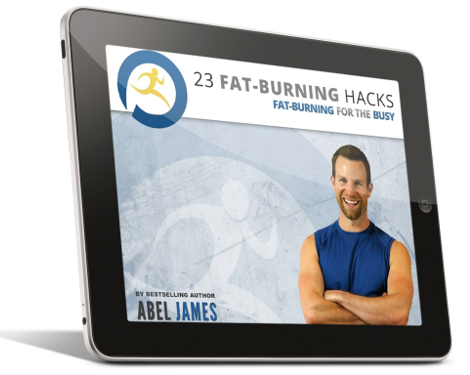 Discover how to drop fat with chocolate, bacon, and cheesecake. Plus: learn the 3 worst foods you should NEVER eat and the 7 best exercises for rapid fat loss. Click below to to claim your FREE gift ($17 value)!
INSTANT ACCESS
HERE'S HOW TO SAVE YOUR GROCERY BUDGET EATING WILD
I know that you can get a bit of sticker-shock when you switch to eating the healthiest food possible. That's why we created a handy-dandy guide to help you save time and money on your grocery bill. These are all our favorite tips and tricks to get real, nourishing, healthy food for less.
In fact, Alyson and I have saved more than $300 on our grocery bill using the hacks you'll learn in this guide.
The Wild Diet Shopping Guide includes:
Money saving shopping hacks that will cut your grocery budget by 30%, 50% or even 70% while enjoying the best quality meats, seafood, and fresh organic produce.
Kitchen tricks to stretch your shopping dollar further than you thought possible.
How to save time by knowing exactly where, when and how to shop for your favorite foods, snacks and treats.
Which specific brands of supplements, protein, and ingredients my wife and I trust, recommend, and use at home.
And much more…
And since we just launched the shopping guide, you can get a discount to grab it for less than ten bucks!
This time-saving, money-saving guide will MORE than pay for itself on your first grocery bill. If it doesn't, you get all of your money back.
One of our readers, Tom says:
"Your tricks for finding cheap meat and then how to make the most of it in the kitchen are priceless. For once I am actually excited to go to the supermarket to hunt for healthy bargains!"
Grab your shopping guide and start saving money now!
Where do you find the best deals on organic or wild produce and pasture-raised meats and dairy? Share in the comments below.