Wild Diet Chimichurri Steak
Slathered in Chimichurri sauce, this steak comes together in minutes but tastes like you slaved all day. Serve it with your favorite roasted veggie like Brussels sprouts or a big salad.
Ingredients
Steak
1 tablespoon grass-fed ghee
2 (6-ounce) grass-fed, organic boneless top loin steaks
Sea salt and freshly ground black pepper to taste
Chimichurri Sauce
1 medium garlic clove
1 cup packed fresh parsley
½ cup packed fresh cilantro
⅓ cup organic extra-virgin olive oil
2 teaspoons freshly squeezed lemon juice
Sea salt and freshly ground black pepper
Instructions
Place the steaks on the counter for about a half hour prior to cooking so they come to room temperature. (Optional, but it will help the steaks cook evenly.)
Peel the garlic clove and place it in a food processor with the parsley, cilantro, oliv oil, lemon juice, salt and pepper to taste. Pulse a few times to combine. Set aside.
Melt the ghee in a heavy skillet over medium-high heat. Add the steaks and season with salt and pepper.
Cook until the steaks reach your desired doneness, 3 - 5 minutes on each side. (Salt and pepper when you flip.)
Turn up the heat to high just before removing the steaks from the pan and lightly brown each side.
Transfer steaks to a plate to rest for about five minutes.
Serve the steaks topped with chimichurri sauce.
I am a sucker for a good steak, but following
The Wild Diet
doesn't mean that you're "carnivore."
The Wild Diet teaches us to be omnivores… and most of the time we're enjoying a nice piece of meat with a plate full of fresh greens and veggies.
And that's a really healthy way to incorporate good quality red meat into your diet.
When most people think Paleo, they think "slab of red meat with a side of bacon."
There's much more to The Wild Diet plate.
When I sit down to my evening feast, at least half of my plate is full of leafy green veggies—either a big fresh salad, lightly roasted Brussels sprouts, cabbage, or other organic farmers market find.
Then comes a small piece of pasture-raised meat, poultry, or wild-caught fish with a bit of fat.
But what is "good quality" when it comes to red meat?
The Wild Diet focuses on pasture-raised beef from cows grazing on grass, rather than the feedlot beef you find at most conventional butchers or grocery stores. In the wild, cows graze on grass… not soy protein mixed with GMO corn and bone-meal!
Grass-fed, organically raised beef is significantly higher in important nutrients like:
CLA (conjugated linoleic acid)—a proven defense against cancer
Omega-3 Fatty Acid—essential to every cell in your body, especially your brain and heart
Vitamin E—an antioxidant that's good for your skin and has anti-aging properties
When buying humanely-raised grass-fed beef, you'll be getting meat free from hormones, antibiotics, and chemical additives that are widely used in conventional beef to make that steak appear more red and last longer on the shelf.
It can seem like a big expense to purchase good quality meat, but we've got a few tricks to help you get more bang for your buck.
Including how to get high quality meat at the grocery store, how to properly cook meat so you can get more out of cheaper cuts, and our complete Wild Diet Shopping Guide.
If you can't find grass-fed, pasture-raised meats at your local farm, co-op or farmers market, head over to these online stores that sell humanely-raised, healthy meats:
Check out the specials and don't be afraid of the cheaper cuts—like liver and heart. They're actually super healthy!
But for now I hope you enjoy one of our favorite steak recipes straight out of The Wild Diet!
Slathered in Chimichurri sauce, this steak comes together in minutes. #TheWildDiet #Paleo
Click To Tweet
Serve it with your favorite roasted veggie like Brussels sprouts or a big salad. If you're dining alone, save that second steak to slice thin for a wrap tomorrow.
LEARN HOW TO DROP 20 POUNDS IN 40 DAYS WITH REAL FOOD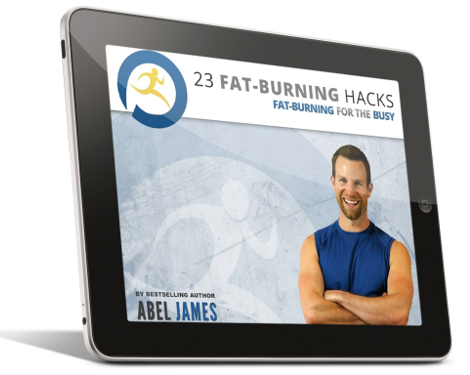 Discover how to drop fat with chocolate, bacon, and cheesecake. Plus: learn the 3 worst foods you should NEVER eat and the 7 best exercises for rapid fat loss. Click below to to claim your FREE gift ($17 value)!
INSTANT ACCESS
Before You Go…
I want to let you know that we've been getting a lot of questions lately on how to eat well on your quest to shed fat. Well, now you can eat the same delicious meals that my wife Alyson and I eat to stay lean, fit, and happy.
And because you're a fan of the blog, we want to get you in on this awesome 30-day meal plan at a great discount!
In this plan, we share 30-days of mouth-watering breakfasts, lunches, dinners and desserts that are designed to help you drop fat with real food. The meal plans are Paleo-friendly, gluten-free, and easy to make. These are some of our favorite dishes right from our own kitchen.
In our Wild30 Fat Loss System, you'll get:
The most effective method of meal and nutrient timing to best stimulate fat loss and muscle recovery
The truth about how much protein you really need for your body type
30-days of specific healthy fat-burning meal plans as a done-for-you nutrition strategy
A bonus 30-Day Wild Meal Plan
And tons more..
Go check it out today for your limited time discount! How does a plate of Chicken Parmesan sound… or maybe Braised Beef Shortribs? All you have to do is click here and you'll be eating like a rockstar while losing weight and feeling amazing.
Check out the Wild30 Fat Loss System right now and get our awesome meal plan, shopping guide, and 30-Day Fat Loss manual at a limited-time special discount!
Did you try the Chimichurri steak? Let us know how you like it by leaving a comment below, or tweet a note to me @fatburnman!