Liz Wolfe is a nutritional therapy practitioner certified by the Nutritional Therapy Association, blogger at CaveGirlEats (now RealFoodLiz.com), and is the author of the new book, Eat the Yolks. She's also a real-food cook and amateur homesteader raising goats, chickens, and pigs.
In this episode, Abel and Liz discuss:
Happiness (not appearance) and enjoying food as part of health;
The danger of obsessing over "vanity pounds" and weightloss;
Transitioning from a modern, urban life to a farm as a bad cook;
Ancient bread and the pitfalls of conventional farming;
Thoughtful omnivorism and a rant against the "Paleo Police";
And more about former diet dilemmas to cooking real food.
Enjoy the show!
Show Notes
Six years trained with Michael Rutherford, Bootcamp Fitness, Kansas City.
Coach Rut introduced Liz to Robb Wolfe who was breaking out on his own.
Started her own blog talking about Paleo and sharing what she was eating.
Her appearance used to be at the expense of health, but later flip-flopped.
Misery and restriction diets she was on made her terribly unhappy.
Maintained a "thinspiration board" with skinny pictures for motivation.
Had skin issues and disorders (like acne, eczema, etc) tied to her food.
After five years of eating well, she's never been happier and healthier.
Don't picture yourself thin, picture yourself in full health instead.
Our body's expression of full health may not be what we want to see.
Once you learn to love real food and health, you'll also love your body.
You can't put a number on feeling good (e.g., scale, tape, calipers, etc).
When you try to lose "vanity pounds," you lose the point of this journey.
Strive to be functional and happy your whole life instead of preoccupied.
Was on The Zone, Low-Card, Ketogenic, etc and something was still missing.
Grass-fed beef was her first introduction to this new healthy lifestyle.
In city, farmer markets were plenty; once rural, food is paradoxically bad.
This led to developing her farm, growing her own food, and homesteading.
Conventional farming and conglomerates are changing the food landscape.
She says she's more about real food, without processed stuff, than Paleo.
"Paleo" is just a label for a diet, but it's not about the lifestyle.
Paleo is about a vast body of information, science, and common-sense.
Ancient bread is made with rhizome, which is not a grain at all.
Modern wheat is not like ancient, wild wheat (like Einkorn) or grains.
Paleo is not a historical reenactment, there's still science on our side.
Today's food are fundamentally different than our grandparents' food.
Wheat sourced in America vs. sourced traditionally (like in Italy).
Fermenting, properly preparing foods such as sprouting, and organic.
You don't have to be a good cook to start making and enjoying real food.
Breakfast used to be FiberOne, soy milk, with Aspartame sprinkled on top.
So there is a learning curve but it gets easier and you find favorites.
One way is to find great restaurants that support local producers.
Liz coined the term "thoughtful omnivorism," which Abel likes.
It's thinking about where your food comes from, giving back to the soil.
Excusing ourselves from the food chain is making us sicker, less happy.
"Where does my food come from," and then "where can I get better food."
"Embrace the suck," and be outside rather than on the treadmill.
Quit talking about weightloss at all costs, or whether caveman ate bread.
Focus instead on real food, where it comes from, and how it makes us feel.
We should stop "Paleo-policing" each other about dumb, little points.
Went to high school with Lewis Howes, a past guest on the show.
Recommended Resources
LEARN HOW TO DROP 20 POUNDS IN 40 DAYS WITH REAL FOOD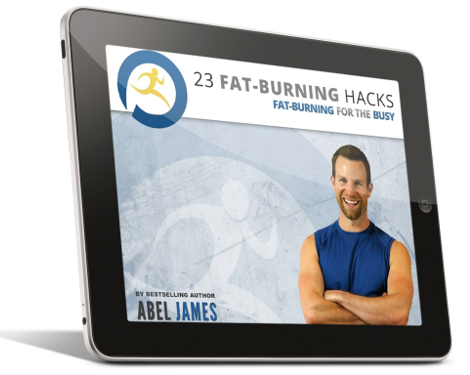 Discover how to drop fat with chocolate, bacon, and cheesecake. Plus: learn the 3 worst foods you should NEVER eat and the 7 best exercises for rapid fat loss. Click below to to claim your FREE gift ($17 value)!
INSTANT ACCESS