Leaving your perfectly-Paleo fridge and meat-freezer for a few days? Don't freak out. Despite the fact that you're surrounded by the sweet and sticky smells of Cinnabon, Panda Express, and worse, there are actually some decent options for eating Paleo in the airport.
If you haven't learned already, eating like a caveman in the modern world requires improvisation and occasional compromises. So I've decided to share my experience traveling to San Francisco to speak at a conference as a case study to help you learn how to navigate the dangerous depths of airport "food."
Prelude: The Last Night on the West Coast. Mountain View, CA
Cornered into eating nutritionally suspect conference catering for the past few days, I decide to check out of my hotel early and pay a visit to an old friend to grab dinner.
Ryan, my bearded, kilt-wearing, Viking-like (and Paleo-leaning) comrade leads me to a new grass-fed burger place called Steak Out. As a sharply-dressed consultant wheeling luggage next to a 21st Century Viking, Ryan and I attracted a few sideways glances at the burger joint even before our unconventional order. But if we have one thing in common it's that we have no shame.
Predictably, the young waitress is befuddled when we ask for our burgers without the buns. Fortunately, the manager recognized Ryan('s kilt) and told her, "Give them double-meat and extra lettuce instead of the bun." I guess wearing a kilt has its benefits.
This raises an important lesson of being Paleo, being yourself, and fighting for your place in the world. You don't have to be a schmuck about it, but make sure when you're ordering food that you get what you want. It's your money and you're putting it into your body. If you don't want a bun (and you don't), tell them so. Who knows – they might even double your meat and veggies for free.
After a glorious grass-fed burger dinner (with bacon and jalapenos, obviously), we moseyed on to Ryan's humble abode. The closet full of homebrewed beer was too impressive to resist, as were the hand-rolled cigars in the humidor and the esteemed collection of single malt scotch in the cupboard…
By morning, my soul feels terrific. My body does not.
Already a bit haggard after spending the past few days living in a hotel and presenting to conference folk on a steady drip of caffeine, debauchery with an old friend compounds the issue.
But here's a trick – when you've tied one on, fasting helps. As such, I fast from awakening at 7 a.m. to about 10:30 a.m. Since my jet-lagged body is 2 hours behind, this sets me up for the 8 hour eating window that I generally use to schedule my feasts.
Searching for Breakfast. San Francisco Airport, 10:30 a.m.
I break my fast unapologetically with (gasp) a huge full-fat cappuccino from Peets. It's not really Paleo, but I freaking deserve it. It's been a long week. (If you don't tolerate dairy well or don't love cappuccino, skip this part or order your coffee black.)
Eggs, meat, and a side of veggies are always a good option for breakfast regardless of where you are. If you can find a place that serves breakfast all day (a.k.a. heaven), you're golden.
I stroll up to the counter of Max's Deli and ask if I made it in time for breakfast. They say they aren't making any new orders from scratch but still have some scrambled eggs and meat from earlier. I'd normally ask for a fresh-cooked order, but I take what I can get and settle for the leftover eggs with grilled ham.
Conscious of my legendary appetite, I ask for a side of corned beef as well. The cute little man explains in a thick eastern European accent, "Sorry, we must charge for full sandwich – $7.99. OK?"
Not really. Even my expense account is offended. Corned beef isn't that good for me anyway.
So I glance a bit further down the counter and see a pot of Mexican chili. Right on. The little man scoops me a cup and shoves a roll in my face. He shouts happily, "Comes with roll!"
"No, thanks." I'm not tempted.
He wrinkles his brow. "Oh… Yes, yes, too starchy! OK!"
As I whip out my credit card, the man behind me changes his order to a sandwich without bread…
We're winning.
A Breakfast That Does Its Job
I attack the eggs first. As expected, they are rubbery and tasteless – a far cry from the farm-fresh local eggs I'm accustomed to but nevertheless full of protein and bulk. The salty grilled ham and requisite hot sauce make everything better.
Then comes the chili. Mostly meat with a few stray beans. As I spoon the first bite, my mouth is suddenly filled with an unmistakable umami sensation. Yep, that's MSG. Poison! But alas, it's too late now and I'm still hungry. Not great chili, but it feels comfy and warm in my belly.
I would have liked to get some greens in with my breakfast, but it isn't an option. Pro tip: when this happens, I make a conscious effort to offset any and sodium-packed, acid-bearing, meaty meals with alkaline veggie-filled foods later in the day.
I'm not thrilled, but I'm full. Breakfast worked.
A Quick Lunch and Flight Home. Phoenix Airport, 2:30 p.m.
To balance out my meaty morning meal, I scope out a salad with fruit and nuts over greens at a Grab and Go stand. It's reasonably good. I also grab some mixed nuts to bump up the caloric load and temper my hunger.
Aside from munching on a couple rancid Brazil nuts, the nuts are fine and get me through the second leg of the flight.
The Aftermath: Austin, TX, the Weekend.
As you may have noticed, I haven't demonstrated a shining example of Paleo perfection over the course of my trip. Shockingly, I'm not perfect, and I don't care to be. I'd rather enjoy life and not go insane.
Sometimes I stray from perfection on purpose, and other times perfectly-Paleo food just isn't an option. We don't live in a perfect world. But I don't worry about it. The beauty of making good calls the vast majority of the time is that you can afford to make less-than-perfect decisions every once in a while. And, of course, I enjoy every second of my occasional indulgences.
Unlike normal weeks when I eat only my own high-quality food, I don't feel like cheating this weekend. I'm jet-lagged and sluggish after stressful presentations, little sleep, and raging with old friends; I can feel that my body is ready to get back to real food and real life.
I am stoked to raid the farmer's market tomorrow and stock up on fresh veggies and local, pasture-raised meat in all its glory. I can't wait to make a fresh green smoothie, taste a just-picked Texas grapefruit, and sip my hand-roasted coffee. I'm looking forward to some well-deserved sprints around Lady Bird Lake. But most of all, I can't wait to see Alyson and the puppy. It will be good to be home.
Tips and Tactics for Eating Paleo at the Airport
Hopefully my case study gives you some insight on Paleo airport survival. But here are some more tips and tactics. If you can, plan ahead and pack your own Paleo meals and snacks.
You should know this already, but don't get a sandwich. Bread is such a waste, especially in airports where it's soggy, stale, and gross. If you ever eat bread, it had better be good enough to warrant all the damage it does to your body. If a sandwich is just about your only option, toss the bread and just eat the guts.
Find some veggies, fruit, and nuts. A hard-boiled egg is also a solid option.
Meat and veggie options abound at steakhouses, most diners, and Mexican restaurants. Don't forget to ask for extra guac.
Look for the cleanest jerky you can find.
Try to get lucky and find some >70 cacao dark chocolate. Happily, many tourist shops now stock this.
As mentioned earlier, when you order food, you should never be afraid to ask for exactly what you want. The vast majority of the time, menus are not set in stone and restaurants are accommodating to your tastes. If the waiter/waitress is difficult, just say that you have a wheat allergy (after all, if you're human, you do) and your order needs to be gluten-free. But people are usually really cool about giving you what you actually want.
In those moments when you are really out of reasonable food options, you can always fast. You don't need to worry about being foggy and cranky because you'll never see these people again anyway.
Thanks for reading, and let me know what you think. Do you have any tips or tactics? We're all in this together, after all.
Listen to the Podcast by pressing the PLAY BUTTON below on the right.[audio:https://traffic.libsyn.com/fatburningman/6FBMPodcastPaleoAirport.mp3|titles=6: How to Eat Paleo in the Airport (Paleo Case Study)|artists=Abel James, FatBurningMan.com](download link)
Cool? Subscribe to my PODCAST on iTunes!
Hey, are you having fun yet? Subscribe to my newsletter and get all the goodies!
LEARN HOW TO DROP 20 POUNDS IN 40 DAYS WITH REAL FOOD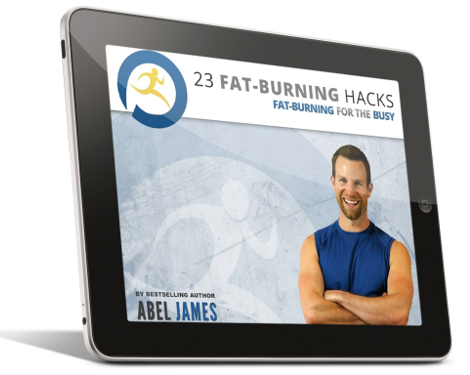 Discover how to drop fat with chocolate, bacon, and cheesecake. Plus: learn the 3 worst foods you should NEVER eat and the 7 best exercises for rapid fat loss. Click below to to claim your FREE gift ($17 value)!
INSTANT ACCESS
And here's the YouTube Slideshow. Enjoy!
Podcast: Play in new window | Download
Subscribe: Apple Podcasts | Google Podcasts | Spotify | Android | Pandora | Stitcher | TuneIn | Deezer