Every once in awhile, I get an email that gets me all choked up.
Two years ago, I opened my email to an especially thoughtful thank you note from a man named Denny Hemingson, a musician out of Nashville, Tennessee.
He said that after listening to The Fat-Burning Man Show and starting The Wild Diet, he shed 46 pounds. On a hearty diet packed with plenty of butter, bacon, and eggs, Denny dropped his weight from 240 to 194 while increasing his lean muscle mass to become a fat-burning beast.
Now, Denny is a humble guy. But he's a also a bona fide rockstar. Denny has been band leader and guitarist for the Tim McGraw Band for the past 20 years!
So I decided to have Denny on the Fat-Burning Man show to share his story of how he shed nearly 50 pounds while touring the world with The Tim McGraw Band.
Before I was Fat-Burning Man, I was a touring musician, too. (I'm a singer, guitarist, sax player, and more… you'll see!)
So after interviewing Denny on the Fat-Burning Man Show, Denny and I jammed on a few jazz tunes when the Tim McGraw band came through Austin, Texas on tour.
OUR NEW ALBUM, SWAMP THING, IS HERE!
We had so much fun that we decided to go to Nashville and record a whole album. It's called Swamp Thing, and I know you're going to love it.
To help get you all warmed up for our New Orleans themed album, Swamp Thing, we'll be sharing a few cajun recipes in the next few days.
We wanted to capture the sound of blues and rock music at its peak—with fat vocals, swampy grooves, and a honkin' horn section. It sounds like a live 8-piece band shaking the walls of a dingy club sometime in the late 1960's.
And something magical happened—the whole project came together in 2 days because we were having so much dang fun.
"Live While I'm Alive" by Abel James from the album Swamp Thing.
This music video was filmed, edited and directed by Alyson Rose.

If you want to hear the Fat-Burning Man scream like a rockstar, croon like Johnny Cash, and wail on the sax, guitar, and even the clarinet, stay tuned—you'll be able to grab the entire album along with a few added bonuses later this week.
In the meantime, here's a New Orleans recipe for Wild Spicy Gumbo to get you in the mood for our new album, Swamp Thing…
WILD SPICY GUMBO, N'AWLINS STYLE
Spicy Wild Diet Gumbo, N'Awlins Style
Here's a New Orleans recipe for Wild Spicy Gumbo to get you in the mood for our new album, Swamp Thing.
Ingredients
3 tablespoons beef tallow or bacon grease, divided
1 pound okra, sliced (fresh or frozen, thawed)
1 large onion, diced
4 garlic cloves, minced
1 red bell pepper, cleaned and diced
1 yellow bell pepper, cleaned and diced
4 large celery stalks, diced
1 pound andouille sausage (or other spicy sausage), thinly sliced
1 quart chicken or fish stock
1 24-ounce can diced tomatoes
1 bay leaf
1 teaspoon sea salt
½ teaspoon white pepper
½ teaspoon dried thyme
½ teaspoon cayenne pepper (or to taste)
1 teaspoon paprika
1 sprig fresh oregano (or ½ teaspoon dried)
1 pound medium or large raw shrimp
1 filet wild caught white fish (catfish, sole, cod)
Fresh chives (optional garnish)
Instructions
In a large skillet set over medium heat, melt the fat and swirl to coat the pan. Add okra and cook, stirring regularly, until it's browned and now longer sticky. Remove to a large stock pot.
To the same pan, add another tablespoon of fat along with the onion, garlic, bell peppers, and celery. Cook, stirring, until soft and fragrant. About 5 minutes. Remove to the stock pot with the okra.
Add the remaining fat to the pan and add the andouille sausage. Cook until just browned on the edges, turning occasionally.
Add the sausage to the stock pot along with the chicken stock, diced tomatoes in their juices, bay leaf, salt, pepper, thyme, cayenne, paprika, and oregano. Stir, cover, and simmer for one hour, stirring occasionally.
Peel and devein the shrimp. Cut the whitefish into large chunks. Add both to the pot, cover, and cook about 5 – 7 minutes until shrimp turns pink and fish is nicely poached.
Serve garnished with chives or parsley (optional).
What are you favorite New Orleans dishes? Comment below to share them with us.
LEARN HOW TO DROP 20 POUNDS IN 40 DAYS WITH REAL FOOD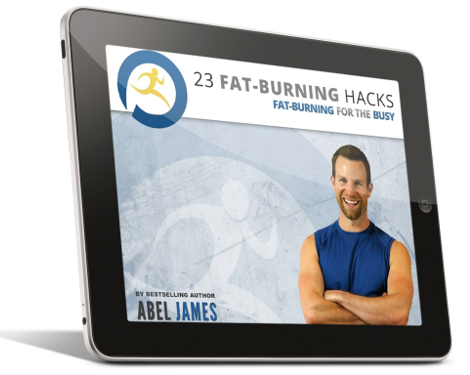 Discover how to drop fat with chocolate, bacon, and cheesecake. Plus: learn the 3 worst foods you should NEVER eat and the 7 best exercises for rapid fat loss. Click below to to claim your FREE gift ($17 value)!
INSTANT ACCESS