There's no shortage of candied Frankenfood this time of year.
But how do you dodge the sugar demons?
If you eat real, fresh, Wild Diet approved foods for long enough, you might notice that pre-packaged candy starts to taste like plastic.
As your palate recalibrates to flavors from fresh foods, these shelf-stable processed sugar bombs just aren't worth it anymore.
In this post, you'll get Wild, Paleo-Friendly treats to help you satisfy your sweet tooth this Halloween without falling for the junk.
But in case you're still on the fence about eating Snickers, Reeses, and other candies this Halloween, let's take a look at how much scary stuff is packed into one of those tiny packages.
Ingredients in a Snickers: Milk Chocolate (Sugar, Cocoa Butter, Chocolate, Skim Milk, Lactose, Milkfat, soy lecithin, Artificial Flavor), Peanuts, Corn Syrup, Sugar, Milkfat, Skim Milk, Partially Hydrogenated Soybean Oil, Lactose, Salt, Egg Whites, Chocolate, Artificial Flavor, May Contain Almonds
If you cave and eat this junk, it's an 80 calorie bite. (Remember that a plump, fresh, organic apple? The whole thing is around 80 calories).
But that one "fun-sized bite" of processed food is wreaking monstrous havoc on your body. Hydrogenated soybean oil, peanuts, corn syrup — not only are they often genetically modified, they're causing inflammation in your body, blasting your blood with sugar, and destroying your gut.
How about that artificial flavor? Cooked up in a lab by a mad scientist in a white coat to trick your brain to crave more processed food. Talk about Frankenstein's monster!
Forget the creepy costumes, those little "fun-sized" candies are the real Halloween monsters! They seem innocent, sitting on grocery shelves and candy bowls in offices and even in the local shops– but don't let them derail your healthy eating!
The sugar alone could lead to headaches, brain fog, and insatiable cravings for more sugar– especially if you're already adapted to not having refined sugar in your diet.
You don't have to eat the sugar-loaded, artificially flavored franken-candies in order to enjoy all the fun of Halloween. In fact, you can even have a treat or two as part of your healthy, Paleo or Wild Diet. Living healthy doesn't mean deprivation– especially when you can whip up some delicious, Wild Diet Approved whole food goodies that are perfect for kids and big kids alike.
Here are a few Wild Halloween Hacks, Tricks and Treats for a kick-butt holiday!
LEARN HOW TO DROP 20 POUNDS IN 40 DAYS WITH REAL FOOD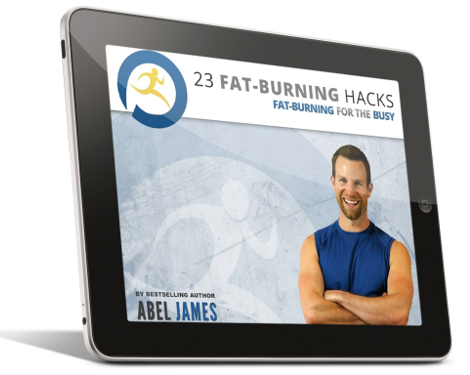 Discover how to drop fat with chocolate, bacon, and cheesecake. Plus: learn the 3 worst foods you should NEVER eat and the 7 best exercises for rapid fat loss. Click below to to claim your FREE gift ($17 value)!
INSTANT ACCESS
TRICK #1: HAND OUT HEALTHIER TRICK-OR-TREATS
If you stock up on processed junk to hand out to adorable trick or treaters, you'll probably be tempted to snack on some yourself.
You eat what's around you. So save your money and don't buy the junk.
Besides, if you know processed candy is terrible for you, do you really want to hand it to all the neighborhood kids?
Instead, try handing out healthier options or toys. Here are a few ideas:
You can find great deals on healthier options on Amazon or Thrive Market.
TRICK #2: TELL YOURSELF "I DON'T EAT THAT" (NOT "I CAN'T EAT THAT")
When you approach that bowl full of candy on the counter at the checkout or at the bank, just think to yourself, "I don't eat that."
Why? Because you deserve to eat the best food on earth. This will help you feel empowered, rather than deprived feeling when you say, "I can't eat that." Make high-quality food part of your identity, and refuse to eat the low-quality junk. As my Fat-Burning Man superhero alter-ego, I can eat low quality food if I want to, but I DON'T. It's become a part of me at this point, and once you build the habit of dodging the junk, it becomes automatic. That's straight-up magic.
TRICK #3: ENJOY THE REAL FLAVORS OF FALL
Fall is one of the most flavorful seasons ever. Cook often with this season's bounty, like fresh apples, spiced pumpkin, roasted beets, broccoli with bacon, sweet potatoes, and squash of all kinds. Season your food with the rich flavors of cinnamon, nutmeg, and even a touch of maple syrup. You might want to start with this Paleo and Wild Diet Approved butternut squash soup.
TREAT #1: CINNAMON ROASTED PECANS
You can enjoy the flavors of autumn and even indulge your sweet tooth with this healthier paleo recipe for cinnamon roasted pecans. They are crunchy, sweet, and much better for you than a Snickers bar. You could even toss these in your salad or top your soup with them once in awhile.
Maple Cinnamon Pecans: With the whisk attachment on your kitchen mixer, beat one egg white until light and fluffy. Slowly stir in ¼ cup pure maple syrup (or to taste) and 1 tablespoon ground cinnamon. Stir in 3 cups raw pecan halves to coat. Spread on a parchment-lined cookie sheet and roast in a preheated 300°F oven for 30 – 40 minutes, turning several times with a spatula. Let cool completely before storing in an airtight container for up to two weeks.
TREAT #2: WILD CHOCOLATE ALMOND BUTTER CUPS (PALEO-FRIENDLY)
Okay, now it's time to really give yourself a treat. Ditch the Reeses and make these Wild Almond Butter Cups instead – it's much easier than you think. This recipe comes together quickly and uses ingredients you probably already have. Most importantly, it tastes even better than a Reese's cup!
Ingredients:
9-ounces dark chocolate chips
1 teaspoon coconut oil
½ cup raw almond butter (or no-sugar added peanut butter)
1 tablespoon raw honey (or to taste)
12 paper muffin cups (cut down to about 1" high)
Directions:
1. Place the cut-to-size muffin wrappers in a muffin tin and set aside.
2. In a small pot or double-boiler set over low heat, melt the chocolate with the coconut oil, stirring regularly, until just completely melted. Set aside to slightly cool.
3. Using a hand-held beater or kitchen mixer, beat the almond butter with the honey until a nice dough forms. About one minute.
4. Form the almond-butter dough into 12 small patties.
5. Pour about a teaspoon of chocolate mixture into the bottom of each muffin cup.
6. Place one almond butter patty onto each dollop of chocolate.
7. Cover each patty with remaining chocolate.
8. Freeze for 30 minutes or refrigerate one hour to set. Store in an airtight container in a cool, dry place.
Alternately, you can use mini-muffin cups and a mini tin to make "bite-sized" candies for just a taste of something delicious and sweet. The recipe should make about 24 minis.
What are you doing this year to beat the sugar demons? Leave a comment below and let me know!