Today we have a oft-requested guest, Mr. Vinnie Tortorich. He's Hollywood's go-to guy for fitness and weight loss, coined as America's Angriest Trainer. Vinnie is also the author of the terrific book Fitness Confidential, where he debunks the myths and gimmicks of the weight loss industry.
Vinnie is hilarious – you're going to dig this episode.
On this show with Vinne we chat about:
Why the fitness and weight loss industry thrives on products that don't work
Why exercise is a horrible way to lose weight
And why Jerry Seinfeld is wrong about what he orders for breakfast
Here's the show.
Podcast: Play in new window | Download
Subscribe: Apple Podcasts | Google Podcasts | Spotify | Android | Pandora | Stitcher | TuneIn | Deezer
Before you go, I have a very special request. Unlike a lot of podcasts out there, The Fat-Burning Man Show is entirely listener supported. No advertisements, no sponsors, no corporations lurking in the background trying to influence what we have to say.
As you know, the show and a lot of the content on FatBurningMan.com is completely free, and I want to keep it that way for as long as I can. With the amazing growth we've seen over the past year and a half for the show (we just passed 2 million listens!!!), we're barraged by companies desperate to advertise their wares on the show. But for the reasons I describe on this page, we always say no.
If you like what you're hearing each week, and what we're coming up with on the blog, I would be so grateful if you donate to help support the Fat-Burning Man Team (Yes! We have a whole team!) and keep us commercial free. I'm also giving away 2 very special surprises to everyone who helps out by donating as little as a dollar.
Click here to learn how you can help support the show (and win 2 gifts and a message from Abel on your voicemail…) 
Thanks, you rock!
LEARN HOW TO DROP 20 POUNDS IN 40 DAYS WITH REAL FOOD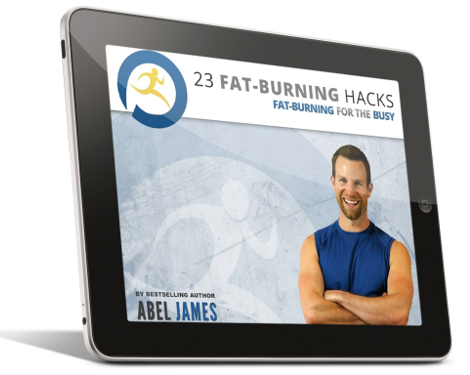 Discover how to drop fat with chocolate, bacon, and cheesecake. Plus: learn the 3 worst foods you should NEVER eat and the 7 best exercises for rapid fat loss. Click below to to claim your FREE gift ($17 value)!
INSTANT ACCESS
What'd you think of this conversation with Vinnie? Drop a comment below!