On this week's show with Dr. Andrew Saul, The MegaVitamin Man, you'll learn how to take your health into your own hands with inexpensive, readily available, and easy-to-use vitamins.
A few months ago, I was stung by an Arizona bark scorpion.
I quickly learned that the little bugger is the most venomous scorpion in North America.
It got me good, stinging me mercilessly multiple times right around my kidney.
Breaking into a cold sweat, I immediately started convulsing when I tried to lay down. I was in excruciating pain.
Fortunately, we had plenty of Vitamin C on-hand, which acts as a potent anti-toxin. I plowed through that stuff with reckless abandon for weeks.
Now, I don't believe in "miracle cures" or silver bullets, but high-dose Vitamins sure come close.
Wouldn't it be great if your doctor would teach you how to use common Vitamins for healing chronic illness, reversing disease and injury, or just for maintaining health? But most can't… or won't—and there's a surprising reason why. You'll get the answer in this week's podcast.
If you're suffering from a chronic disease or have ever fought the flu… if you have small children, a compromised immune system, or if you just want to stay healthy without breaking the bank, listen in to this show. You'll learn:
How to upgrade your health with high-dose Vitamins
The surprising benefits of Vitamin C
Why "a grandmother is worth two doctors"
What to do when you're stung by a scorpion
And much more…
Podcast: Play in new window | Download
Subscribe: Apple Podcasts | Google Podcasts | Spotify | Android | Pandora | Stitcher | TuneIn | Deezer
Vitamin C: A New Look At A Proven Cure
Dr. Andrew Saul, "The MegaVitamin Man", has 40 years of experience in natural health education. His peer-reviewed website, www.DoctorYourself.com, is one of the largest non-commercial natural health resources on the internet. This is a unique opportunity to gain some insight on vitamins from someone who has no commercial connection.
Abel: Welcome to the show! To start, what should people know about the potential of vitamins to heal the body and for overall health?
They'll save your life, for starters. Vitamins will improve the quality of your life. They'll help the entire world to be happier, more productive, and healthier.
Abel: A lot of people don't trust the efficacy of Vitamins. But what is it about vitamins that most people don't know?
Medical doctors have been using high doses of vitamins to cure disease for over 70 years. The media, reporters, politicians, and doctors say "it sounds promising, but there's not enough evidence that high doses of vitamins will cure disease."
That's completely false.
Medical doctors have been stopping and curing Polio with high doses of Vitamin C since the 1930's. In the 1860's and 70's they were curing pneumonia with Vitamin C therapy.
We're talking ½ million to 2 million milligrams of Vitamin C a day. That's a whole lot of Vitamin C!
When we're talking about antibiotics, doctors are very dose-specific. When it comes to vitamins, you've been told that dose has little to do with it. But if you amp up your dose of Vitamin C, you're taking it to bowel tolerance—yes that's exactly how it sounds.
At this level, Vitamin C works very much like an:
Antibiotic
Antihistamine
Antitoxin
Antipyretic
Antidepressant
And will even curb your appetite
When you get to really high doses of Vitamin C, a lot of food cravings go away. @AndrewSaulPhD
Click To Tweet
There's a study published regarding smokers that quit smoking using Vitamin C spray—the amazing thing was that they didn't turn to food to replace their craving and didn't gain weight!
Media, Money & The Politics of Vitamin Therapy
Abel: I'm always fascinated by how many people, even in the health industry, don't take vitamins themselves. What is preventing us from taking vitamins day to day?
It's a belief system. If you believe something you're probably not going to look into the other options.
You go to a medical doctor who went to medical school, has a medical degree, prescribes medicine, and is basically funded by the pharmaceutical industry from the moment they enter med school to the moment they hang up their stethoscope…
"I think you should be the manager of your own case and use your doctor the way you use any other skilled employee."
In many instances you can prevent the problem, and a good mechanic will tell you to keep an eye on this and you won't have a problem at all. This is what a good doctor will do. We learn by experience.
"People are not convinced by argument, they're convinced by experience." -Will Rogers
All you have to do is be the example. I'm just not going to deal with this nonsense anymore. Instead of antibiotics, you might be able to take high doses of vitamin C!
How To Take High Doses Of Vitamin C
When you're taking a high dose of vitamin C, you can't take it all in one dose. The simplest buffer is to put stuff in your stomach—water will reduce the acidity. Food. And if you have a really sensitive stomach you can get buffered Vitamin C.
If you start to get the rumble "down there" in your gut, that's the point. That's called loose stool. At this level, you're at oral saturation and that's where Vitamin C has its therapeutic benefit.
Take enough Vitamin C to feel great, to get well, and that's a dynamic amount. @AndrewSaulPhD
Click To Tweet
If you're healthy, 15,000 mg a day is great. If you're sick as a dog, then take more.
Vitamin C comes in chewables, pills, liquid—and even intravenous, which has been used to treat ovarian, pancreatic, and bowel cancer. Those particular cancers are very hard to treat, but there's a very high cure rate. Vitamin C is not THE answer, but it's an awful big part of the answer.
Abel: I started taking daily Vitamin C when my wife's mom kept just putting it out there for us. After doing it for a few years, your body starts to associate it with feeling better and you start to crave the right things. It seems like some days you want a certain amount, other days you might want more or less.
A few months ago I was stung by an Arizona Bark Scorpion. I took an ungodly amount of vitamin C during that whole ordeal and I'm sure that's what kept me alive.
Biochemically, why does Vitamin C work so powerfully in the body to improve health?
Vitamin C is an incredibly effective antitoxin. Dr. Tom Levy goes over exactly how it works in his book, Curing the Incurable: Vitamin C, Infectious Diseases, and Toxins. It's a coenzyme and an antioxidant and an antitoxin and more. How can one vitamin be all those Anti's all at once?
Your body knows how to do a lot of things with a relatively low number of building blocks. Think about what your body can do with just water? The same is true for Vitamin C.
If your body can do all these things with one building block, imagine what happens when it's not there?
Vitamin therapy has even worked to heal symptoms for AIDS/HIV patients. Dr. Robert Cathcart was treating AIDS patients who became symptom-free on 200,000 mg of Vitamin C a day.
I personally worked with a woman who had HIV, drug addiction, alcoholism, you name it. I told her to consider really shoveling in the Vitamin C, quit drugs and drinking, and clean up her diet. Well, she got off of drugs and eventually the alcohol. She tried to clean up her diet, and she took an awful lot of vitamin C. I ran into her 20 years later and she told me that the last three times she was tested for HIV they couldn't find any.
Abel: What is the thing that's holding traditional medicine back from embracing these alternatives, vitamins in particular?
It could have something to do with money.
Plus, belief system. Doctors are pretty indoctrinated by the time they finish med school. Med school is not nutritional school. They're not reading the thousands of good studies every year proving that diet and vitamins are the safest, most cost effective, patient and doctor friendly way to treat illness.
One vitamin can cure so many things because the deficiency of one vitamin can cause so many things.
Abel: Every night I'm scooping 3 heaping spoonfuls of Vitamin C into my water, and sometimes also magnesium. How do you get your Vitamin C?
A teaspoon is between 4,000 – 5000 mg. It might energize you because it helps you use the energy in your body—but that's why it helps curb your appetite.
If you're fat, you're full of stored energy. @AndrewSaulPhD
Click To Tweet
Divide the dose. A lot of people are willing to take their Vitamin C at night or in the morning, but try to take it throughout the day.
A few years ago I was very sick. I went to an internist and was diagnosed with viral pneumonia and given an antibiotic, "In case you get a secondary bacterial infection."
I had been taking Vitamin C, but had never done the rip-roaring doses. I lined up Vitamin C tablets and every 6 minutes I took 2,000 mg. That's 20,000 mg an hour. My fever came down 3 degrees in two hours and my cough stopped.
If you do it, it works. If you don't do it, it won't. @AndrewSaulPhD
Click To Tweet
"You have a free choice every day about what you eat and if you move your body. If you fail to make the choice, you've made the choice."
There is a whole body of knowledge out there. For example, the Journal of Orthomolecular Medicine contains thousands of articles about Vitamin therapy—the archive is online and it's free. Doctors say, "I haven't seen evidence." That doctor is honest—that doctor hasn't seen it. Well I haven't seen Antarctica, but I'm sure it's there.
What you're being told is to not try. The media is warning off the very thing that will help you.
Vitamins are only 1% of the pharmaceutical companies profits—that's why.
C Vitamins are 400 times cheaper than Vitamin C from an orange. I think it's a good thing to eat your fruits and veggies, but what if you're broke? What if you're sick? I'm interested in results. I've taught chemistry, cell biology, nutrition—I'm interested in seeing people get well, and you're one of them.
If your doctor's too busy to learn, you need to fire your doctor. @AndrewSaulPhD
Click To Tweet
Can We Just Get Our Vitamins From Food?
Abel: If you start taking bioavailable vitamins every day, your energy goes up and you start feeling better. I'm definitely a convert when it comes to taking vitamins.
But why can't we get all the vitamins we need from food in our modern world?
The first reason is dose. If you are sick, you have to throw the idea of food source vitamins out the window because you can't afford it and you can't get enough.
If people think they can get enough Vitamin C from a 500 mg tablet or a couple glasses of orange juice, they're wrong. If you want to see results, then you take enough to get well.
If you're healthy you can take 18,000 mg a day. If you're sick, you need to take a whole lot more.
The second reason is this: Food today is kind of crappy. A lot of foods are grown on poor soils. GMO foods I think are highly questionable and should be avoided.
"My personal feeling is that nature is smarter than we are, and I would not tinker with what's worked for the last 100 million years."
We've had a long time to work out the evolutionary details of natural, unprocessed whole foods. And what do we do? We eat junk food, load up on sugar, and pour chemicals down our throats.
Plato said, "We've made of ourselves living cesspools and driven doctors to invent names for our diseases."
That's it. So your food today, unless you go all organic and are really close to the land and watch it, you are getting a diet that's substandard.
When you are sick, you're not gonna come close to enough vitamins from food. For preventative maintenance a good diet might come close, but probably not.
The scary thing is that the same government that tells us we need an RDA (Recommended Daily Allowance) of 100 mg of Vitamin C a day publishes the guidelines for animals—you are supposed to give your guinea pigs and monkeys 10 – 15 times more! That doesn't even pass the straight face test.
There's a myth that Vitamin C causes kidney stones. It does NOT. A Vitamin C kidney stone is a lot like a unicorn—it doesn't exist. Vitamin C actually blocks the union of calcium and oxoid. It dissolves magnesium-based stones and can actually dissolve most kidney stones.
The biggest problem with Vitamin C is failure to take enough of it.
Abel: What about flatulence and stomach upset when you start taking Vitamin C or take too much too soon?
I recommend people start small and work up. Keep working your way up until there's no more added benefit. If you're healthy, you can start by taking 500 mg at each meal and go from there. But if you have influenza, you can't do that.
The dynamic flow is—quantity, frequency, duration. Increase the quantity to oral tolerance. Take it regularly. Take it until you get better.
What we have here is a technology that's cheap, safe, and effective and we've all been told that anything that's cheap can't be effective. Anything that's safe, can't be effective. And anything that's all three, must be a figment of the imagination.
But people who look into this never go back.
I became a vitamin nut when I had my first born son at the age of 22… I held him in my arms and thought, "This is no longer academic. It's not a game. It's not a drill. This little baby depends on me for his life and I better know what I'm doing."
I made it my business to find out and I have never regretted it. I raised my children into college and they never had a single dose of antibiotic. Good diet had a lot to do with it, but so did Vitamin C.
It's so well established. It isn't guesswork. Doctors, real doctors, have been using high dose Vitamin C therapy for 65 – 70 years. If your doctor does not use vitamin therapy, you've got an old fashioned doctor.
Where To Find Dr. Saul
You can find books, articles, and information on the web site www.doctoryourself.com and vitamin therapy courses at www.andrewsaul.com. Follow Dr. Saul on Facebook and Twitter.
LEARN HOW TO DROP 20 POUNDS IN 40 DAYS WITH REAL FOOD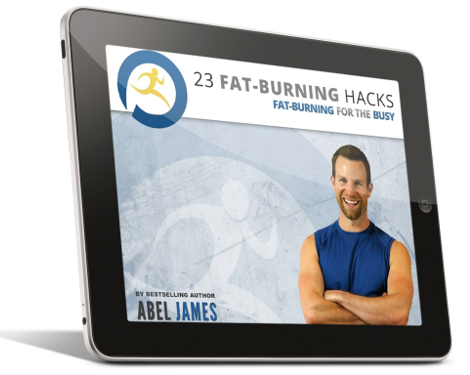 Discover how to drop fat with chocolate, bacon, and cheesecake. Plus: learn the 3 worst foods you should NEVER eat and the 7 best exercises for rapid fat loss. Click below to to claim your FREE gift ($17 value)!
INSTANT ACCESS
Before You Go…
Here's the review of the week:
If you've changed your body and life and want to let me know, go ahead and leave a review on iTunes. I always love hearing from you.
Now, let me ask you something.
Are you sick of eating the same dinner night after night on your quest to shed fat?
Well, you don't have to anymore—because you can eat the same delicious meals that my wife Alyson and I eat to stay lean, fit, and happy.
And because you're a fan of the blog, we want to get you in on this awesome 30-day meal plan at a great discount!
In this plan, we share 30-days of mouth-watering breakfasts, lunches, dinners and desserts that are designed to help you drop fat with real food. The meal plans are Paleo-friendly, gluten-free, and easy to make. These are some of our favorite dishes right from our own kitchen.
In the program you'll get:
The most effective method of meal and nutrient timing to best stimulate fat loss and muscle recovery
The truth about how much protein you really need for your body type
30 days of specific healthy fat-burning meal plans as a done-for-you nutrition strategy
And tons more..
Go check it out today for your limited time discount! How does a plate of Chicken Parmesan sound… or maybe Braised Beef Shortribs? All you have to do is click here and you'll be eating like a rockstar while losing weight and feeling amazing.
Check out the Wild30 Fat Loss System right now and get our awesome meal plan, shopping guide, and 30-Day Fat Loss manual at a limited-time special discount!
Did you enjoy this interview? Leave a comment below to share your thoughts! And don't forget to share this free show with your friends.