At this point, you've probably heard about Fatty Coffee or Bulletproof Coffee made famous by our friend Dave Asprey.
But can putting fat in your coffee actually help you drop fat? The answer may surprise you.
Now, some people go overboard by slugging many hundreds of calories of pure fat every day in their coffee and wonder why they're not dropping fat. In this blog post, though, you'll learn how to make your coffee the right way to rev your fat-burning engines.
Most days, I enjoy 1-3 cups of coffee in the morning with a tablespoon or so of grass-fed heavy whipping cream per cup. If I'm feeling hungry, I might add a teaspoon of full-fat coconut milk or coconut oil, as well (use these fats if you're looking to make a dairy-free version of Fatty Coffee, as my wife Alyson often does).
Keep in mind that my typical daily Fatty Coffee calorie burden accounts for around 100-150 calories – NOT the 500+ calories some people dump into their cuppa joe when they're going nuts with slugging Bulletproof coffee all day. (All calories are not created equal, but they do count.)
A cup of coffee or tea infused with grass-fed butter, coconut oil, and even a little grass-fed heavy cream can be a tasty way to get quality fats into your diet… especially if you're doing a ketogenic or cyclical fast and avoiding carbs and protein in the morning to help normalize insulin and blood sugar.
These days, a lot have you have been asking me, "Can I eat fats while I'm fasting in the morning?!"
Sure! When you add fats to your fasting window, it's technically a ketogenic fast or "Fat-Fasting." The short-chain fats and medium-chain triglycerides (MCTs) found in grass-fed butter, coconut oil, and whipping cream are burned readily as brain fuel. Compared to the carb-crash cycle that happens when you eat toast and cereal for breakfast, you might feel alert, satiated, and free from cravings when you focus on getting fats in the morning.
Why would you want fat in the morning instead of carbs? Recent research shows that what you eat in the morning programs your metabolism to run on that fuel for the rest of the day. So if you're eating cereal, bread, juices, or other carbs in the morning, many people experience carb cravings and elevated (fat-storing) insulin for the rest of the day. But when you focus on fat in the morning, you're programming your body to BURN fat as its main fuel which can spur fat loss.
How To Make Fatty Coffee The Right Way
Since coffee is one of the most sprayed crops on Earth, start with organic coffee to avoid exposure to pesticides. French-pressing coffee is a quick and dirty way to get full extraction from your coffee grounds—or try an AeroPress.
Do yourself a favor and always get the freshest beans you can—most of coffee's flavors dissipate two weeks after roasting. I love to roast fair-trade, organic, green coffee beans at home on the stove to ensure I always have the best-tasting and freshest coffee possible.
If you can't roast your own beans, then go for a good quality, freshly-roasted, whole bean coffee to ensure your beans aren't stale or full of nasty chemicals.
LEARN HOW TO DROP 20 POUNDS IN 40 DAYS WITH REAL FOOD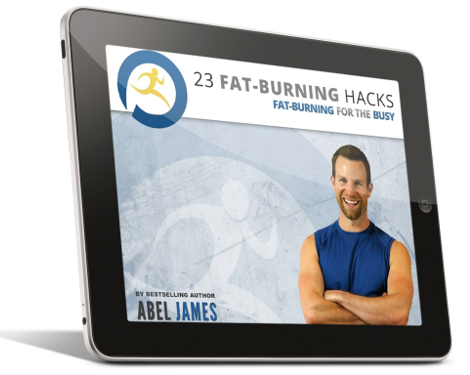 Discover how to drop fat with chocolate, bacon, and cheesecake. Plus: learn the 3 worst foods you should NEVER eat and the 7 best exercises for rapid fat loss. Click below to to claim your FREE gift ($17 value)!
INSTANT ACCESS
In this video, I'll walk you through the process I use to make Fatty Coffee, inspired by Dave at Bulletproof. Having a bit of butter and MCT oil in your coffee can be a great way to feed your brain in the morning, but it can be easy to over do it. You don't need to count calories, but you do need to track what you're eating and be sensible about what you're putting in your body throughout the day. There's a big difference between one or two cups of coffee, and polishing off an entire pot by yourself. Cheers!
So rich and creamy—Try this fat-burning Fatty Coffee recipe for yourself. @fatburnman
Click To Tweet
Here's my recipe for Fatty Coffee…

How to Make Fatty Coffee for Ketogenic Fat-Fasting (Wild Diet Approved)
So rich and creamy—Try this fat-burning Fatty Coffee recipe for yourself.
Ingredients
4 cups hot French-pressed coffee from hand-roasted, fair-trade, organic beans
1 - 4 tablespoons high-quality fat, like grass-fed cream, butter, ghee, coconut milk, coconut oil, etc.
Instructions
Boil purified water.
Coarsely grind roasted coffee beans, and add to French Press. Pour hot water over the top. Stir with a wooden spoon.
Steep for 3-5 minutes, then press down on the top of the French Press.
Meanwhile, pour hot water in your mug to warm. Empty hot water from mug, and pour in coffee.
Add any add-ins you're using like cream, butter, coconut oil, and/or vanilla bean or other spices.
Using a handheld milk frother, skim along the mixture just below the surface. The frother will whip air into the coffee mixture and a nice froth will begin to form on the top. Fully immerse the frother a couple of times just to mix everything up underneath. Alternatively, add ingredients to your blender and blend.
Enjoy.
Here are some of my favorite coffee tools and add-ins:
Enjoy your rich, creamy, silky cup of fat-burning coffee! If you're interested in roasting your own beans, I'm giving you directions below PLUS one of my favorite Fatty Coffee variations—the Cafe de Mañana!
How To Roast Your Own Coffee
To roast your own coffee: First, open a window and turn on the stove's hood fan—it's about to get smokey in here!
Preheat skillet to medium.
Add green beans to your skillet in one even layer and toast them, turning and stirring regularly with a wooden spoon.
After about five minutes, the beans will turn from green to yellow to a golden color, then to a caramel brown.
Around this point you should hear the first "crack." Keep going, you're doing fine!
When the beans go through a "second crack" they'll be dark and oily and you'll want remove them from the heat so they don't char, about 7 minutes total.
Pour the roasted beans into a metal colander and continue stirring to allow the chaff (dry "skins") to fall through the holes into the sink—Alternatively, you can pour roasted beans into a pot or large bowl, shake and stir the beans, and allow to cool, then take the beans outside, close your eyes, and blow off the chaff.
There's nothing better than the rich smell of freshly-roasted #coffee wafting from your kitchen.
Click To Tweet
Next, I grind up what I need for my cup o' joe, brew it in a French press, then froth it up with heavy cream or a bit of grass-fed butter.
Leave the rest of the freshly roasted coffee beans in an open container on the counter overnight to gas off, then store in an airtight container in a cool dry place—like the pantry. It will be at it's peak for the next few days. Best if used within 14 days.
If you'd like a video demonstration of how to roast your own coffee beans at home, join me in the Fat-Burning Tribe for just $1 for the first month
CAFÉ DE MAÑANA
Café de Mañana
The cinnamon flavor is infused into the brew of this warm, spiced coffee reminiscent of traditional Mexican Coffee… which, in America, usually has some kind of liquor in it. This, however, leaves out the tequila in favor of brain-boosting fats. PLUS, cinnamon is an appetite suppressant—so you'll feel fuller, longer.
Ingredients
2 cups French pressed coffee
1 tablespoon heavy cream (grass-fed)
1 tablespoon butter (grass-fed)
1 teaspoon ground cinnamon
Pinch of organic stevia or monk fruit (to taste)
Cinnamon for dusting
Instructions
Place enough ground coffee into your French press to brew two cups. Add one teaspoon of cinnamon. Pour in two cups of boiling water and steep for five minutes. Press.
Pour the coffee into the pitcher of your high powered blender. Add the heavy cream, butter, cinnamon and stevia. Process until creamy with a bit of froth on top.
Pour into a warm mug and dust with cinnamon.
If you give home-roasting a shot, or you try the Cafe de Mañana or any of the yummy Fatty Coffee recipes from The Wild Kitchen App, take a pic and tweet it at me @fatburnman. We love to see what you're brewing in your kitchen.
Before You Go…
If you're interested in the keto, low-carb, Wild approach to burning fat and feeling great—check out our 30-Day Fat Loss System for a $20 discount now!
You'll get a 30 Day Meal Plan with full recipes, photos, and shopping lists. You'll ALSO get my Quick Start Guide, a Motivational Journal, Shopping Guide, Quick-Start Audio, and MORE!
Check it out and start melting fat NOW!
How do you take your coffee in the morning? Have you tried Fatty Coffee? Leave a comment below and let us know!