Been a wild week. Here's what's happening around the interwebs…
 1. LSD and Other Psychedelics Not Linked With Mental Health Problems, Analysis Suggests (link)
Now, I'm not actually encouraging you make LSD, 'shrooms or anything like that part of your Wild Diet. Not really critical to your biohacking regimen. But as a brain geek, this seems interesting, eh?

The authors found no link between the use of psychedelic drugs and a range of mental health problems. Instead they found some significant associations between the use of psychedelic drugs and fewer mental health problems.

2. Science Reveals Why Calorie Counts Are All Wrong (link)
Many a weight-loss "guru" is hellbent on the "eat fewer calories!" mentality. But what if our perception of how many calories are in different sources of food is completely wrong?
This article looks at the many, many factors that go into determining how many calories your body may actually be able to extract (and utilize).
Consider how vegetables vary in their digestibility… The walls of plant cells in the stems and leaves of some species are much tougher than those in other species. Even within a single plant, the durability of cell walls can differ. Older leaves tend to have sturdier cell walls than young ones. Generally speaking, the weaker or more degraded the cell walls in the plant material we eat, the more calories we get from it. Cooking easily ruptures cells in, say, spinach and zucchini, but cassava (Manihot esculenta) or Chinese water chestnut (Eleocharis dulcis) is much more resistant. When cell walls hold strong, foods hoard their precious calories and pass through our body intact (think corn).

So what does all this mean? Easy, just eat real food, eat enough to fuel your activity level, and don't get stressed out about calories. Still, it's kind of interesting, don't you think?
3. A Lab-Grown Burger Gets a Taste Test (link)
This is so disturbing. Seriously. Where exactly is our food headed if this is how science is spending its time??

Lab-made meat could provide high-quality protein for the world's growing population while avoiding most of the environmental and animal-welfare issues related to conventional livestock production.

Yea… I don't think so! I think they need to have a chat with my favorite farmer, Mr Joel Salatin.
How about you? Would you eat lab-grown meat?
Fat-Burning Recipes from Around the Web: Mexican Food Edition!
Paleo Barbacoa
By PaleOMG
Plantain Tortillas
By zenbelly
Mexican Chocolate and Vanilla Bean Whoopie Pies
LEARN HOW TO DROP 20 POUNDS IN 40 DAYS WITH REAL FOOD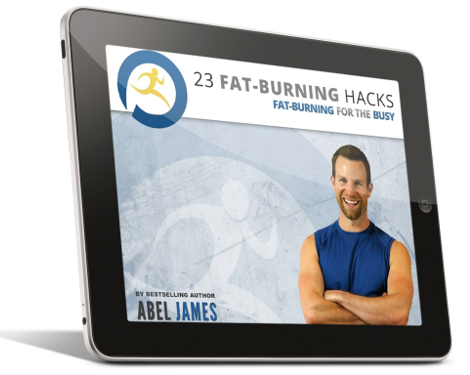 Discover how to drop fat with chocolate, bacon, and cheesecake. Plus: learn the 3 worst foods you should NEVER eat and the 7 best exercises for rapid fat loss. Click below to to claim your FREE gift ($17 value)!
INSTANT ACCESS
Enjoy your week!
Cheers,
Abel