Before we get started, I just want to thank you so much for your support for The Wild Diet—the feedback has been so powerful. We've all read way too many diet books and let's face it, most of them are really boring. So, I tried to make this one better than everyone expected… and people like it!
I've been on a bunch of different radio shows around the country, including NPR, and I actually just recorded some stuff for Fox. I also have an album coming out with Denny Hemingson from The Tim McGraw Band, who's been on the show.
Thank you so much if you've already picked up a copy of The Wild Diet, and if not, I hope you consider it. I like to make this show all about the truth without any back-scratching or corporate interest… which means we don't have advertisements or product placements. But, you can go out and grab The Wild Diet if you want to support the show. Get it anywhere books are sold, or go to http://www.wilddietbook.com/ to get a bunch of free gifts when you order—including a free downloadable cookbook!
On to the show with Michelle Tam of Nom Nom Paleo!
Podcast: Play in new window | Download
Subscribe: Apple Podcasts | Google Podcasts | Spotify | Android | Pandora | Stitcher | TuneIn | Deezer
Michelle Tam's Action Figure & The Point of Paleo
Michele has an action figure, which is pretty much the best thing I've ever seen!
"Henry and I do that," says Tam. "We do things that we want to do that are really fun. We think they are hopefully kind of awesome and we throw our money at it."
Michelle has this whimsical fantasy approach to life that's written all over her blog and her book.
April Fool's Joke
"My husband showed me a clip of a rural town in China where they make this egg dish where they boil eggs in young boys' pee. My thought was, 'We could do this.'"
Michelle and Henry wrote a post where they showed their sons peeing into pots, and then them boiling the eggs in the pee. We had friends over "eating" the eggs and we told all about the health benefits of eating this dish. We thought it was really joke-y, like way over the top.
But there were so many angry, disgusted people. "It's a joke!" I guess some people are just really sensitive and don't have the same sense of humor.
It's okay Michelle, last April Fool's we posted a recipe for Mountain Lion Stew—and a lot of people got angry? Like we would really create a recipe for an endangered species!
One of the coolest thing about your blog and brand is the amount of fun you are able to put into your cooking and everything else!
Paleo: Is There a Right and Wrong Way?
Some people get so caught up in whether or not you're doing paleo the right way—like you have to do it exactly right.
"The whole point of paleo is that you have to start cooking your own food, and you have to pay attention to what you're putting into your body and how you feel."
The point is not to nitpick everything and take the fun out of food.
I like to eat way more than I like to cook—which is why I made it as simple as possible. You have to have a chill approach to life and to cooking. But that's our (Michelle and Henry's) personalities. If I get mad, I get over really quick.
That's the secret to a good relationship: the woman doesn't hold a grudge.
How To Hack The Night Shift & Get Healthy Sleep
Michelle worked as a night pharmacist at a hospital for 12 years, and she held that job while developing her apps, writing her cookbooks, and working on her blog. How did she do it?
The way I've blogged has kind of changed—I used to blog like three times a day. Breakfast lunch and dinner because I thought that's what people thought was helpful, but it got to be too much. So then I quit my job.
It's weird when that happens.
Michelle says that when she was working nights, her parents and inlaws would take turns watching her children during the week—then Henry would take over on the weekends. But when she quit her night job, she had to try to figure out how to do all of this around her kids' schedule, which has been a challenge… but she seems to think it's working out really well.
"I love being home," she says. "I love being awake during the day."
Even though she used to love working the night shift and had it totally hacked, she feels really good now not doing it. Her memory is better, her mood is better. But she understands that the world needs night shift workers… and there are ways to help hack the night shift to make it work for you body.
How do you hack the night shift and mitigate the damage?
I actually wrote a whole blog post about how to get a betters night sleep, but here are the basic ideas.
MAKE SURE YOU HAVE A SOLID BLOCK OF SLEEP EVERY DAY!
Michelle's typical day would be:
Wear blue blockers when leaving work in the morning until I went to bed.
Completely blacked out room. Earplugs. Mask. NO-ONE is allowed to disturb.
Sleep from 11am – 5 or 6:00 pm.
Wake up. Cook dinner. Put kids to bed. Go to work.
Eat at regular times while at work.
There was a very set schedule. Despite that, it would be hard not to get jetlag when I did seven nights on and seven off. But it was easier when I was paleo. I did eight years on the standard American diet while working that job—and I probably worked night shift longer because I was Paleo because I actually felt better.
How Do You Feed Your Kids Paleo?
It took us a while to get the kids on board with eating paleo. Henry and I are full on Paleo, but the kids are not.
There came a day when I was like, why is it okay for the kids to eat junk? There's a whole section in our book about it! Our older son is a more adventurous eater, but our younger one at mostly carbs. So, this is kind of how we got them on board:
Cook one meal.
Your time is precious. You shouldn't be making a different dish for everyone, but you can make compromises. I'd make something that everyone would eat—things that appeal to everybody. We wouldn't make a big deal about whether they'd eat it, but that's what we're having.
"I am in control of most of what my children eat, so when they're out in the wild, I let them make their own decisions. One son has a problem with gluten, so he kinds of knows to stay away from it."
Did you try to hook them in with things that were disguised as junk food that's actually healthy?
NO. But I'd make foods they really love, like cracklin' chicken (crisp-fried boneless skin-on chicken thighs), or roasted broccoli—that's their favorite recipe!
If I braise kale, they'll eat braised kale. But spinach… they hate it.
They hate spinach, they hate spinach, they hate spinach!
What about snacks?
They like the seaweed snacks, nuts, and they love those little applesauce pouches. They are also huge on fruit. My older son isn't big on sweets but he loves watermelon. A treat would be like a box of cut-up watermelon from Whole Foods.
In our house, we just stock stuff that we are happy they would eat.
"We're not perfectly paleo. I don't think anybody is perfectly paleo."
We have a few gluten free things around the house once in a while… but we ARE strictly gluten free.
Keeping Cultural Heritage In Paleo Cooking
In my house, food meant a lot and always came with a story.
I grew up in a multi-generational household [says Michelle]—including parents and grandparents. My mom worked and took care of us and came home and made elaborate six course meals with soup from scratch. She never let us help except the gross stuff—like peeling the shells off shrimp.
So, I never really liked to help because I had to do the yucky stuff.
All my favorite memories are around family gatherings and food. It's important to connect over food and to celebrate over food.
Chinese sauces are all full of bad stuff. So many are filled with crazy chemicals and just… bad stuff. "How does this have gluten? I don't understand."
So, are there any Chinese foods you can make from scratch without all that bad stuff?
I've made Chinese food that is more simple-tasting—so, you can use coconut aminos but it needs more punch, so I add a little bit of fish sauce. You put a little bit and it enhances everything.
I use the basic flavors of Chinese food—scallions, ginger, and garlic—the holy triumvirate in Chinese cooking, and then you add a lot of fresh herbs like cilantro. Shiitake mushrooms—it adds umami.
I use some cold pressed sesame oil as a finishing oil. I use ghee a lot. Avocado oil and coconut oil are standard, especially if doing something like a Thai curry.
There are some Chinese foods that I'm not even going to try to replicate— it just doesn't make sense.
Have you found some good Chinese or Thai restaurants?
It's hard to do Asian food, so I really don't.
"Google and Yelp are my friends." I plan my vacations around where we can eat. I ask my readers. I love putting it on Twitter! We are all in this together.
"Outsourcing is the best!" Social Media is amazing. It's an amazing thing.
Are there any weird foods that come from your heritage or family cooking that you think most people are missing out on?
Home-style Cantonese cooking is so different from the stuff you get at the restaurants. We used to have whole animals all the time.
"Our chickens always had heads and feet," says Michelle. The head signified good luck, so they insisted on the whole thing. Whole fish would be steamed and people would fight over the cheeks and eye balls.
Those are things that I grew up with that I think that people should be more okay with, only because I think people are so disengaged from where there food comes from, especially animal products. Animals should be treated well while they're alive. The better they're treated, the more nutritious they'll be. But people don't wanna' know and they don't care.
If you use the whole chicken, you can save the bones and use them for bone broth—stock. And people love different parts of the animals—I like thighs, my kids like breasts.
Even if we intellectually know that eating fatty foods raised from good animals is better, there's still this weird emotional thing we need to get over. Over time, you really learn to appreciate it. I [Abel] get to meet my turkeys—but then you create a connection to the animal… you stop mindlessly eating half a chicken. You're eating a few bites and you're like, "thank you."
It's amazing that people just don't want to know.
Michelle claims that even though she grew up on all of these foods, when she went to college, she went for the boneless skinless chicken breast or just the soy replica of it.
Nom Nom Paleo is Awesome
Michelle's Nom Nom Paleo app is up for an award again this year… the same one she won last year. Her app is seriously awesome, and you can find it in the iPad portion of the app store.
You can find Michelle on Nom Nom Paleo on any social media—She is the person on there writing and answering all the questions.
"I love Instagram and Twitter—and if you ask me something, I will answer!"
LEARN HOW TO DROP 20 POUNDS IN 40 DAYS WITH REAL FOOD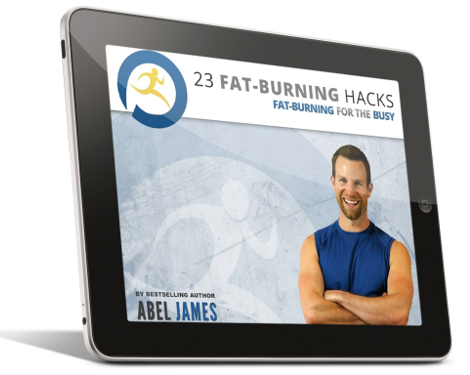 Discover how to drop fat with chocolate, bacon, and cheesecake. Plus: learn the 3 worst foods you should NEVER eat and the 7 best exercises for rapid fat loss. Click below to to claim your FREE gift ($17 value)!
INSTANT ACCESS