Today we're here with Dawn Jackson Blatner, co-star of ABC's My Diet Is Better Than Yours, author, and creator of The Superfood Swap Diet. We're going to pull back the curtain and show you what happened behind the scenes of the show – you're going to dig this one.
But first, here's an update from the finale of My Diet is Better Than Yours on ABC!
My contestant, Kurt started at 352 pounds and 52% body fat. He finished at 265 pounds and just 30% body fat! So Kurt lost an astounding 22% percentage points of body fat in 14 weeks with The Wild Diet, while eating delicious food and using proven fat loss techniques, like intermittent fasting. (The Wild Diet led to nearly double the fat loss of any other plan!) Jasmin, who focused on portion control and cardio with the Superfood Swap, lost 13% percentage points of body fat (from 47% to 34%) – still very impressive. I couldn't be more proud of both of them!
Like The Biggest Loser, this a weight loss competition, measured by percentage of body weight loss. But as I've mentioned before, when we're talking about health, you want to focus on how much body fat you lose, not weight. Many people who try to lose weight wind up losing muscle by overexercising and undereating. So always keep this in mind – lean muscle is the most important tool you have to boost your metabolism and burn more fat.
Kurt wasn't able to run regularly because of past surgeries and injuries to his spine and knees. He did quick, functional workouts at home – like kettlebell swings and lifting water jugs – to maintain his lean muscle mass. And we used The Wild Diet's high fat, low carb approach to lose as much fat as possible.
Following The Wild Diet, Kurt shed 87 pounds, trimmed 10 inches from his waist, and went from 52% body fat to 30% body fat in just 14 weeks. Kurt lost nearly double the amount of body fat as any other contestant on the show. This is a HUGE win for the Wild, high fat / low carb, and Paleo communities!
Even more important, Kurt is off all of his prescription medication and feels 20 years younger. His blood sugar and blood pressure are in the healthy range, and he's no longer obese for the first time in over 10 years!
Not to mention, Kurt was able to get these results with limited exercise, just walks outside and a bit of strength training.
I share all of this with you to hammer this message home: If you want to lose fat, focus on your diet. If Kurt, Jasmin, Latasha, and Jeff can do it, so can you.
Another huge takeaway is that Kurt is still able to enjoy eating pasture-raised bacon, grass-fed burgers, and even our famous cheesecake to drop fat while eating outrageously good food. This ain't no ordinary diet. You really can be happy and healthy at the same time.
Alright, onto the show with Dawn Jackson Blatner, where you'll learn:
What a semi-vegetarian thinks about eating meat
Why you don't have to give up your favorite foods to get results
The truth about what happens behind the scenes of a reality TV show
The secret behind Jasmin and Kurt's incredible success
And much more…
Podcast: Play in new window | Download
Subscribe: Apple Podcasts | Google Podcasts | Spotify | Android | Pandora | Stitcher | TuneIn | Deezer
DAWN JACKSON BLATNER: THE SUPERFOOD SWAP PLAN
Abel: Dawn Jackson Blatner is a registered dietitian, the nutrition consultant for the Chicago Cubs, and author of the plant-based Flexitarian Diet. Dawn created the Superfood Swap plan featured on ABC's "My Diet Is Better Than Yours." Dawn also loves pop music and has Shih Tzu named Mr. Nuts. Dawn, I'm so happy you're here.
Thanks for including Mr. Nutz and my love of pop music.
Abel: It's really important for people to understand that when you appear for 90 seconds on TV, you aren't getting the whole story. Let's enlighten the masses.
It's pretty crazy when you sit for 12-hour days and then it comes out to 90 seconds on the screen. At the beginning I was not having fun. They were like, "You guys are in a competition. Do NOT talk to each other." I was keeping to myself just trying to get the lay of the land. Then after a couple weeks I started having much more fun when I realized we didn't have to be enemies.
Abel: Then we all went out for tequila shots!
Now I dream of tequila shots. Thanks for reigniting my love of tequila.
Sometimes it's just what the doctor ordered. Sometimes people see Dawn Jackson Blatner, the nutrition expert who never gets sick, must be perfect, exercises all the time, and never drinks tequila. But I'm a real person.
Here's what it comes back to: I was thinking about my website design. I needed a tag line, which boiled down to these three things:
Real food. I love to eat real food. (Tequila is real food.)
More fun. Loosen up, people.
No BS. I don't screw around. I say it how it is. I'll let you figure it out for yourself, too. That's just me as a person. I'm no nonsense and I like to have a good time in a responsible way.
Abel: Just to clarify… there's a big difference between drinking good quality tequila with club soda and lime and doing keg stands.
One of the things I love about your approach is that you don't have to give up your life or your favorite foods. So many people get the wrong idea—they think: if you want to be healthy, you have to give up your favorite foods and be hungry and miserable. But you're helping people make their favorite foods with real food ingredients.
I was confused about foods myself. In the 80's my parents ate everything low fat. Then I went to dietician school and it was about grams and counting obsessively. All of this seems wrong. I feel like I was more confused after nutrition school.
It wasn't until I started leaving the country and visiting abroad that I realized people elsewhere have a low key vibe about food. They eat with enjoyment, and they eat the real stuff.
Abel: I think that's where nutrition is really going. The government is even backtracking on its recommendations, going from "low cholesterol and don't worry about sugar" to "worry about sugar instead of fat and cholesterol." Things are getting a little bit better and nutritionists are getting more relaxed about counting.
I do feel like the vibe of the masses is getting a little bit more adult and not so crazy, childish, and weird about food. We have so many similarities, all these diets that seem so different. How do you have a vegan eating no meat who's happy and healthy and someone eating a ton of meat and they're also happy and healthy?
The human body is magical and it can adapt to a number of ways of eating, so let's look at these and see what's similar in what we're all doing. It's real food, not processed junk; make your own stuff; eat lots of vegetables.
Let's build our plans based on our own bodies. I teach clients the basics and how to listen to yourself. Just because something works for me doesn't mean it will work for you.
Abel: When you look at the show, there's a big difference between working with Jasmin and working with Kurt, but both of them had great success. It's about food, sure, but it's also about their attitude. They are both very positive. One thing you nurture with Jasmin is getting rid of the baggage, the old Jasmin, to focus on the new Jasmin.
It showed me how I'm different than other people. I've been doing this for 20 years, and so much of what I thought I did was science based, but it's actually more human based. I've had thousand of clients and I see it's more psychological.
I thought I was a behavior coach, and then I saw Jay, and realized he's more of a behavior coach. He's changing sheet colors and buying blue plates. I do some of that, but at the end of the day, I tap into more of somebody's psychology: "How do you make a change?" I'm a habit change psychology guru now after coming off the show. The attitude is everything.
"Magical things happen when people are excited about what they're doing."
I used to say, "I hate running. I just love when it's over. It's a cheap form of exercise. It's joyless." Then I changed everything by deciding to wake up and say, "I want to be doing this. I love pop music and fresh air." Changing "shoulds" to "wants" is huge. Change it to a want and generate some excitement.
Abel: Jasmin lost 53 pounds, Kurt lost 87 pounds. It really is possible. You can go from suffering with morbid obesity and sickness to getting your food and nutrition under control. You can have a brand new body and brand new life. Now, Jasmin even likes running!
There's a big group of people who believe that small changes make a big difference. What this show really inspired me to believe is there's another way—success is exciting!
When you see major success quickly, you stop being afraid of being totally different. @djblatner #mydietisbetterthanyours
Jasmin gave me this inspiring moment while we were off camera. We were sitting in a car waiting to film. I said to her, "Hey Jasmin, do you like pumpkin?" She answered, "Old Jasmin didn't like pumpkin, but maybe new Jasmin does."
I realized that you can, at any moment, decide that you are different.
You can go from, "I don't ever run," to "I just ran a half-marathon."
Every day you wake up, you can change your definition of yourself. The only person holding you back is you.
That moment was a light bulb switch.
Abel: That's to your credit because you were able to work up close with her. You made sure she was letting all that baggage go.
If you try to eat pumpkin and you know you don't like it, you won't. But if you're retraining your taste buds and decide you can like it, you might. Jasmin has that "why" and believes she can do it. It opens up this brand new world.
You have to just love being a health nut. Make it a part of your identity if you want to get by in a world that's stacked against us. You have to walk in a grocery store with your shields up. What is C.R.A.P.?
I don't think my family loves that I'm saying "crap" all the time. It's really an acronym, something catchy to help you remember how to read an ingredients label. I don't believe in reading numbers. I want to know what the food is made of. You can pick up florescent chips and the numbers look fine, but they're not good for you.
Here's what to look for:
C: Chemicals you wouldn't use in your own kitchen. Can you make a recipe out of these ingredients?
R: Refined sugar and flour. I don't care how gluten-free it is, if it's refined it's just as bad for you.
A: Artificial junk color, flavor, sweetener.
P: Preservatives. If that thing can last years on the shelf, it's probably not great for you.
Abel: So, how do you eat every day?
The key is visual. You look at your plate to see if it looks big or small and has the right ratios—a lot of veggies, a little protein, and a little bit of grain.
For me, the grain piece is more for the mental satisfaction. I'm from Chicago, so I'm gonna have pizza, but I'm using a sprouted thin grain pizza crust instead of none. Of course I'll load it with veggies, chicken sausage, and Brussels sprouts.
I've also come to find out I'm a huge bowl person. I love bowls. I'm into eating everything in a bowl because you can get a lot of produce in there.
So my meals might look like this:
Breakfast: Sauteed kale with a 7 minute egg, cheddar cheese, and some cut up sprouted grain English muffin. It's more like a breakfast salad.
Lunch: A lot of times I go for like a Chipotle style bowl, but I'll change it up and do Mediterranean, Greek, Italian. I always use that visual rep of getting ratios right.
You don't have to wake up and be perfect, but at least know what you're aiming for. @djblatner
Click To Tweet
Make sure you're not just sucking down food because you're a machine, make sure you're enjoying it. If you have the visual cues down, you know where to go when you're feeling off track.
Abel: Some of my listeners/readers are gluten free, some are grain free. You're picky about grain. You like sprouted. "R" is refined flour, which you're really against.
"I do believe if you're putting it in your body, it should give you something."
With sprouted whole grains you get more minerals and the protein is more bioavailable. To take it one step further, wet grains are way more filling. A sprouted whole grain cracker is not as great as sprouted brown rice cooked in water. I have some flexibility in this, though. Like I explained in my first book, The Flexitarian Diet, I'm against hard fast rules.
*See page 272-273 of The Wild Diet for instructions on how to sprout your own grains for sprouted flours.
WHAT A FORMER VEGETARIAN THINKS ABOUT MEAT
Abel: After being mostly vegetarian, you've started eating more grass-fed meats. Welcome to the dark side.
If you think about it, the animal's diet is going into you. It's actually a multiplying factor. If anything is important, it's the quality of meat. It's not what you're eating, but it's what they've eaten too. Real food can come in animal form, too, when you do it in a mindful, quality way.
My diet has changed since the show because I'm leaning more into what I want to eat. Here's the process:
I ask myself, "What do I WANT to eat?"
I get that into proper ratios.
Then I own it and eat it mindfully.
A girl just needs a frickin meatball here and there. @djblatner
Click To Tweet
The cover of my Superfood Swap Starter Kit has me holding a chicken drumstick. My mom said, "This is the first time we've seen you in public holding a drumstick." Times are changing kids, get real.
Abel: People are even practicing moderation with their moderation.
One reason I wrote The Wild Diet book is because I traveled the world and saw what other people ate. Sometimes they're eating way too much of everything, but it's in a very different way and it's not all the time. There's something sacred they bring to the table that's ingrained in us as humans. It reminds us to enjoy a meal as an event.
For Jasmin, you turned eating into a family event. Didn't her husband even have great results?
Jasmin's husband lost over 50 pounds! Their daughter lost 8 pounds on accident just by eating healthy. I do have systems to help families. I worked with them on the division of labor: It's a parent's job to provide food that's healthful, and the kid's job to eat it or not eat it. No-one should cross that barrier.
When people stay in their lane, meal time is no drama and quite fun. They started enjoying eating together and meal prep and doing things together. I know that it works, but it's different when you're hanging around 24 hours a day. You see it doesn't take long to change family.
Abel: Kurt's wife lost over 33 pounds just by eating with him. They're not totally on the diet, but it came automatically. People are surprised it's happening when you make that shift.
Bump up veggies, eat healthy animals, get away from that boxed junk and almost anything you do is going to help.
Let health happen to you. If you organize your life so it's accidentally happening to you, that's great because on the days you aren't feeling it, you've got the structure and habit to carry you along.
WHAT WE LEARNED FROM BEING ON REALITY TV
Abel: What else did you learn from the show?
Your self-definition is a huge thing. It reinforced the idea that change doesn't have to happen slowly. Overall, the thing for me was what we started talking about this attitude—but I knew from the minute I saw Jasmin that she was ready to go. She was excited to try new things and be someone new.
You have to be excited about this new definition of yourself.
We made her come out as this health nut at a zumba class. She usually tries to stay low profile, but we brought crazy kale chips and hibiscus sangria and she had to be in front of her peers like, " Hey, this is what I'm about now." She had to stand in this new definition of herself in public.
That's a tricky, tricky thing. It's one of the biggest things people gloss over. You might lose all your friends and family because you're being attacked—food is religious to some people—but you're breaking the mold and there's judgment from both sides.
Health nuts and fitness freaks are judging anyone who's not in shape, and then people who aren't in shape are judging the yoga-obsessed, self-absorbed people… and the coolest thing is to meet in the middle.
Abel: On My Diet Is Better Than Yours, all the contestants and trainers hung out. You and I learned a lot of different things about how to make all of this work. People can come over to the other side if they want to.
Jasmin had that "Aha" moment. When she brought the health food to zumba, she was worried, "They're gonna think I think I'm better than them by bringing all this healthy stuff… they're gonna judge me."
But then she had the moment. She was like, "But wait a sec, I also feel judged when I bring horrible-for-you stuff. I'm judged if I bring horrible food AND if I bring healthy food. Guess what? I gotta do me." I signed a huge contract with Jasmin at the beginning—and I preached trying to be judgment free.
Don't worry about what everyone else is doing, just worry about yourself. @djblatner
Click To Tweet
The more you judge others, the more that horrible judger comes back on you.
I really don't think I helped her lose weight and eat healthy, I think I helped her tune into a confident self-loving person that happens to then do all these other healthy happy things because at the end of the day, she was always wonderful and beautiful and confident… she just forgot. There's nothing that girl can't do now… it goes well beyond food and health.
I like to see people wake up in the morning and like themselves, love their life, feel glowy, look the mirror and sparkle… and have the energy to show up.
Abel: At the beginning, Jasmin struggled to put herself first. That's really common, especially for moms. How did you show her that everyone benefits from her focusing on her own health?
I said let's just do it, then watch what your daughter does. Watch and see. The role-modeling thing started happening naturally. She realized she had to show up like the woman she wanted to be in order to make a positive impact on her daughter.
To raise healthy, happy people—that's all a good parent really wants.
You have to role model that. They're going to learn it from watching you. It's scary but cool. That good stuff just trickles everywhere.
It all begins with your health and happiness.
Abel: You're a role model, whether you realize it or not.
I never set out to stand in a pulpit and preach, I just do me.
Even in the past, roommates of mine got healthier just by hanging around the energy of someone trying to enjoy food and life and trying to put a good energy into themselves. As selfish as that sounds, it trickles into being not selfish.
"The more you take care of yourself, the more it helps people around you and the world."
Abel:Your life and your perspective on your career has changed. We have nutritionists, doctors, trainers interested in health and a lot of times you get locked into this one thing and you do it forever. You really exploded your idea of what's possible.
My life changed the minute I hired a big time lawyer and signed a contract to do a reality TV show. I play it safe. I'm a real by-the-book kind of person. So that day I thought, "Man, that reality show could portray me any way—this could be career suicide."
At the end of the day, I want to go stand on my message. How strong can I be in my beliefs and my attitude? It was life-changing just having the brave moment of signing that contract—it changed everything for me.
Just to even see you being a role-model, Abel, having beliefs and knowing not everyone is going to believe them and how you can stand in it. I've gotten stronger in my message—real food, more fun, it doesn't have to be gram counting.
People want me to be that. I've been able to go through this show feeling like I do have a process in how I work with people and I stand behind it. It's a cool experience. I think I learned a lot talking to you about living—I never knew about myself.
I was working to build up more money to get a bigger house to save more money to get an even bigger house… I didn't know that was in the back of my head. I have a big philosophy: Don't work for outcomes, work for joy in the process. If you're not enjoying this tiny part of your job, you have to get rid of it. It's about today. Are you having fun this minute? I'd use this with my clients, but realized, "I don't live like that!"
If I could create any kind of life, what would it be? I'd be living in the west loop in Chicago where the hip kids are living, in a condo there and then three months when the weather is bad living in Arizona.
I realized that I can create the life I want. Hanging out with people who live in RV's, I opened myself up to those ideals—now I'm trying to live like that on a personal level.
Abel: You brought something up—It wasn't until you saw the numbers go up on the screen that it sunk in that you were on a reality show!
I don't really watch a lot of reality shows, but enough to know what it looks like from the couch. When I saw the number go up, I nudged Jasmin and was like, "We're on a reality show!"
Abel: And there are so many behind the scenes things… how cold we were for 12 hours straight filming the finale?
I have PTSD from how cold we were. Now, if I get a little bit cold I freak out. 12 hours of straight frigidness with no clothes on—to run a half marathon. Did they even get water and get to sit down or anything after they ran? It was really crazy. Physically, I think I pushed myself to the limit.
Abel: At the finale, all of our teeth were chattering. We were just spitting out words because we'd lost voluntary control over our bodily functions. You're dressed for TV, too… You can't see temperature from home but often it's way too cold. We are so uncomfortable.
They were very long days. Not a lot of food. Not a lot of sleep. Now I see how people can go kinda crazy on these shows.
Abel: Share one thing someone could do to upgrade their life and get health into their own hands.
Magical things happen when people are excited about what they do. Wake up without "should-ing" yourself to death, and say, "You know what? Who do I want to be today? I do wat to stock up my fridge. I do want to go and jog." That's where the magic happens.
WHERE TO FIND DAWN JACKSON BLATNER AND THE SUPERFOOD SWAP
I'm doing a lot on my web site: www.dawnjacksonblatner.com. I have new services and a new starter kit. I'm really excited to have that as my space. I'm used to doing work for magazines and TV, now I'm like, "Girl, you're gonna get the content first."
You can also find me on Twitter @djblatner.
LEARN HOW TO DROP 20 POUNDS IN 40 DAYS WITH REAL FOOD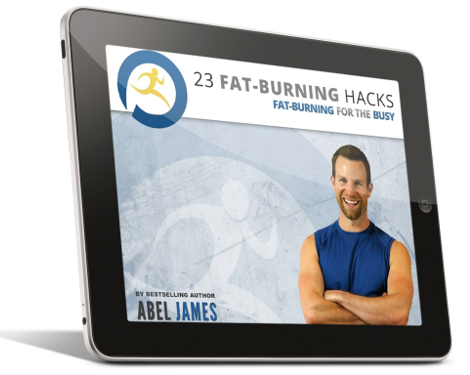 Discover how to drop fat with chocolate, bacon, and cheesecake. Plus: learn the 3 worst foods you should NEVER eat and the 7 best exercises for rapid fat loss. Click below to to claim your FREE gift ($17 value)!
INSTANT ACCESS
WANT TO DROP FAT LIKE KURT?
You can get the exact meals Kurt ate to lose 16 pounds in a week, 57 pounds in 7 weeks, and a total of 87 pounds in 14 weeks eating burgers, bacon, and cheesecake!
After years of researching and coaching the most effective, permanent, and healthy principles behind rapid fat loss and total body recomposition, we developed The Wild Diet 30 Day Fat Loss Program.
Since then, THOUSANDS of fat-burners from all corners of the globe have lost 20, 50, or even more than 100 pounds using The Wild Diet Fat Loss Program.​ And for a limited time, you can get a discount and 30 Days of Meal Plans to get you fit as a fiddle.
Here's what one community member says about the program:
In the program you'll get:
The most effective method of meal and nutrient timing to best stimulate fat loss and muscle recovery
The exact recipes so you can enjoy chicken parmesan, chocolate pudding, and even cheesecake while dropping fat
Fat-torching workouts that take just minutes a week
The facts about how much protein you really need
30 days of fat-burning Wild Diet Meal Plans to get you rapid results
And tons more!
Grab it today for an awesome discount!
Did you watch the finale of My Diet Is Better Than Yours? Share your thoughts about the show with us in the comments below.